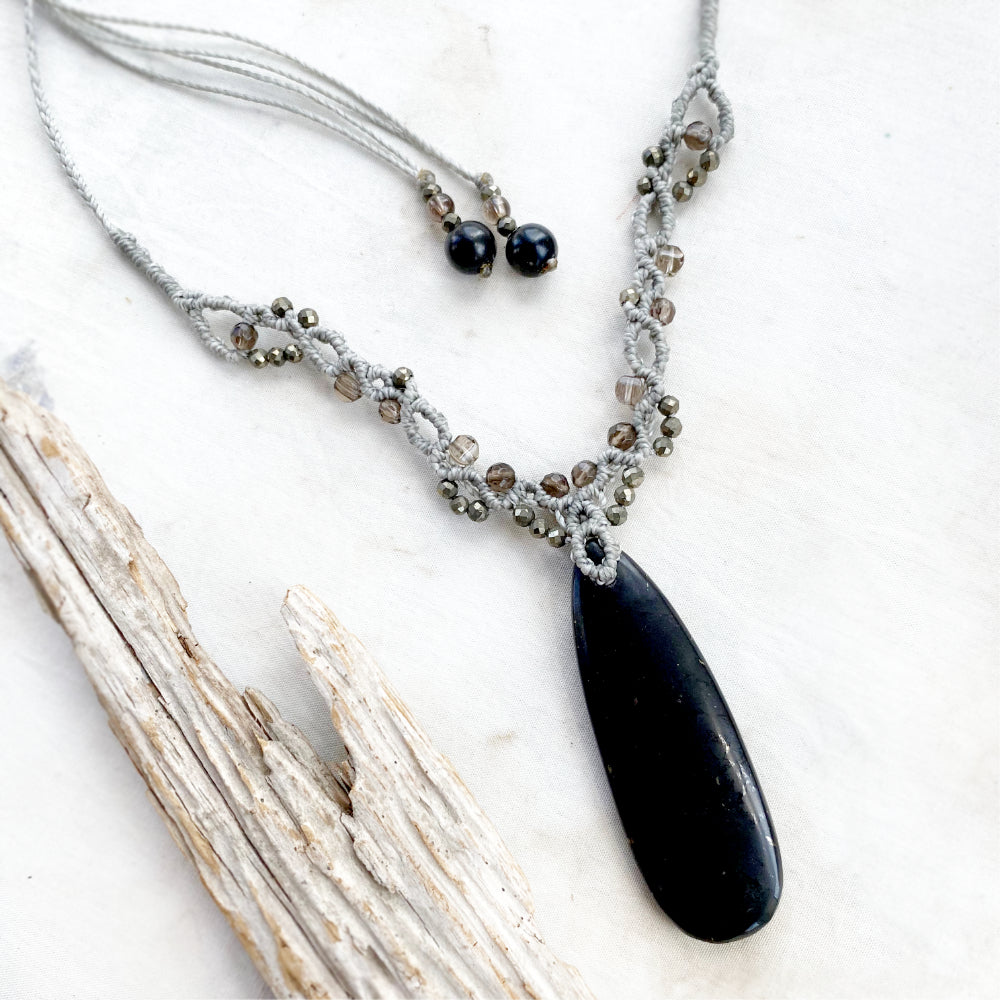 Shungite crystal healing amulet
DESCRIPTION
Crystal amulet with a smooth, drop-shaped Shungite stone. This is a wonderful purifier stone from Karelia in Western Russia. The necklace is knotted and braided with light grey micro-macrame cord and highlighted with small Smokey Quartz and faceted Pyrite crystals, also adorning the ends of the adjustable necklace braids. This is a stylish crystal healing necklace, an energy talisman that would fit perfectly with both formal and festive outfits.
The length of the necklace is adjustable from very short down to just above solar plexus level. The Shungite approx. 6 cm (2.4") tall and 2 cm (0.8") at its widest.
You'll receive this one-of-a-kind crystal healing necklace in one of my fabric draw-string pouches, great for the safe-keeping of the necklace. Gift-wrapped at no extra charge.

Prior to leaving Spirit Carrier studio, all crystals are energy cleansed, balanced and activated for the highest good of their new keeper. 

Read here how to take care of your crystal jewellery.
CRYSTAL PROPERTIES
SHUNGITE
Protector and purifier. Reveals truths in one's life and initiates meaningful changes for the highest good, even if the process isn't always comfortable. Excellent stone to protect from electromagnetic radiation across large frequency range as well as from geopathic stress. Connecting to the cosmic flow, directs one to reach one's full potential in life, assisting in staying focused and centered, following one's true path. Can be used to help access ancient memories and soul wisdom.
PYRITE
Taps into your innate abilities, bringing confidence and perseverance to aim for your goals. A shielding stone that helps you see the truth in the motives of others. Increases vitality and enhances your assertive qualities. Helpful in turning melancholy into feeling empowered and more light-hearted. Helps in letting go thoughts of misfortune and worry, thus making it an excellent stone for manifesting abundance. Symbolises the warmth and presence of sun, attracting also abundance of love, friendship and success. Also excellent stone against electromagnetic fog.
SMOKEY QUARTZ
A grounding and calming stone that elevates moods and dissipates negative emotions. "A Stone of Serenity", it is comforting and protective for one's aura. Smokey Quartz is thought to assist in creative endeavours and also in setting personal boundaries. Offers protection against electromagnetic rays. A good healing stone for improving general feeling of well-being. Relieves anxiety and worry, wards off confusion. Shielding crystal to create a calm, safe environment.
Recently Viewed