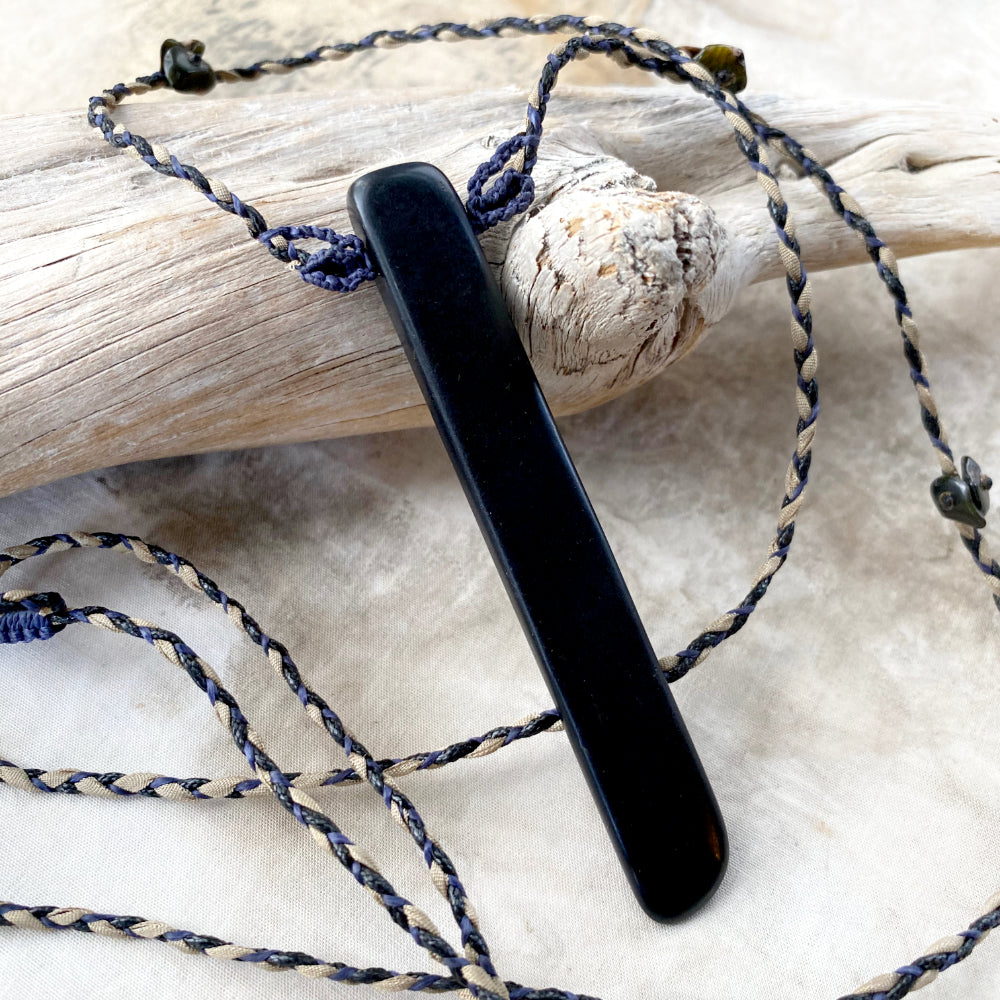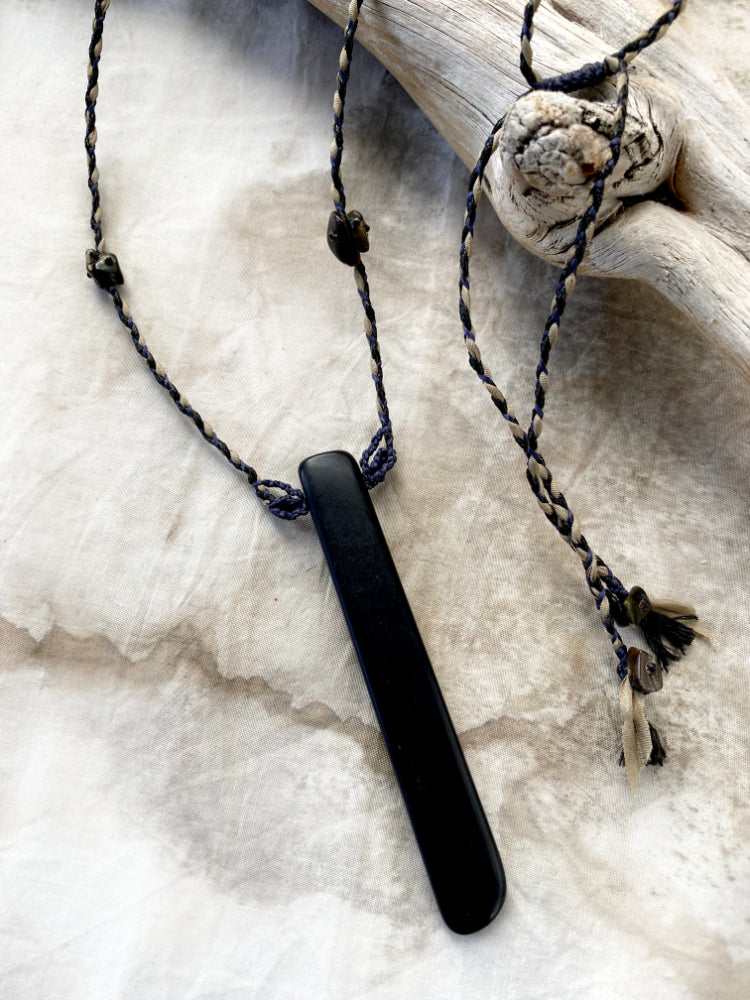 Shungite crystal healing amulet
DESCRIPTION
Crystal amulet with a smooth, long and narrow Shungite stone. This is a wonderful purifier stone from Karelia in Western Russia. The necklace is minimally braided with the combination of black satin cord, matte gold silk ribbon and indigo blue micro-macrame cord. Asymmetrically along the necklace braid, and at the ends of the braids, there are small florets of Black Coral. This is a stylish crystal healing necklace, an energy talisman in disguise that would fit many various outfits - easy daily wear to just sling on and go whilst benefiting from wonderful Shungite energy.
The length of the necklace is adjustable from very short down to solar plexus level. The Shungite is just over 9 cm (3.5") tall.
There are no metals in this necklace so would be particularly suitable for those with metal sensitivities, energy workers and those who simply prefer not to wear metal.
You'll receive this one-of-a-kind crystal healing necklace in one of Spirit Carrier's fabric draw-string pouches, great for the safe-keeping of the necklace. Gift-wrapped at no extra charge.

Prior to leaving Spirit Carrier studio, all crystals are energy cleansed, balanced and activated for the highest good of their new keeper. 

Read here how to take care of your crystal jewellery.
CRYSTAL PROPERTIES
SHUNGITE
Protector and purifier. Reveals truths in one's life and initiates meaningful changes for the highest good, even if the process isn't always comfortable. Excellent stone to protect from electromagnetic radiation across large frequency range as well as from geopathic stress. Connecting to the cosmic flow, directs one to reach one's full potential in life, assisting in staying focused and centered, following one's true path. Can be used to help access ancient memories and soul wisdom.
BLACK CORAL
Generates serenity and peace while absorbing negative energy. Excellent for psychic protection and for guarding one's personal space. Inspires creativity and enhances the flow of creative ideas. Associated with the third chakra, the 'seat of the soul', guarding one's personal power and strength from outside influences. Digs deep to heal hidden emotions that might hold you back in life. Energetically cleansing, and said to help in detoxing the body.
Recently Viewed