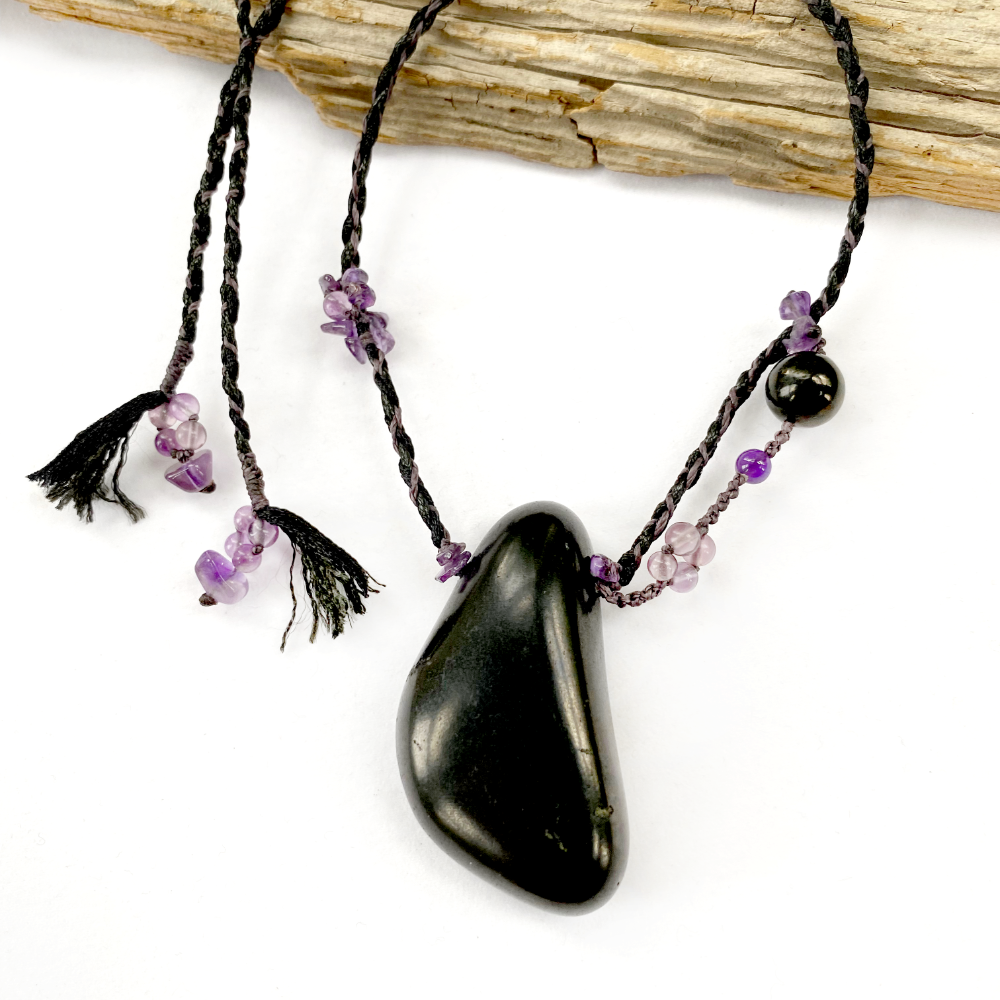 Shungite crystal healing amulet with Amethyst & Fluorite
DESCRIPTION
Crystal amulet with a smooth pebble of Shungite in undulating shape. This is a wonderful purifier stone from Karelia in Western Russia. The necklace is minimally braided with the combination of black satin cord, black satin ribbon and muted purple micro-macrame cord. Asymmetrically along the necklace braid there are small florets of Amethyst and Fluorite, and a further small sphere of Shungite on one side. Easy daily wear to just sling on and go whilst benefiting from wonderful Shungite energy.
The length of the necklace is adjustable from very short down to solar plexus level. The Shungite is approx. 5 cm (2") in its longest dimension and just over 2.5 cm (1") at its widest.
There are no metals in this necklace so would be particularly suitable for those with metal sensitivities, energy workers and those who simply prefer not to wear metal.
You'll receive this one-of-a-kind crystal healing necklace in one of Spirit Carrier's fabric draw-string pouches, great for the safe-keeping of the necklace. Gift-wrapped at no extra charge.

Read here how to take care of your crystal jewellery.
CRYSTAL PROPERTIES
SHUNGITE
Protector and purifier. Reveals truths in one's life and initiates meaningful changes for the highest good, even if the process isn't always comfortable. Excellent stone to protect from electromagnetic radiation across large frequency range as well as from geopathic stress. Connecting to the cosmic flow, directs one to reach one's full potential in life, assisting in staying focused and centered, following one's true path. Can be used to help access ancient memories and soul wisdom.
AMETHYST
Instils inner peace, promotes self-discovery and aids in relaxation. Associated with the crown chakra, known as a "stone of balance" and positive transformation. Thought to increase spiritual awareness and psychic abilities, initiating higher knowing and greater understanding. Helps in assimilating new ideas and manifesting thoughts into action. Symbolises a connection to the Divine. A well-known support stone for those wanting to break old patterns to create a new, harmonious life.

FLUORITE
Excellent for cleansing one's aura, also detaching unwanted energy cords. Grounds excessive energy, beneficial for all levels of healing. Helpful in achieving spiritual wholeness. Protective, stabilising and harmonising stone. Facilitates personal growth. Awareness expanding. Anchors intuitive insights into the physical plane. Offers strong psychic protection, helping to discern energies one comes in contact with. Helps in being objective and focusing on what is essential. Also known as absorbing environmental EMF.
Recently Viewed