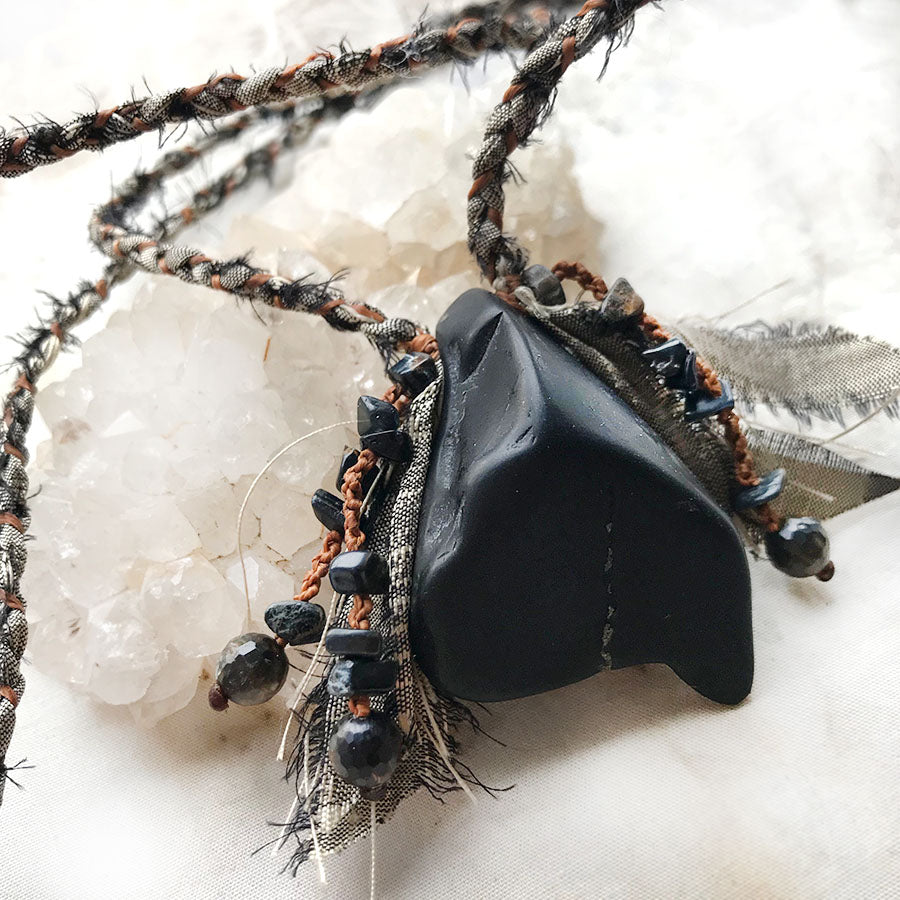 Shungite crystal healing talisman
DESCRIPTION
Organic, undulating shape of Shungite in minimal silk braid. The necklace braid is a combination of platinum sheen raw silk, hand-spun silk yarn in earthy tones of yellow and orange and rusty brown micro-macrame cord. The talisman is accented with Mica and Hawk Eye crystals. This Shungite is not a heavy crystal and together with the silky sheen necklace braid, this talisman is quite light in weight. 
The necklace braid is set length, allowing the Shungite to hang down 40 cm (15.7") measured from the back of the neck to the top edge of the Shungite - i.e. the all-around length of the necklace braid is approx. 80 cm (31.5").
The Shungite is just over 4.5 cm (1.8") at its longest dimension and just over 3 cm (1.2") at its widest.
There are no metals in this necklace so would be particularly suitable for those with metal sensitivities / metal allergy, energy workers and those who simply prefer not to wear metal.
You'll receive this crystal healing necklace in one of my handmade fabric draw-string pouches - great for the safe-keeping of the necklace. Gift-wrapped at no extra charge.

Read here how to take care of your crystal jewellery.
CRYSTAL PROPERTIES
SHUNGITE
Protector and purifier. Reveals truths in one's life and initiates meaningful changes for the highest good, even if the process isn't always comfortable. Excellent stone to protect from electromagnetic radiation across large frequency range as well as from geopathic stress. Connecting to the cosmic flow, directs one to reach one's full potential in life, assisting in staying focused and centered, following one's true path. Can be used to help access ancient memories and soul wisdom.
HAWK EYE
Elevates one's perception to see things from a higher perspective, thus aiding in making skilled decisions. Brings clarity, opens up inner guidance and new possibilities. Helps in building courage to trust one's own inner wisdom and intuition. Assists in visualising goals, both spiritual and material and to follow through in bringing them into existence.
MICA
Uplifting mineral. Increases compassion towards others. A peace keeper that shields against anger and jealousy. Said to improve stamina and strength. Helps one to see situations for what they are, while staying heart-centred. Releases energetic blocks within the body and aligns chakras. Works in a light and joyous way while helping one to see what needs changing in one's outlook.
Recently Viewed