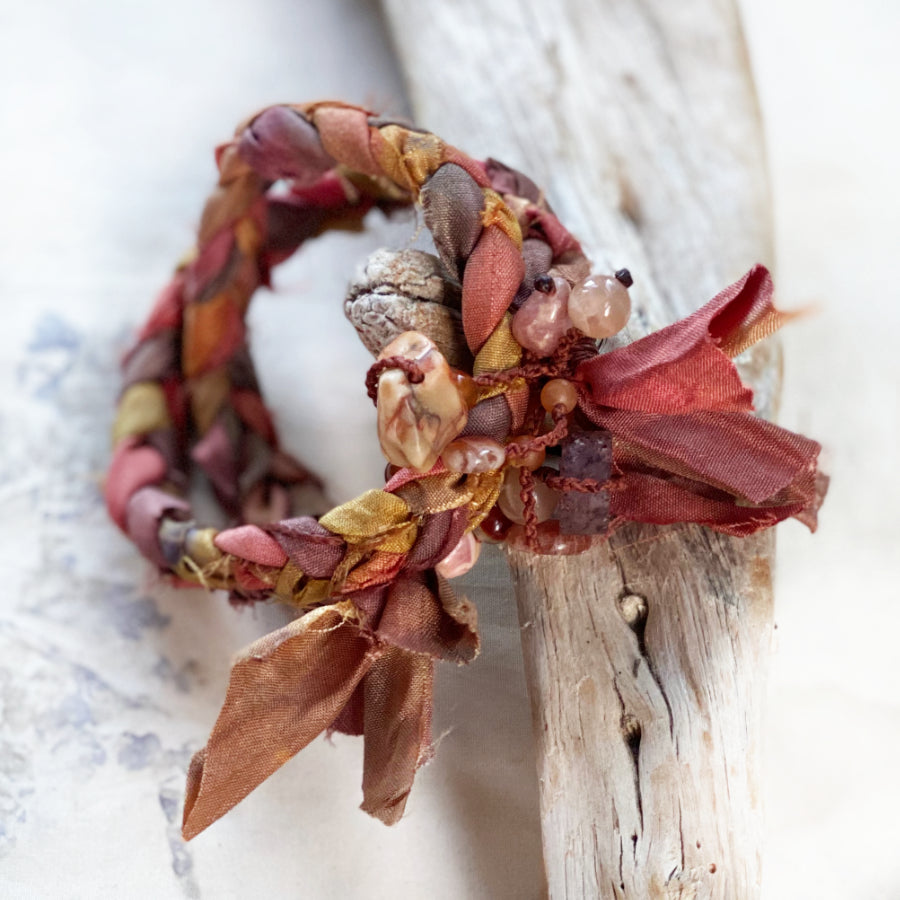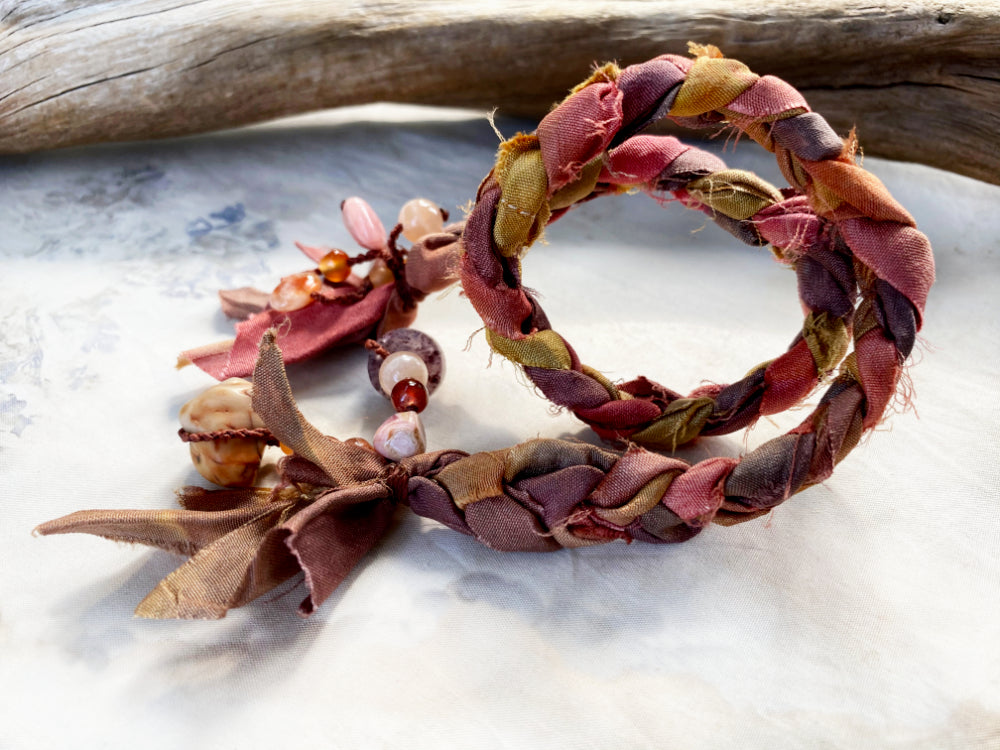 Silk braid double-wrap bracelet with crystal accents ~ for up to 6.5" wrist
DESCRIPTION
Chunky, light in weight silk braid wrap bracelet in muted salmon pink and yellow tones. Braided with recycled sari silk and brown micro-macrame cord for strength. One end of the braid has two knotted loops through which you slip the two toggle crystals (Picasso Jasper and Lodolite) in the other end. When closed, the two ends of the bracelet meet, forming a 'tassel' of silks and crystals. You can also slip one of the toggle stones from underneath the two wraps to further hold the braids in place. This is a wonderfully comfy and soft, boho-style bracelet.

The total length of this bracelet braid, from end to end, including toggle loop: 37 cm (14.5"). The width of the chunky silk braid is approx. 1.5 cm (0.6").

You'll receive this bracelet in a fabric draw-string pouch for safekeeping, and beautifully gift-wrapped at no extra charge.

Read here how to take care of your crystal jewellery.
CRYSTAL PROPERTIES
PICASSO JASPER (also known as Cherry Creek Jasper)
A joyful, harmonious stone, said to effect transformations in the area of relationships, attracting like-minded people and loyal friends. Offers stability and balance in times of change. Releases blocks from the way of one's creativity. Encourages to celebrate life!
LODOLITE (aka Shaman Dream Stone, Garden Quartz)
Associated with the crown chakra, enhances one's sensitivity to invisible energies, helps in manifesting one's desires, brings harmony to one's aura, emanates strong yet gentle healing energies. Harmonises the higher vibrational energies of the aura and the light body. Gazing into this stone is said to bring about a cosmic shift of consciousness.
CARNELIAN
Known as a stone of motivation and courage. Stimulates creativity and increases one's sense of self-worth. Balancing for body's energy levels, restoring vitality and motivation. Said to attract prosperity, new resources and good luck. A success stone that helps you follow through with plans. Stone of action that aids in overcoming procrastination. Helps in gaining more understanding of one's inner self. Stimulating to the Sacral Chakra, which, when in balance, allows one to enjoy life, feel its joys and pleasures, be flexible and 'go with the flow'.
RHODOCHROSITE
A stone of deep emotional healing. Comforting and positive, strengthening feelings of self-love, self-worth and self-forgiveness. Supportive heart-healer stone for those who are grieving or might feel stuck in the process. Repairs damages to one's subtle energy bodies. Helps in recovering lost talents you might have given up on due to past hurts, in order to discover your true purpose in this life.
MOONSTONE
Useful for feeling balanced or when changing aspects in one's life. Symbolises 'new beginnings'. Brings calmness through awareness. Provides the energy to sustain you through stages of growth. A highly intuitive stone allowing self expression and creativity to flow. Provides protection while travelling. A bringer of good fortune. Stone of feminine wisdom, inner growth and strength. Calming and soothing stone, enhancing intuition and inspiration. White moonstone is stimulating for psychic perception, vision and dream work.
LEPIDOCHROSITE IN QUARTZ
Stimulates intuitive spiritual awareness, at the same time gently grounding to Earth energy. Raises consciousness, and can be used for focusing intent during energy healing sessions. Calming and soothing, aids in releasing fears and aligning one with Divine will. A stone of 'allowing' and trusting the flow of life.
RED AVENTURINE
Stone of manifestation through action. Increases one's life force, focusing energy to get things done. Renews confidence in bringing one's projects, goals and desires into reality. Helps in choosing one's highest path in life. Encourages self-forgiveness. Restorative for libido. Inspiring for those who rely on creativity for their livelihood.
Recently Viewed