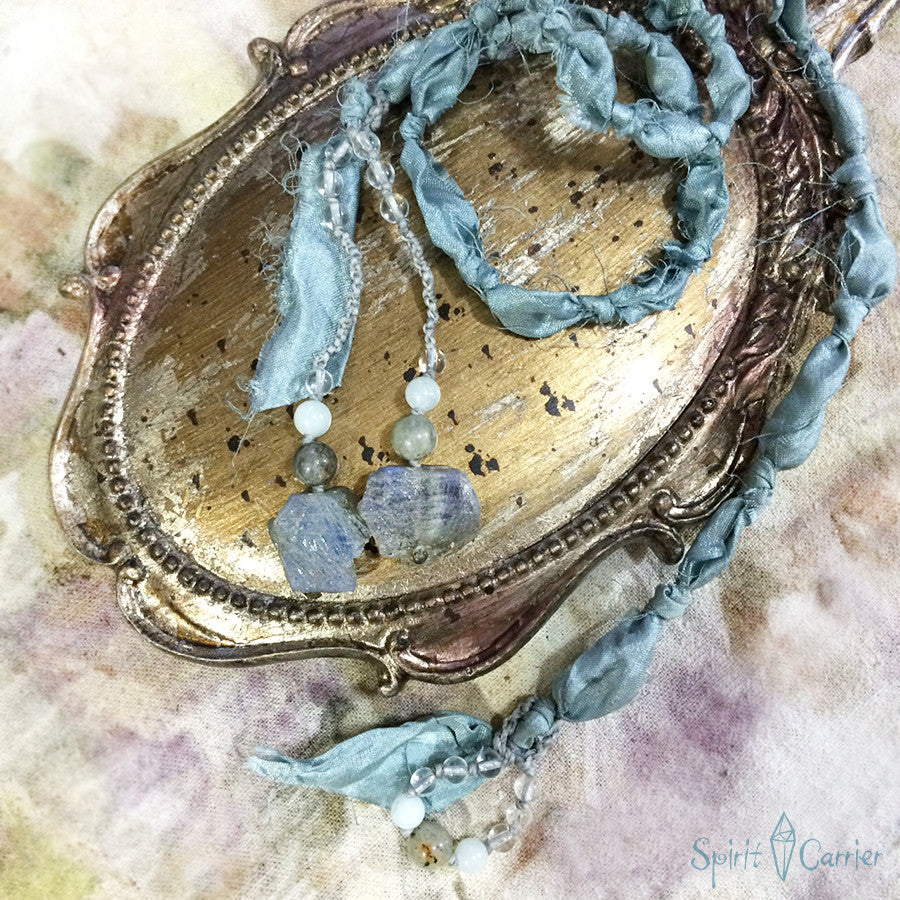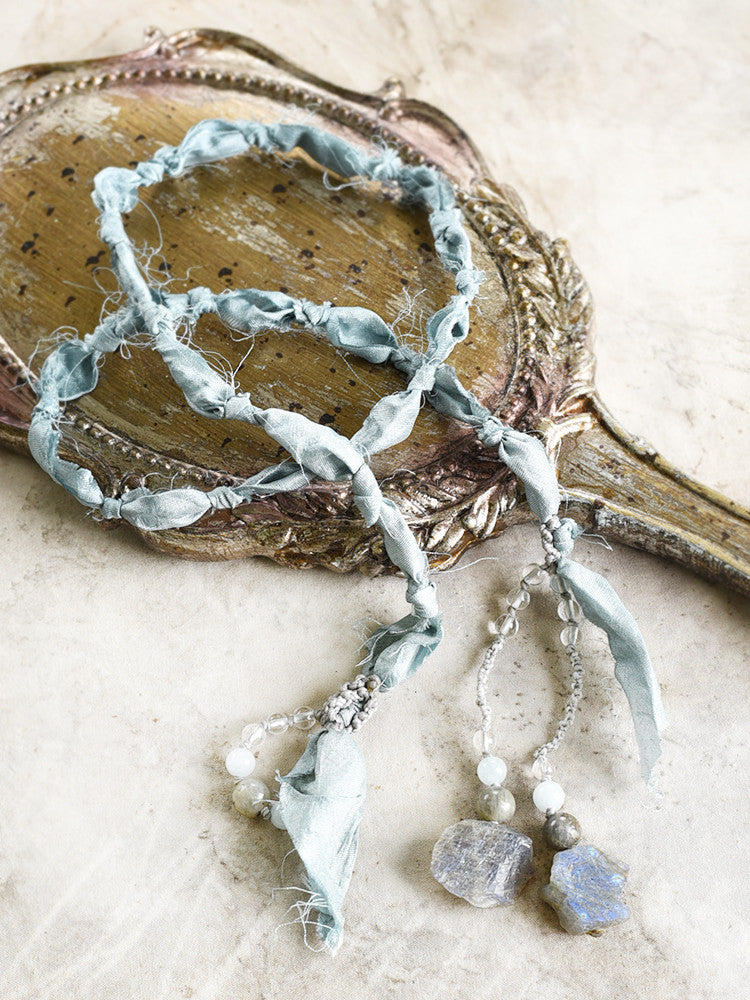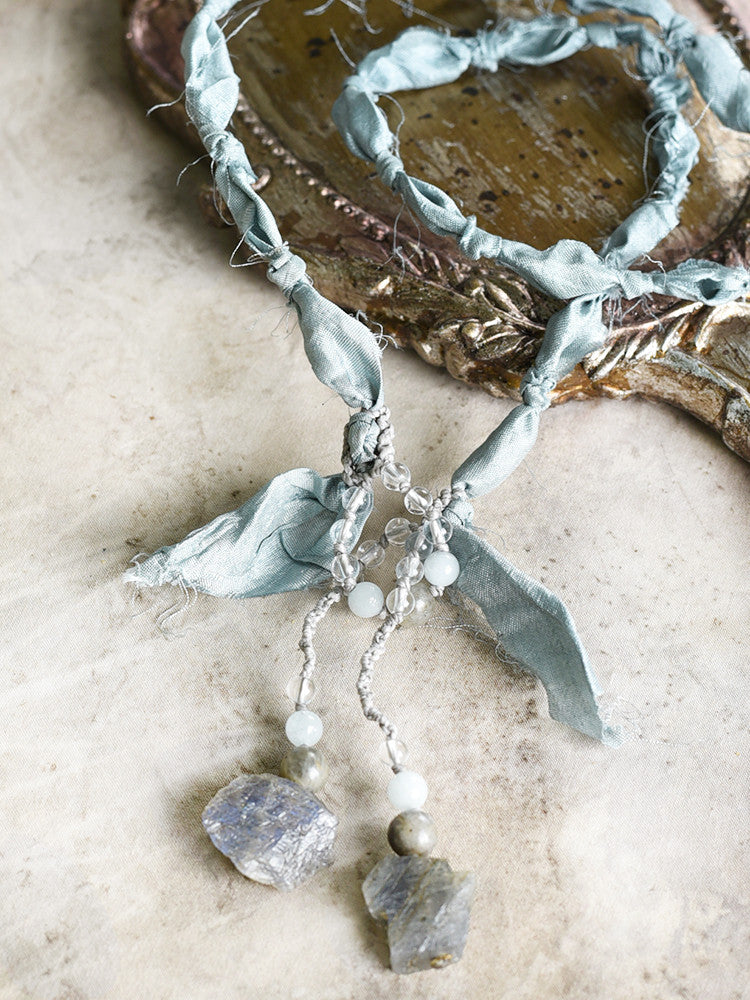 Silk lariat necklace with Labradorite, Aquamarine & clear Quartz
DESCRIPTION
Short, light in weight silk lariat necklace in smokey blue tone. The soft silk ribbon is knotted along its length and displays natural fraying, giving this necklace a romantic chic feel. On one end of the lariat is a loop consisting of clear Quartz, Aquamarine and Labradorite. On the other end there are two light grey knotted strands, also including the same crystals as the loop, but both also ending with a rough cut Labradorite. The two Labradorites show a wonderful cobalt blue flash when the light touches them from a certain angle. To close this lariat necklace, you slide the smaller of the rough Labradorites through the crystal loop in the other end of the silk strand. (You could also wear this piece as a wrap-around bracelet if you prefer - it wraps around a 6.5" wrist three times.)

The total length of this lariat necklace, from end to end: 55 cm (22"). The slightly larger Labradorite is approx. 1.5 cm (0.6") tall. The two knotted strands hang down approx. 5 cm (2").

There are no metals in this lariat necklace so would be particularly suitable for those with metal sensitivities, energy workers and those who simply prefer not to wear metal.
You'll receive this lariat in a fabric draw-string pouch for safekeeping, and beautifully gift-wrapped at no extra cost.
CRYSTAL PROPERTIES
LABRADORITE
One of the most powerful, versatile crystal tools for healing. Creates an auric shield and strengthens your innate energy and life force, preventing energy leakages. Enhances intuitive abilities and assists in spiritual transformation. Helps the wearer align with their highest destiny and discover their inner worth. Strengthens willpower and brings in new ideas. Often referred to as the 'Stone of Destiny', believed to help you to find your true path in life, and as 'Temple of the Stars', anchoring higher dimensional light into your being.
AQUAMARINE
Connected with the throat chakra, easing verbal self-expression. Helps you communicate your own truth and find your voice. Helps in looking at emotional situations from other perspectives, assists in opening up intuition and to calmly be in the flow of life. Aquamarine also aids in reaching deep meditative states. Resonates with the energy of the ocean. Stone of courage and protection.
CLEAR QUARTZ
The universal master crystal that has a harmonising effect on all levels of being. Programmable by intention, so can be used for versatile purposes. Quartz can clear, enhance, amplify, transmute, balance, focus and transmit energy. Raises one's energetic vibration. Brings clarity and filters out distractions. A deep soul cleanser, attuning its keeper to their higher self. Each Quartz crystal is unique with its own character and teachings it offers, all are known as "Stones of Power" and "Master Healers".
Recently Viewed