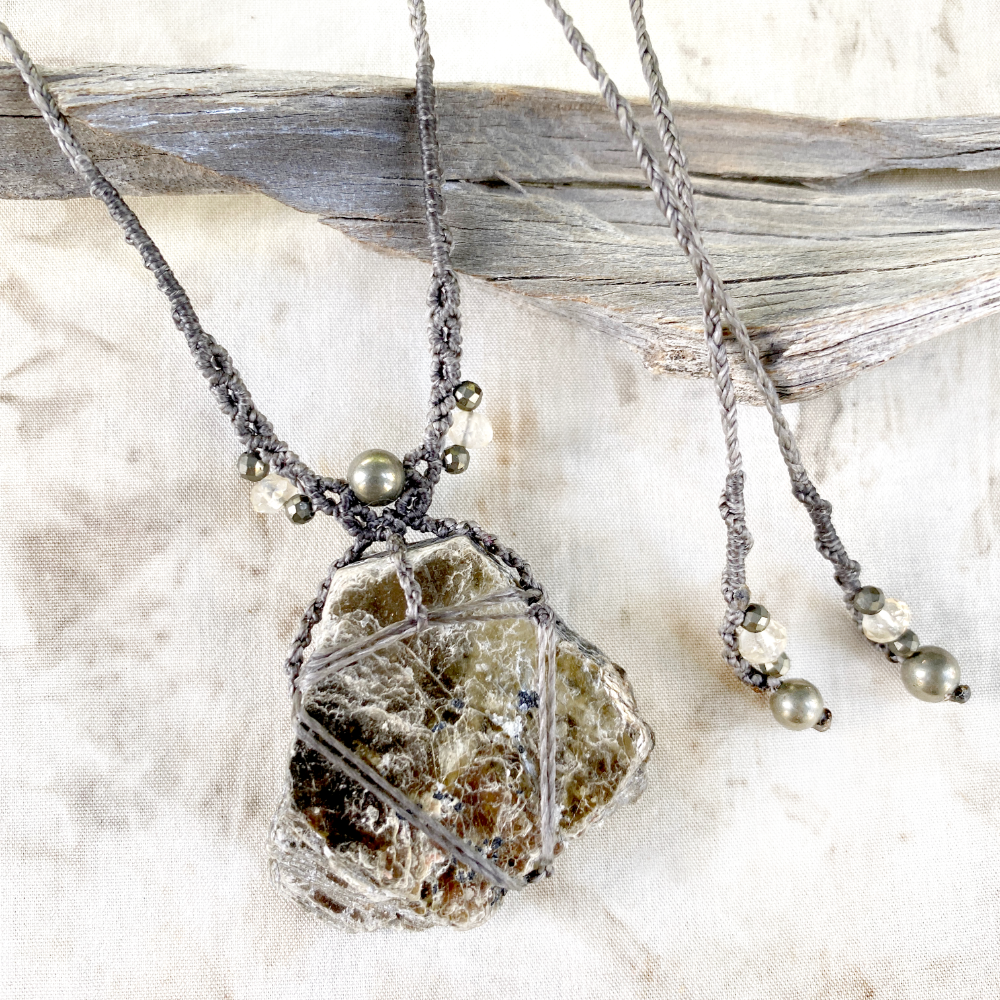 'Silver Sun' ~ crystal healing amulet
DESCRIPTION
Crystal healing necklace combining the energy of silvery Mica in so called 'book' form (layers of Mica like pages in a book) with Pyrite and Citrine. The raw, natural Mica 'book' is not drilled, but instead wrapped with the cord to secure it in place. The necklace is minimally knotted with grey micro-macrame cord, strong and durable but soft and comfortable to wear. 
The length of the necklace is adjustable from very short down to solar plexus level. The Mica is approx. 3.5 cm (1.4") tall and approx. 4 cm (1.6") at its widest.
There are no metals in this necklace so would be particularly suitable for those with metal sensitivities / metal allergy, energy workers and those who simply prefer not to wear metal jewellery.
You'll receive this crystal healing necklace in one of Spirit Carrier's fabric draw-string pouches, great for the safe-keeping of the necklace. Gift-wrapped at no extra charge.

Read here how to take care of your crystal jewellery.
CRYSTAL PROPERTIES
MICA
Uplifting mineral. Increases compassion towards others. A peace keeper that shields against anger and jealousy. Said to improve stamina and strength. Helps one to see situations for what they are, while staying heart-centred. Releases energetic blocks within the body and aligns chakras. Works in a light and joyous way while helping one to see what needs changing in one's outlook.
PYRITE
Taps into your innate abilities, bringing confidence and perseverance to aim for your goals. A shielding stone that helps you see the truth in the motives of others. Increases vitality and enhances your assertive qualities. Helpful in turning melancholy into feeling empowered and more light-hearted. Helps in letting go thoughts of misfortune and worry, thus making it an excellent stone for manifesting abundance. Symbolises the warmth and presence of sun, attracting also abundance of love, friendship and success. Also excellent stone against electromagnetic fog.
CITRINE
Affects a powerful alignment with the higher self. Balances the emotions and helps in uplifting one's mood to be more sunny and cheerful. Brings clarity of thought, and attracts abundance and prosperity through joy. Powerful transformer in healing work. Increases self-confidence and optimism, cleanses the surrounding energies and promotes creative thinking. Releases, dissipates and transforms denser energies on all levels, mental, emotional and physical. Works to release limitations and blockages particularly around the sacral / solar plexus area.
Recently Viewed