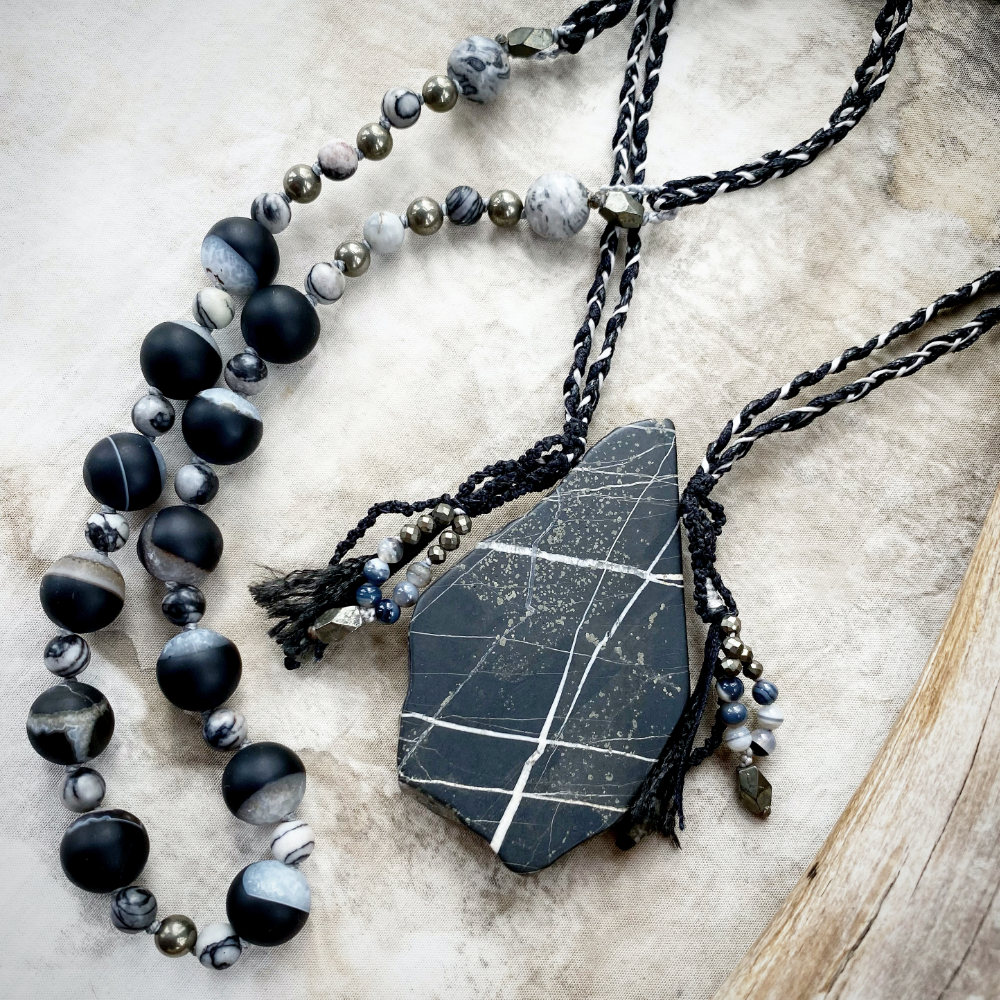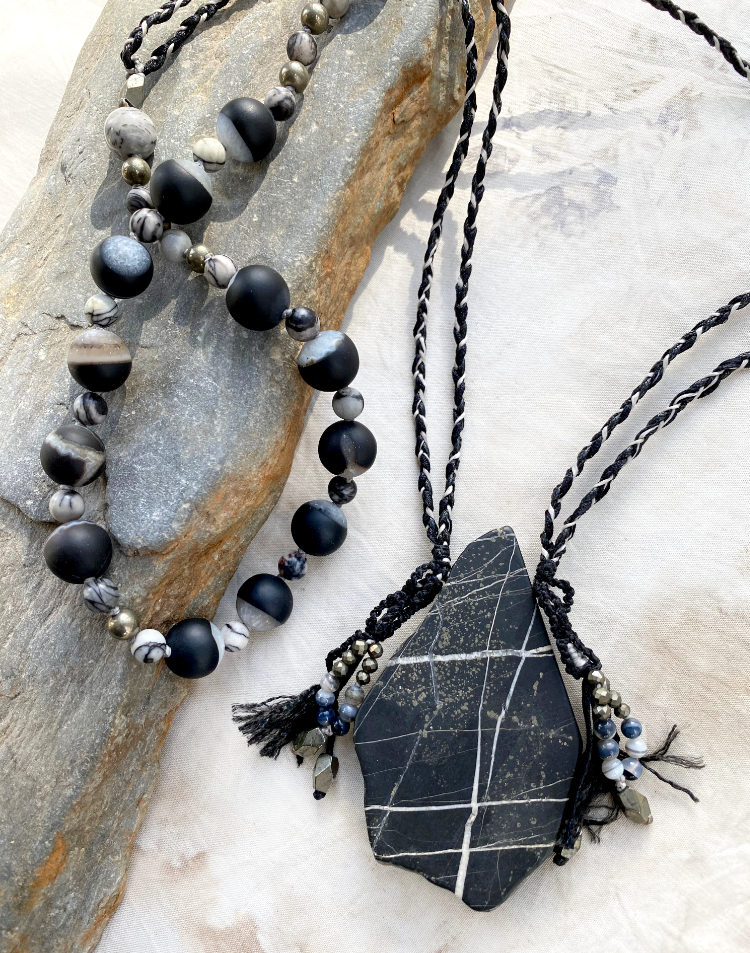 Slate crystal healing talisman
DESCRIPTION
Large, commanding crystal healing talisman with an eye-catching slice of Slate with natural inclusions of Pyrite and white Quartz veins across the stone. The front side is smooth and the back of the stone is organically undulating with a rougher texture. The necklace is braided with black satin cord and black embroidery silk ribbon combined with light grey micro-macrame cord for strength. The double braid on both sides leads to a beaded strand of alternating beads of Agate Geode beads, Black Line Jasper and grey Crazy Lace Agate that settle at the back of the neck when worn. There are two knotted crystal strands on both sides of the main stone accented with Pyrite and Agate.
The necklace is of set length with an all-round measurement of approx. 79 cm (31"). The necklace slips over head conveniently without any need for closing clasp. When worn, the Slate hangs down approx. 39 cm as measured from the back of the neck. The Slate size is approx. 7 cm (2.8") tall and approx. 4 cm (1.6") at its widest.
You'll receive this crystal healing necklace in one of Spirit Carrier fabric draw-string pouches, great for the safe-keeping of the necklace. Gift-wrapped at no extra charge.

Read here how to take care of your crystal jewellery.
CRYSTAL PROPERTIES
SLATE
Stone of balance and harmony ~ an overall feel-good stone. Born from the combination of three elements (fire, earth, water) through heat and pressure, this stone emanates calmness. When needed, assists in bringing you back into your natural equilibrium. Grounding, but not in an overpowering way. Helpful in mending issues of communication, and promotes a feeling of "belonging".
PYRITE
Taps into your innate abilities, bringing confidence and perseverance to aim for your goals. A shielding stone that helps you see the truth in the motives of others. Increases vitality and enhances your assertive qualities. Helpful in turning melancholy into feeling empowered and more light-hearted. Helps in letting go thoughts of misfortune and worry, thus making it an excellent stone for manifesting abundance. Symbolises the warmth and presence of sun, attracting also abundance of love, friendship and success. Also excellent stone against electromagnetic fog.
AGATE
The oldest good luck amulet. In ancient times Persian magicians were, according to legend, diverting storms with the powers of Agate. Considered a protective stone (especially for travel), said to shield its keeper against dangers. Increases inner stability, enhances personal courage and fosters self-confidence. Grounding and soothing. Balancing stone for one's energy system to experience oneness instead of duality.

Agate Geode: Calms and strengthens body and mind. Soothing, instilling one with courage. Enhances creativity and stimulates the intellect. Great for increasing one's sense of self-worth and self-acceptance. Protective, grounding, purifying. Wonderful healing support for anything to do with feminine energies.
Crazy Lace Agate: A stone of joy, happiness and laughter, offering support and encouragement, elevating one's mood and promoting optimism. Uplifting stone that alleviates emotional pain and promotes self-acceptance. Useful for overcoming any kind of trauma, encouraging one to start over. Promotes inner stability.
BLACK LINE JASPER
Protective stone that's said to balance one's yin and yang energies. Grounding for one's kundalini channel. Instils a sense of wellness. Offers insight into one's life path and its purpose.
Recently Viewed