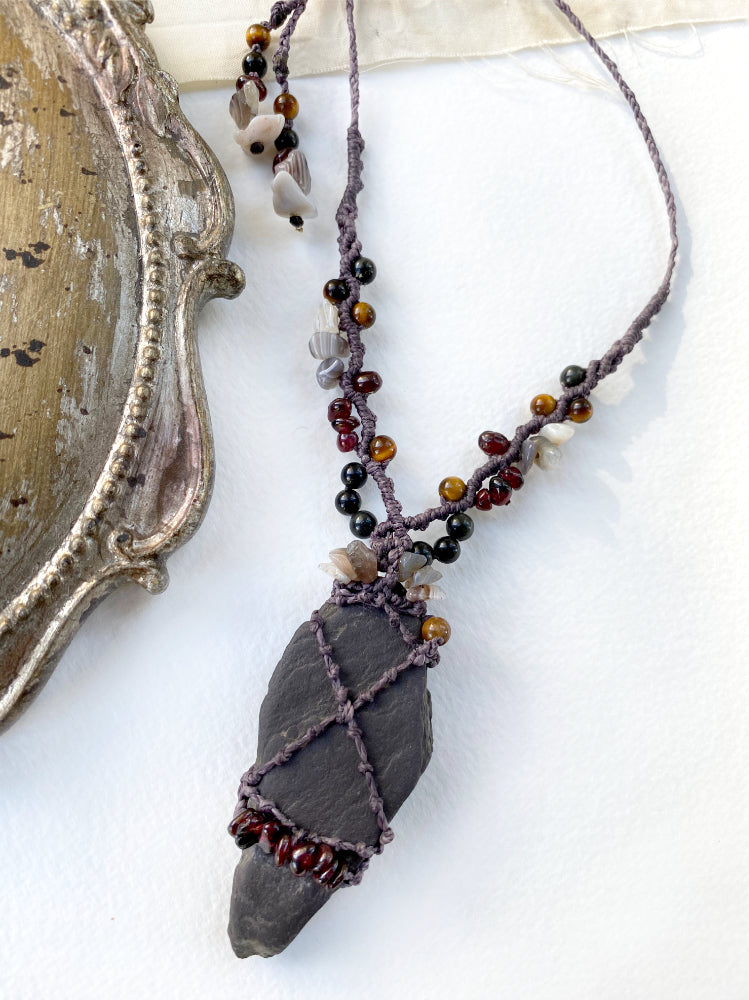 Slate stone amulet necklace
DESCRIPTION
Crystal healing amulet combining the energies of grey Slate stone with Almandine Garnet, Tiger Eye, Agate and Golden Sheen Obsidian. The necklace is intricately knotted with grey micro-macrame cord - strong and durable yet comfortable to wear. An unusual amulet to enhance your personal energy field - both strong and gentle, and certainly one-of-a-kind.
The length of the necklace is adjustable from very short down to solar plexus level. The Slate is approx. 6 cm (2.4") tall and approx. 2.5 cm (1") at its widest.
There are no metals in this necklace so would be particularly suitable for those with metal sensitivities, energy workers and those who simply prefer not to wear metal.
You'll receive this crystal healing necklace in one of Spirit Carrier's fabric draw-string pouches, great for the safe-keeping of the necklace. Gift-wrapped at no extra charge.
Read here about how to take care of your natural crystal jewellery.
CRYSTAL PROPERTIES
SLATE
Stone of balance and harmony ~ an overall feel-good stone. Born from the combination of three elements (fire, earth, water) through heat and pressure, this stone emanates calmness. When needed, assists in bringing you back into your natural equilibrium. Grounding, but not in an overpowering way. Helpful in mending issues of communication, and promotes a feeling of "belonging".
ALMANDINE GARNET
Stimulates one's life force. Supports the root chakra while drawing earth energy into the body, helping you to feel secure and centred. Awakens the "inner fire" of creativity. Highly protective stone and a great companion to keep you energised. Excellent good fortune and 'success' stone in both social and career ventures, adding positive vibes both in your personal or business life. Stone of purification and cleansing. Symbolises passionate, devoted love.

TIGER EYE
Powerful stone to connect with one's personal strength. Excellent for attracting prosperity. Highly spiritual energy, useful in understanding any life cycle that one is living through. Helps in seeing through illusions and discerning the truth in any situation. A highly protective stone. Good for strengthening one's boundaries and developing will power and courage.
AGATE
The oldest good luck amulet. In ancient times Persian magicians were, according to legend, diverting storms with the powers of Agate. Considered a protective stone (especially for travel), said to shield its keeper against dangers. Increases inner stability, enhances personal courage and fosters self-confidence. Grounding and soothing. Balancing stone for one's energy system to experience oneness instead of duality.
GOLDEN SHEEN OBSIDIAN
Protective stone that helps one achieve harmony and solve problems relating to past, present and future. Helps in settling inner emotional conflicts and keeps one from entering into outer conflicts so one is free to follow one's spiritual path. Shielding stone that encourages one to stay positive. Transmuting stone to keep negativity at bay. Said to open a window to one's soul and brings out any hidden talents one may have.
Recently Viewed