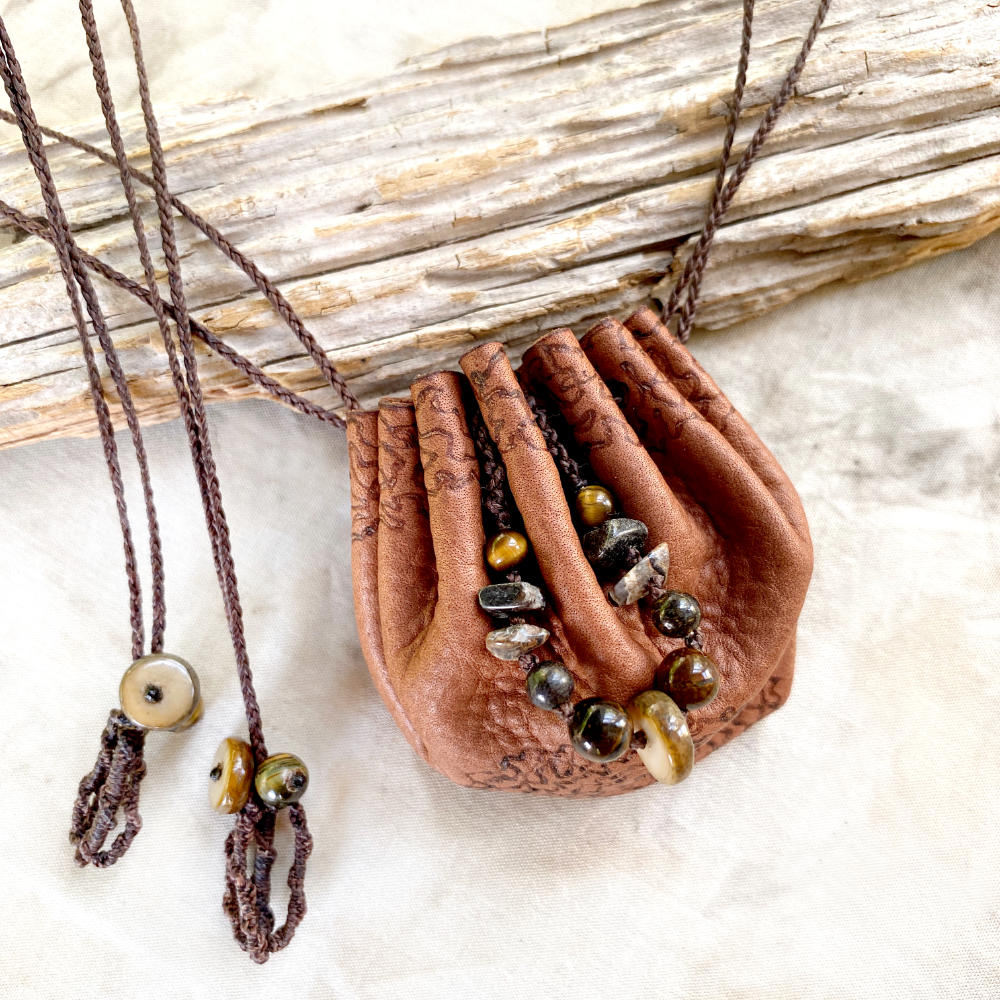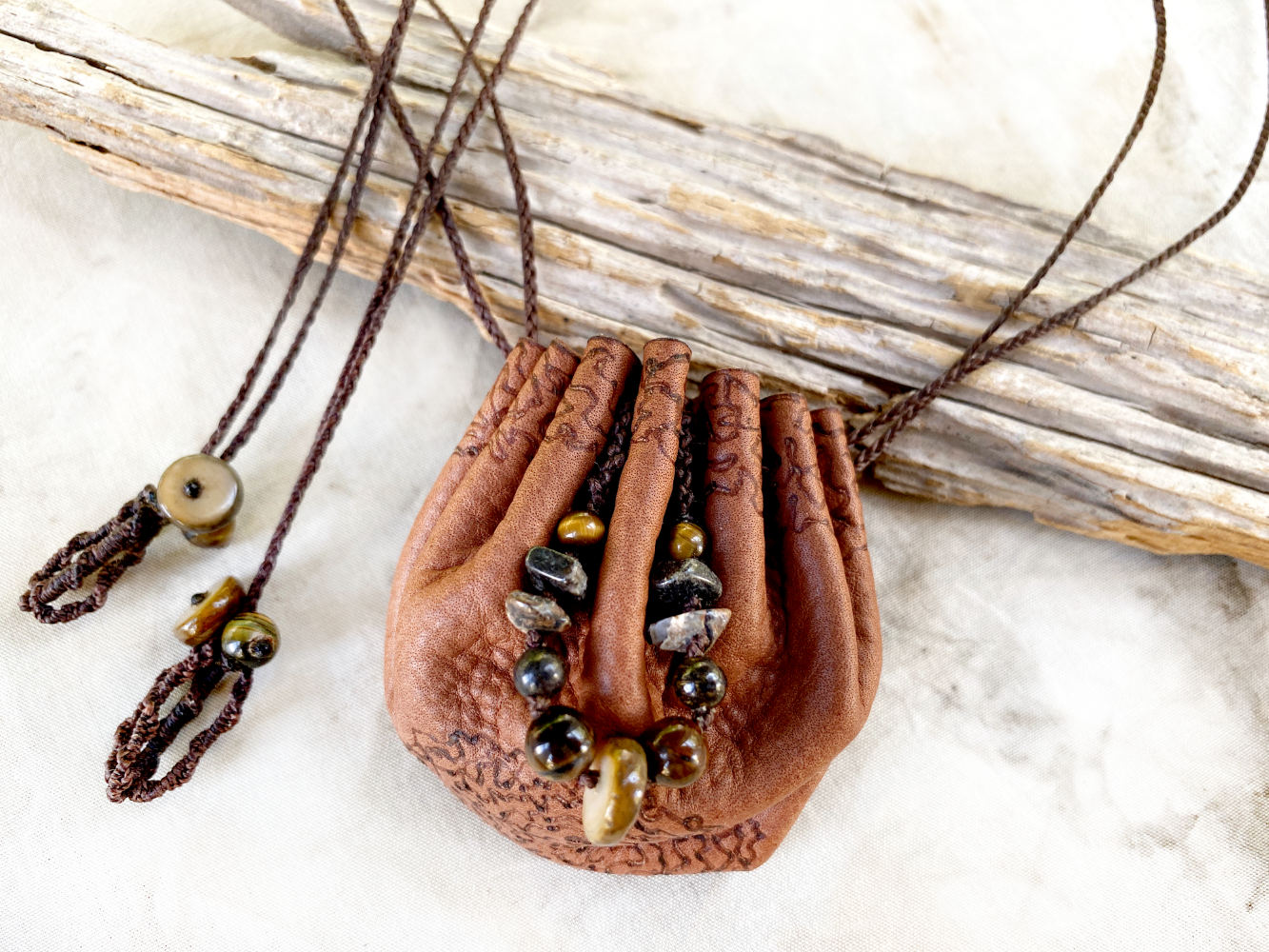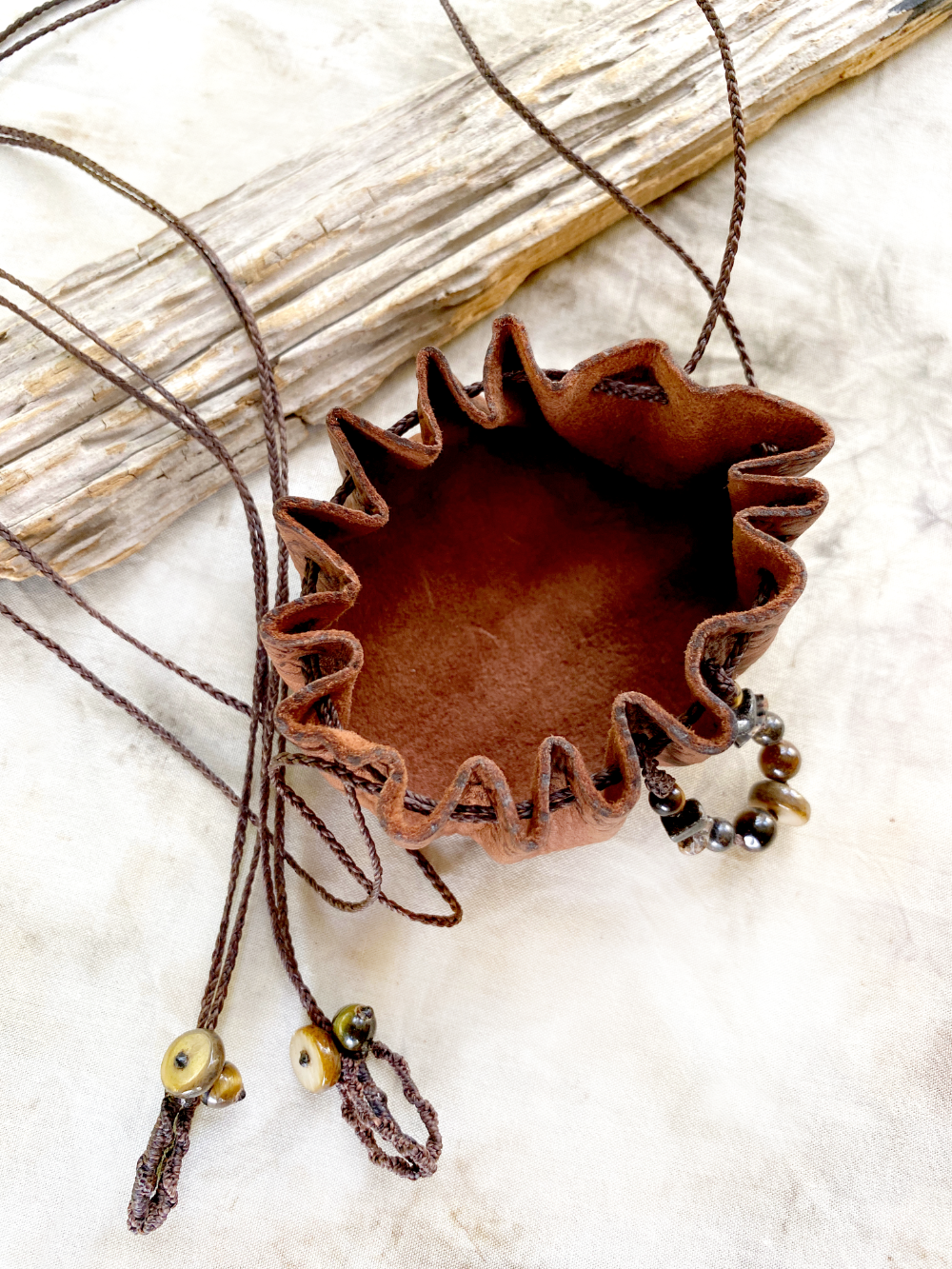 Small leather pouch necklace for carrying tiny treasures
DESCRIPTION
Tribal style wearable Wisdom Keeper necklace pouch in soft brown reindeer hide - a contemporary take on the native shaman 'medicine bags'. The inside of the pouch is not lined but left as natural suede. This pouch would be suitable for carrying any small crystal or two, or a folded piece of paper with written affirmations, or any small talismanic items. The pouch closes by simply extending from the middle when closed and the closing by pulling the necklace braids on both sides to tighter the pouch close. The detailing on the front of the pouch includes Rhodonite, Tiger Eye and Abalone shell beads. The leather is also tooled with freehand abstract pattern.

The inner area in which to store your tiny treasures is approx. 4.5 x 4.5 cm (1.8" x 1.8")

When closed, the outer height of the pouch is approx. 5.5 cm (2.2"). The necklace braid of dark brown micro-macrame cord is adjustable from very short down to solar plexus area.

You'll receive this one-of-a-kind Wisdom Keeper necklace pouch gift-wrapped at no extra charge.


CRYSTAL PROPERTIES
RHODONITE
Known for its capacity to bring emotional healing, releasing blockages in the heart chakra. Balances emotions during chaotic times. Restores calm after emotional upheavals. Beneficial for the harmony of close relationships. A beautiful stone specifically for discovering one's inner gifts and can act as a catalyst for fulfilling one's life purpose. Stone of self-confidence that supports you in trusting your own heart.

TIGER EYE
Powerful stone to connect with one's personal strength. Excellent for attracting prosperity. Highly spiritual energy, useful in understanding any life cycle that one is living through. Helps in seeing through illusions and discerning the truth in any situation. A highly protective stone. Good for strengthening one's boundaries and developing will power and courage.

ABALONE SHELL
Associated with peace, beauty, compassion and love. Instills feelings of harmony and balance. Stimulates intuition and encourages the use of imagination. Said to be a perfect gift for those who have been tossed and turned by life, to be a reminder that one's inner beauty will always shine through.
Recently Viewed