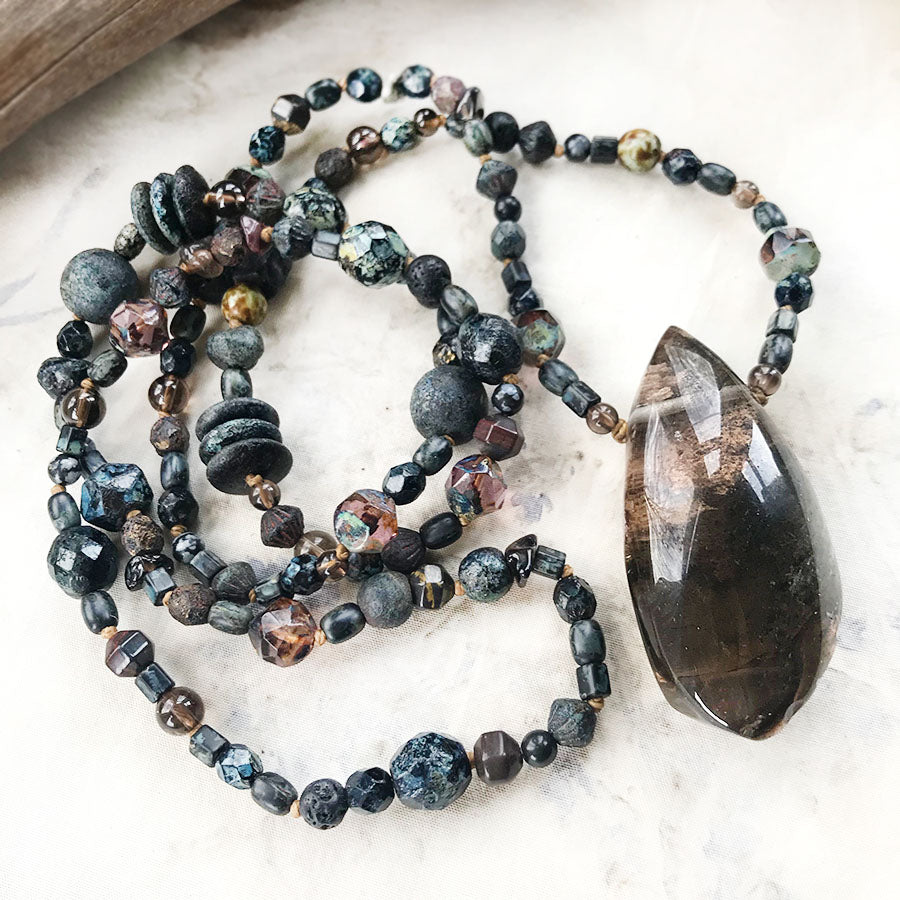 Smokey Ghost Quartz Dome crystal healing amulet
DESCRIPTION
Crystal healing amulet smooth Smokey Ghost Quartz Dome that shows inner landscape formed with various mineral inclusions. The necklace consists of fire-polished Picasso glass beads in dark and translucent tones, in different shapes and surface textures. The glass beads are interspersed with crystal energy from Lava Stone, Smokey Quartz and Tiger Iron, all knotted with brown micro-macrame cord at set intervals for strength. 
The necklace is set length, quite long at approx. 86 cm (34.4") all around. There is no clasp as the length allows you to simply slide it on over your head. The Ghost Dome is approx. 5.5 cm (2.2") tall and 2.5 cm (1") at its widest.
There are no metals in this necklace so would be particularly suitable for those with metal sensitivities, energy workers and those who simply prefer not to wear metal.
You'll receive this crystal healing necklace in one of my fabric draw-string pouches, great for the safe-keeping of the necklace. Gift-wrapped at no extra charge.

Read here how to take care of your crystal jewellery.
CRYSTAL PROPERTIES
GHOST QUARTZ
Enhances one's sensitivity to invisible energies and activates one's own inner healing capabilities. Instils inner harmony and energetic alignment. Helps in manifesting one's desires, offering guidance on the process of life and inner growth. Assists in seeing how the past is part of one's meaningful spiritual path. Provides inspiration to reach your goals. Gazing into this stone is said to bring about a cosmic shift of consciousness.

SMOKEY QUARTZ
A grounding and calming stone that elevates moods and dissipates negative emotions. "A Stone of Serenity", it is comforting and protective for one's aura. Smokey Quartz is thought to assist in creative endeavours and also in setting personal boundaries. Offers protection against electromagnetic rays. A good healing stone for improving general feeling of well-being. Relieves anxiety and worry, wards off confusion. Shielding crystal to create a calm, safe environment.
LAVA STONE
Stone of vitality, assertiveness and passion. Provides stability in times of change. Grounding and protective. Supports courage and decisiveness. Helps in finding one's 'life path'. Encourages personal development and growth.
TIGER IRON
A stone of vitality, confidence and motivation, bringing energy and strength. Beneficial for empaths who may easily feel drained from taking on other people's emotions. A creativity stone that assists in bringing out one's hidden talents.
Recently Viewed