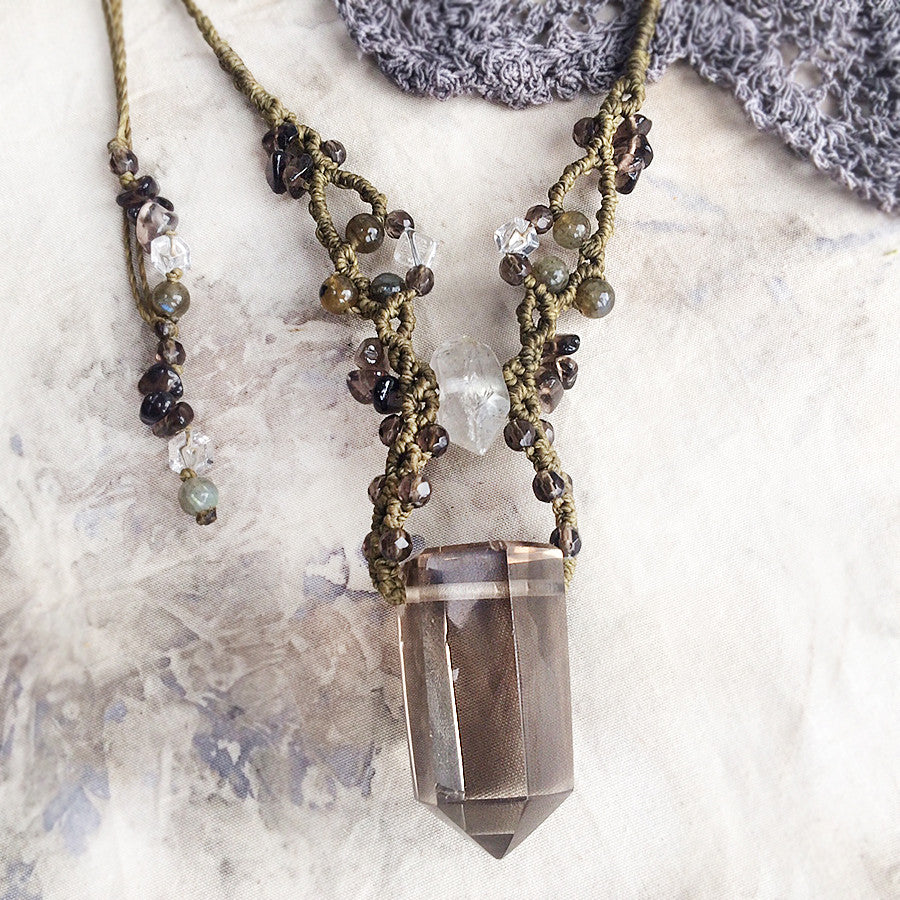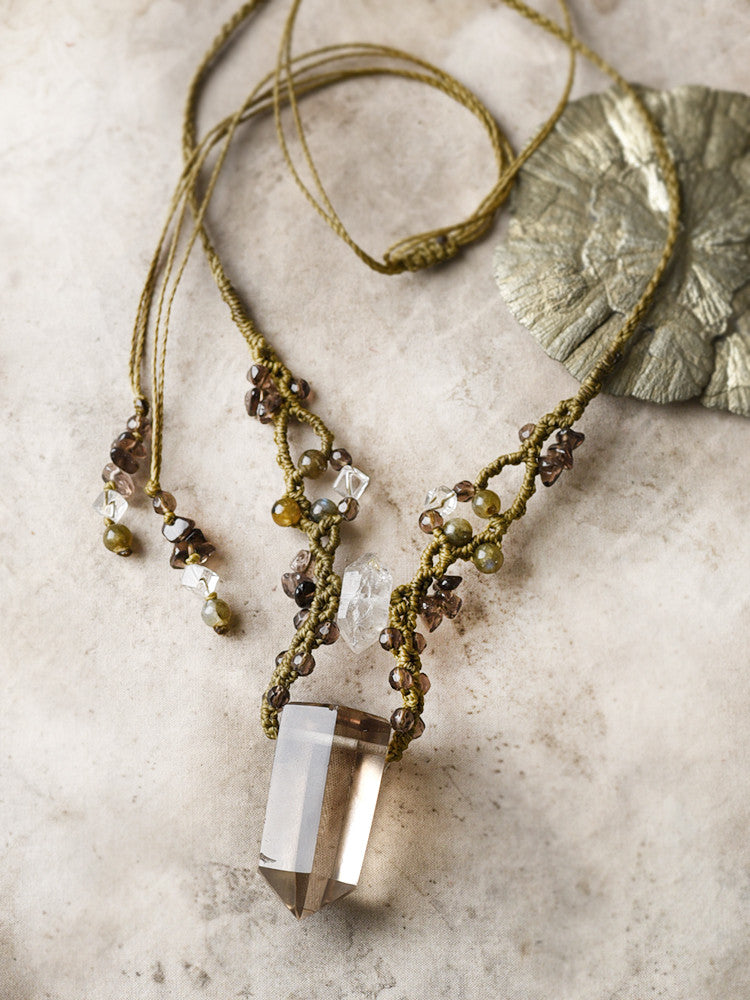 Smokey Quartz crystal healing amulet
DESCRIPTION
Crystal healing amulet with polished Smokey Quartz tower point, combined with double-terminated Sichuan quartz. The necklace is intricately knotted with earthy moss green micro-macrame cord, and highlighted with Labradorite and small Smokey Quartz crystals. 
The length of the necklace is adjustable from very short down to solar plexus level. The Smokey Quartz point is approx. 3.5 cm (1.4") tall and approx. 2 cm (0.8") wide.
There are no metals in this necklace so would be particularly suitable for those with metal sensitivities, energy workers and those who simply prefer not to wear metal.
You'll receive this crystal healing necklace in one of my fabric draw-string pouches, great for the safe-keeping of the necklace. Gift-wrapped at no extra charge.

Read here how to take care of your crystal jewellery.
CRYSTAL PROPERTIES
SMOKEY QUARTZ
A grounding and calming stone that elevates moods and dissipates negative emotions. "A Stone of Serenity", it is comforting and protective for one's aura. Smokey Quartz is thought to assist in creative endeavours and also in setting personal boundaries. Offers protection against electromagnetic rays. A good healing stone for improving general feeling of well-being. Relieves anxiety and worry, wards off confusion. Shielding crystal to create a calm, safe environment.
SICHUAN QUARTZ
Spiritually attuned to the white flame of pure consciousness, activating the crown and the third eye chakras. Aligns all the energy bodies, bringing forth a meditative state, peace and present moment awareness. Expands your consciousness and opens up psychic channels. Releases old, stagnant emotions, cleanses one's auric field and releases negative thoughts. Emanates a strong "OM" vibration. Can be used to intensify attainments, find out about karmic lessons and to bring deep healing for all levels of being. Double-terminated Sichuan Quartz brings powerful spiritual protection and purification.
LABRADORITE
One of the most powerful, versatile crystal tools for healing. Creates an auric shield and strengthens your innate energy and life force, preventing energy leakages. Enhances intuitive abilities and assists in spiritual transformation. Helps the wearer align with their highest destiny and discover their inner worth. Strengthens willpower and brings in new ideas. Often referred to as the 'Stone of Destiny', believed to help you to find your true path in life, and as 'Temple of the Stars', anchoring higher dimensional light into your being.
Recently Viewed