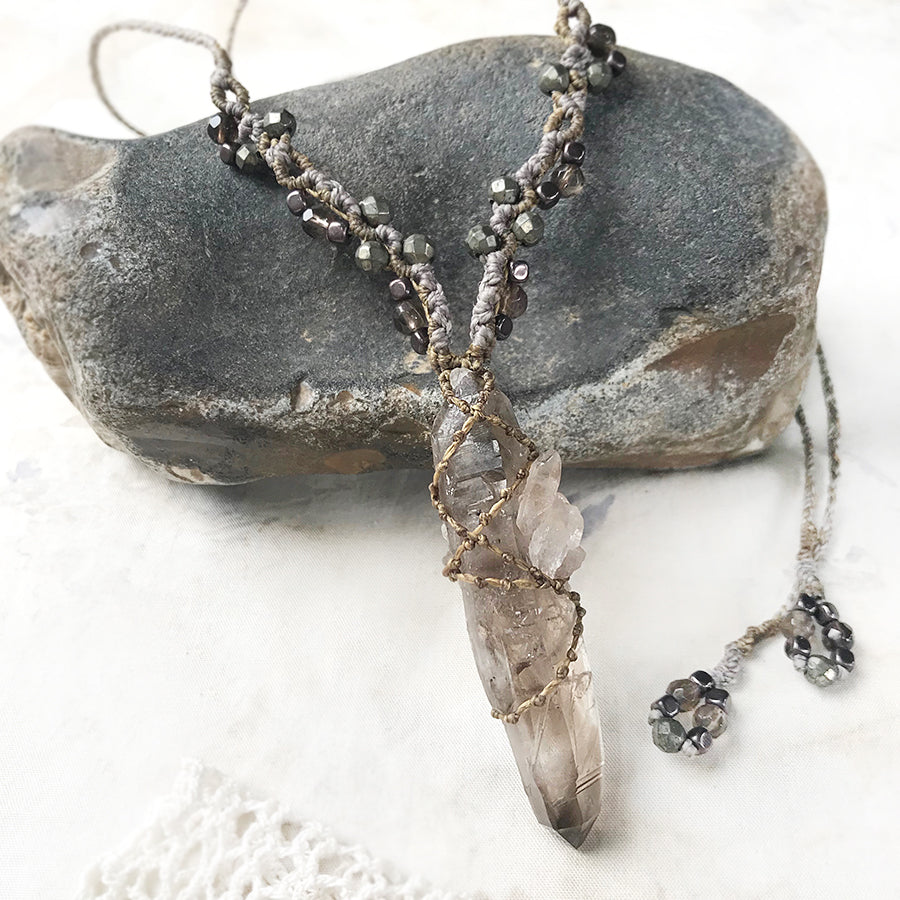 Smokey Quartz crystal healing amulet
DESCRIPTION
Crystal healing amulet with double-terminated, natural and un-drilled Smokey Quartz point, that also has a smaller double-terminated point growing from its side. The necklace is knotted and braided with a combination of brown and grey micro-macrame cords, and highlighted with Hematite, Pyrite and further small Smokey Quartz crystals. 

The length of the necklace is adjustable from very short down to solar plexus level. The Smokey Quartz point is just over 5.5 cm (2.2") tall.

There are no metals in this necklace so would be particularly suitable for those with metal sensitivities, energy workers and those who simply prefer not to wear metal.
You'll receive this crystal healing necklace in one of my fabric draw-string pouches, great for the safe-keeping of the necklace. Gift-wrapped at no extra charge.

Read here how to take care of your crystal jewellery.
CRYSTAL PROPERTIES
SMOKEY QUARTZ
A grounding and calming stone that elevates moods and dissipates negative emotions. "A Stone of Serenity", it is comforting and protective for one's aura. Smokey Quartz is thought to assist in creative endeavours and also in setting personal boundaries. Offers protection against electromagnetic rays. A good healing stone for improving general feeling of well-being. Relieves anxiety and worry, wards off confusion. Shielding crystal to create a calm, safe environment.
DOUBLE-TERMINATED: Due to a point in both ends, energy flows freely to both directions through this crystal, offering a sense of 'flow' in life. Particularly useful when working to help other people, or when doing healing work on oneself. Excellent for balancing and aligning the chakras. Can be used as a bridge between any two things, such as spirit and matter for example.
HEMATITE
Creates a strong sense of self and enhances the creative flow. Relieves stress. Revitalises, enhancing personal magnetism and optimism. Helps in releasing self-imposed limitations to find your own unique gifts. A stone of balance and equilibrium. Grounds when feeling scattered, increases alertness and vigilance.
PYRITE
Taps into your innate abilities, bringing confidence and perseverance to aim for your goals. A shielding stone that helps you see the truth in the motives of others. Increases vitality and enhances your assertive qualities. Helpful in turning melancholy into feeling empowered and more light-hearted. Helps in letting go thoughts of misfortune and worry, thus making it an excellent stone for manifesting abundance. Symbolises the warmth and presence of sun, attracting also abundance of love, friendship and success.
Recently Viewed