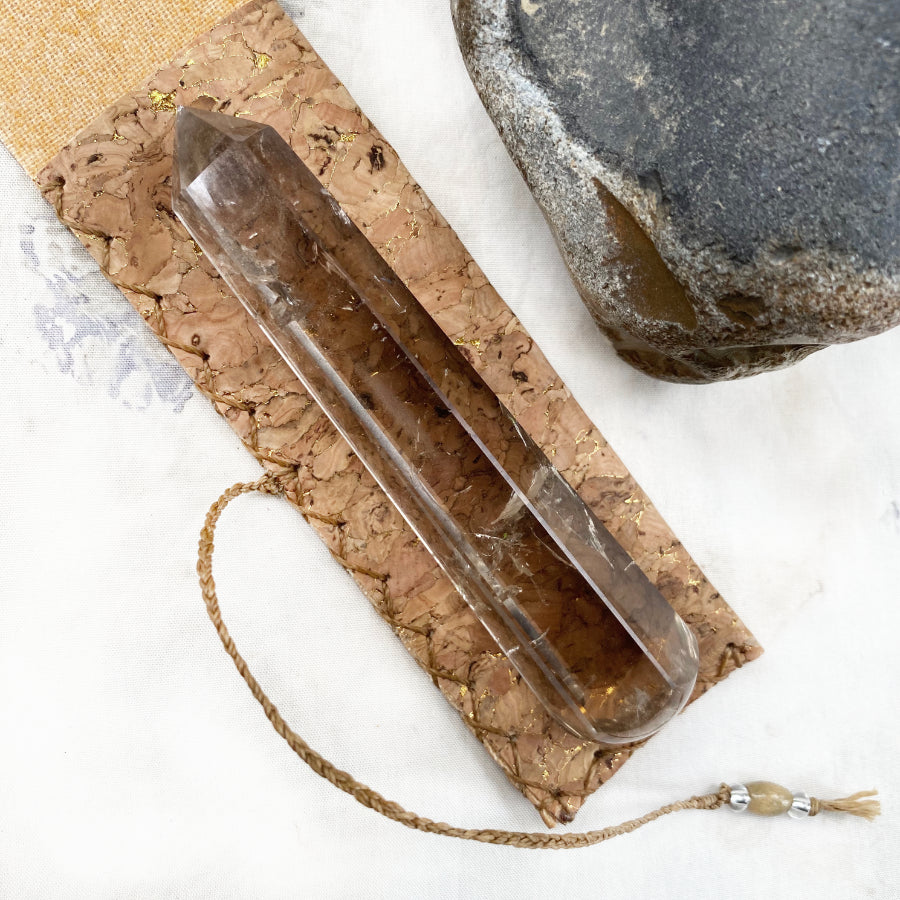 Smokey Quartz wand in cork pouch ~ gift set
Lovely gift set of a six-sided Smokey Quartz wand in hand-stitched cork pouch decorated with flecks of gold foil and secured with braided wrap-around closure.

The wand shows a unique crystalline inner landscape as well as some rainbows within. One end is pointed, the other is domed. The smooth dome is suited for either gentle facial massage (cooling, refreshing and uplifting) or for applying more pressure elsewhere in the body, for example on acupressure points. Excellent tool for those who want to incorporate crystal energy as part of their massage practice.
Length of wand 10 cm (3.9")
Diameter of hexagonal dome, just over 2 cm (0.8")
Gift-wrapped at no extra charge.
~
SMOKEY QUARTZ
A grounding and calming stone that elevates moods and dissipates negative emotions. "A Stone of Serenity", it is comforting and protective for one's aura. Smokey Quartz is thought to assist in creative endeavours and also in setting personal boundaries. Offers protection against electromagnetic rays. A good healing stone for improving general feeling of well-being. Relieves anxiety and worry, wards off confusion. Shielding crystal to create a calm, safe environment.
Recently Viewed