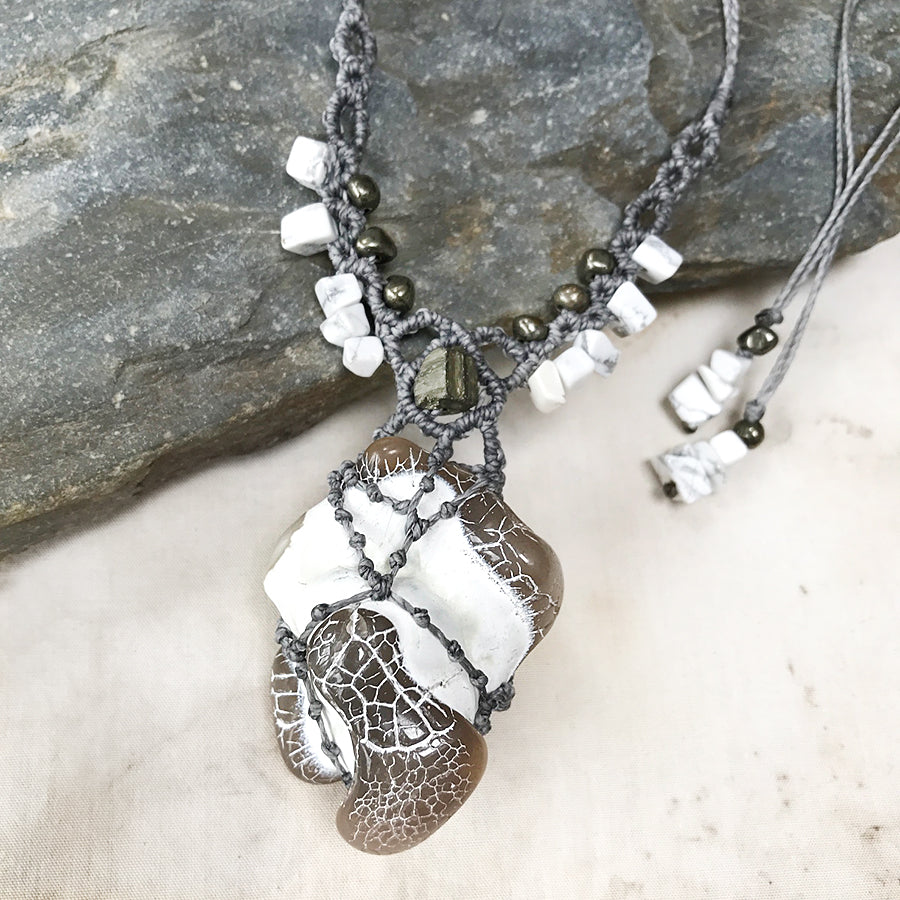 Snakeskin Agate crystal healing amulet
DESCRIPTION
Crystal healing necklace combining the energies of Snakeskin Agate, Pyrite and Howlite. The Snakeskin Agate has a smooth, organically undulating surface. The stone is un-drilled, wrapped securely with grey micro-macrame cord that extends into a knotted necklace highlighted with Howlite and both polished and rough cut Pyrite crystals. The ends of the adjustable necklace cords are decorated with matching crystals.
The length of the necklace is adjustable from very short down to solar plexus level. The Snakeskin Agate is a good size pebble of approx. 4.5 cm (1.8") tall and 3.5 cm (1.4") at its widest.
You'll receive this crystal healing necklace in one of my fabric draw-string pouches, great for the safe-keeping of the necklace. Gift-wrapped at no extra charge.

Read here how to take care of your crystal jewellery.
CRYSTAL PROPERTIES
SNAKESKIN AGATE
Stone of strength and inner peace. Increasing one's love of life, vitality and sense of purpose. Reduces the tendency to worry. Known as a support stone for initiating the rise of kundalini, one's life force energy. In folklore, said to help find lost things and to help its keeper blend into the crowd and appear invisible when needed.
PYRITE
Taps into your innate abilities, bringing confidence and perseverance to aim for your goals. A shielding stone that helps you see the truth in the motives of others. Increases vitality and enhances your assertive qualities. Helpful in turning melancholy into feeling empowered and more light-hearted. Helps in letting go thoughts of misfortune and worry, thus making it an excellent stone for manifesting abundance. Symbolises the warmth and presence of sun, attracting also abundance of love, friendship and success.
HOWLITE
Belongs to the "attunement" stones, linking its keeper to higher spiritual consciousness. Enhances self-awareness by providing insight into one's own actions and behaviour. Boosts creativity. Encourages you to look inside yourself for answers and is a generally calming and balancing stone. Helps in eliminating rage, anger and frustration, to assist with emotional expression. Opens the Third Eye to connect to wider awareness and spiritual insights.
Recently Viewed