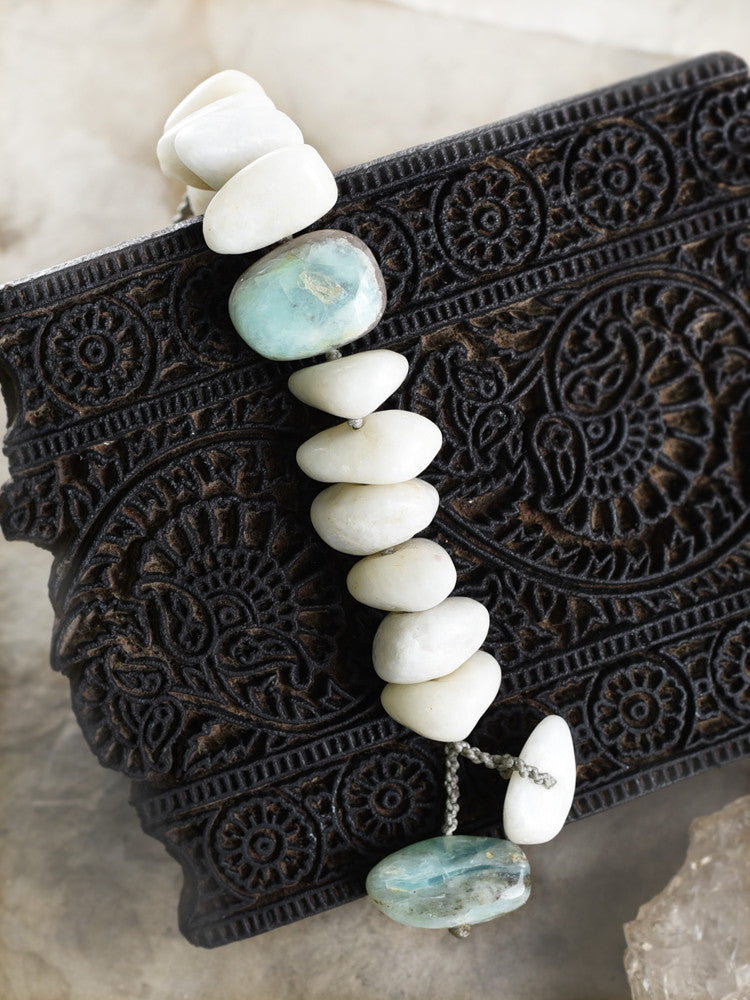 'Snow Garden' ~ crystal healing bracelet with White Quartz & Andean Blue Opal, wrist size 6"-6.25"
DESCRIPTION
Crystal healing bracelet with large smooth pebbles of White Quartz. The middle stone is Andean Blue opal in beautiful watery turquoise tone. The bracelet is knotted with light grey micro-macrame cord in double thickness. The double toggle stones are White Quartz and Andean Blue Opal.
The size of the stones varies slightly but all combined, make for an average bracelet width of up to 2.5 cm (1"). Although the bracelet length is 21 cm (8") the chunky nature of the stones makes this a snug fit for a 6"-6.25" wrist circumference. The Quartz toggle stone closes the bracelet slightly tighter, the Opal toggle stone makes it slightly more loose. You can choose which one to use.
You'll receive this crystal healing bracelet in one of my fabric draw-string pouches, great for the safe-keeping of the bracelet. Gift-wrapped at no extra charge.
CRYSTAL PROPERTIES
WHITE QUARTZ
Often referred to as 'Ice of Eternity' or 'Frozen Light', this crystal has a feminine, receptive energy. A powerful all-round healer that amplifies the vibe of other crystals nearby. Helps in focusing thoughts, intentions and actions as well as in balancing emotions. Activates the crown chakra. Assists in listening to one's Higher Self.
ANDEAN BLUE OPAL
Quite a rare stone. Associated with the throat chakra, linking it with the heart chakra. Known as the stone of courage, self-esteem and communication. Energising stone, said to help with fatigue. Great aid to creative endeavours. Soothing for those overwhelmed by life. Useful for those who transmute outside energy through their own body.
Recently Viewed