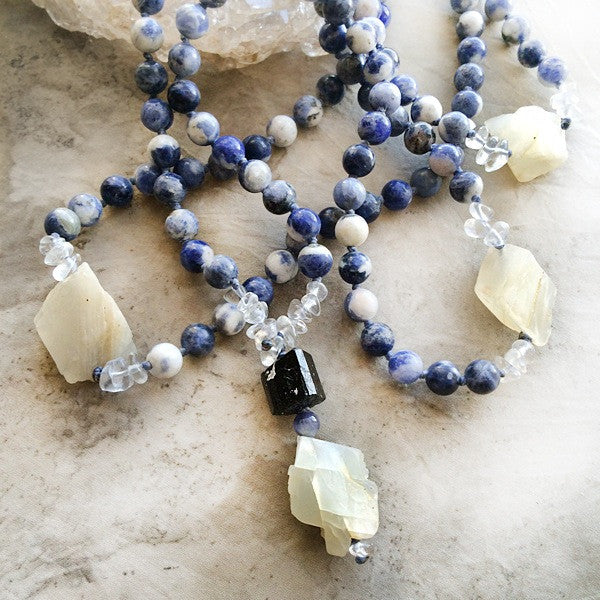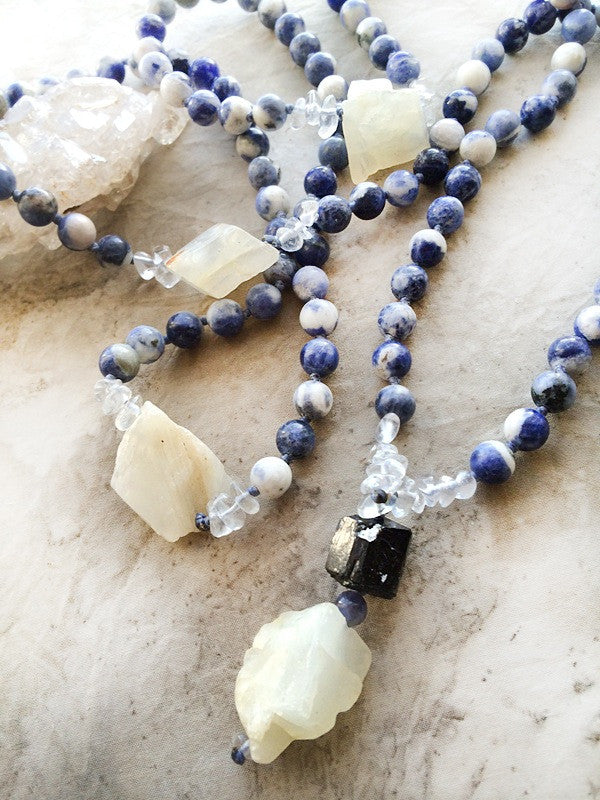 SODALITE MEDITATION MALA WITH MOONSTONE, BLACK TOURMALINE, CLEAR QUARTZ & IOLITE
DESCRIPTION
Contemporary meditation mala with traditional Tibetan Buddhist bead count of 108 with Sodalite, Moonstone, Black Tourmaline, clear Quartz and Iolite.
The main counter beads are Sodalite. The three dividers in the mala consist of rough cut Moonstone and clear Quartz crystals. The guru bead is a combination of Black Tourmaline, Iolite and Moonstone.
The counter beads are individually knotted by hand for ease of handling, with light blue micro-macrame cord. This mala comes in one of my handmade soft brown leather pouches for safe-keeping. If you would rather have a fabric pouch, please let me know at the time of purchase.
Spirit Carrier malas come in three sizes according to the counter bead diameter. The counter bead diameter of this mala is 0.8 cm (0.3")
All around length of mala: 113 cm (44.5")
Length of the guru bead combination: 4.5 cm (1.8")
I draw artistic inspiration for these contemporary yoga meditation beads from the ancient decorative Buddhist malas from Tibet that were often given as gifts to Chinese courts and called "Chinese court necklaces". I match the stones and crystals carefully to create an energetic combination in the mala that will benefit the keeper in an individual way. All of my malas are one-of-a-kind.
Whilst this mala is made with Tibetan Buddhist bead count (108 beads), all Spirit Carrier malas are dedicated to the Highest Good of All – its future keeper may bless the mala for their own purpose and use it for their own personal way of meditation.
CRYSTAL PROPERTIES
Mala healing properties:
SODALITE
Aids the development of psychic abilities and intuition, accelerating the process. Stimulates latent creative abilities. Supportive for public speaking. May open up insights relating to communication and one's inner truths, as well as assisting in living up to one's ideals. Supports building self-esteem. Known as an EMF shield.
MOONSTONE
Useful for feeling balanced or when changing aspects in one's life. Symbolises 'new beginnings'. Brings calmness through awareness. Provides the energy to sustain you through stages of growth. A highly intuitive stone allowing self expression and creativity to flow. Provides protection while travelling. A bringer of good fortune. Stone of feminine wisdom, inner growth and strength. Calming and soothing stone, enhancing intuition and inspiration. White moonstone is stimulating for psychic perception, vision and dream work.
BLACK TOURMALINE
One of the most well-known protective stones, shielding its user from negativity. A shamanic stone used for grounding during vision quests. Empowering for those who work in challenging environments. Purifies and transforms denser energies into lighter vibrations and is also detoxifying for the body. If you're sensitive to electromagnetic smog, you may get relief by wearing black Tourmaline.
IOLITE
Aids in making inner visions more vivid, dissolving fear of the unknown. Helps in blending everyday conscious thinking with intuitive inner knowing. Awakens psychic gifts, activating and clearing the third eye. Helps accessing communication from higher vibratory realms. Helps one to act and respond to situations from one's higher guidance.
CLEAR QUARTZ
The universal master crystal that has a harmonising effect on all levels of being. Programmable by intention, so can be used for versatile purposes. Quartz can clear, enhance, amplify, transmute, balance, focus and transmit energy. Raises one's energetic vibration. Attunes its keeper to their higher self. Known as the "Stone of Power" and "Master Healer".
Recently Viewed