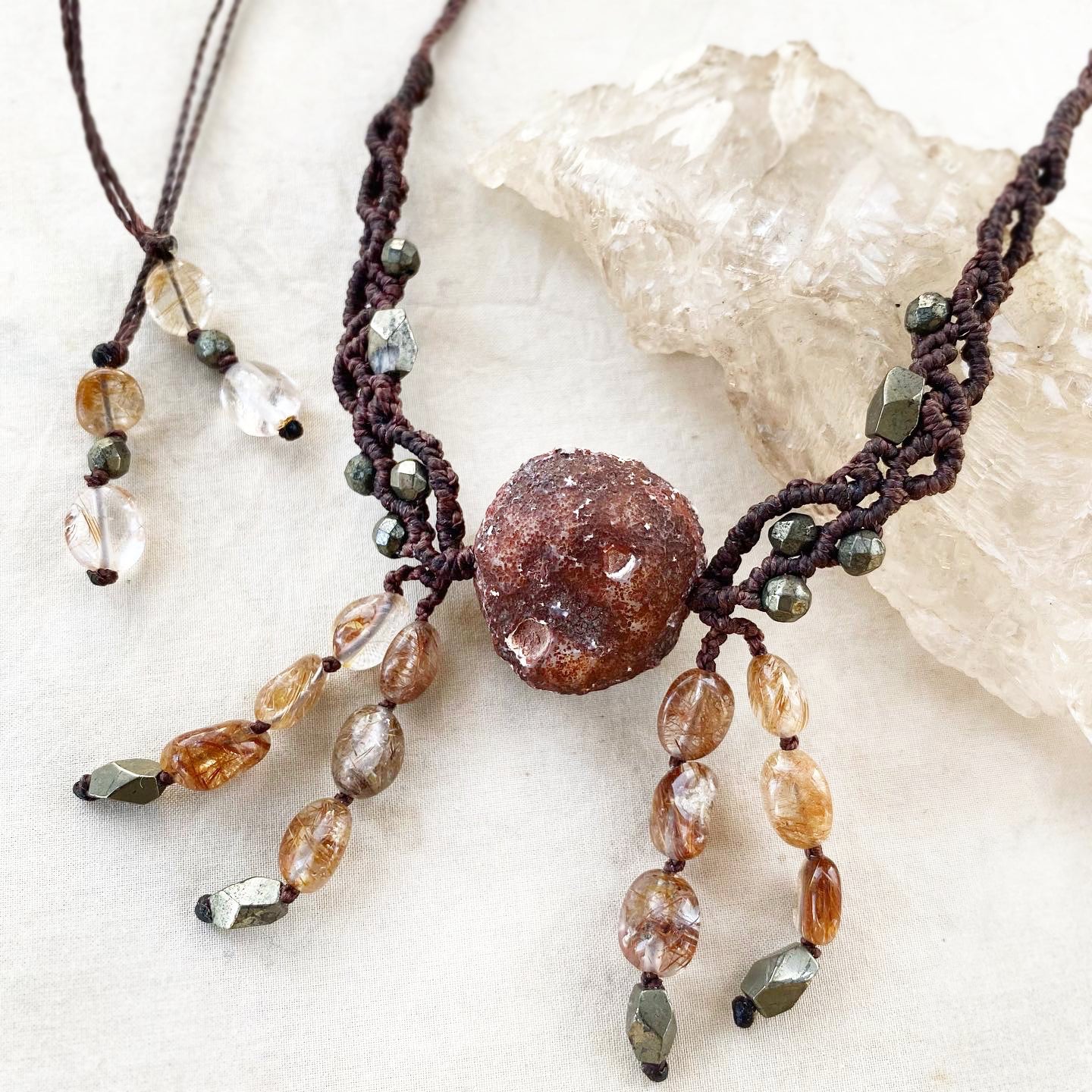 'Soul Roots' ~ crystal healing amulet
DESCRIPTION
Crystal healing talisman with a naturally roundish pebble of Gobi Desert Agate combined with the breathtaking energy of Copper Rutile Quartz and highlighted with Pyrite. The necklace is knotted in an intricate lace-like pattern with dark brown micro-macrame cord. Matching crystals adorn the ends of the adjustable necklace cords as well. Unusual crystal amulet with a pure, energising vibe that powerfully connect you to your own inner resources.
The necklace braid is adjustable from as short as you wish down to solar plexus level. The Gobi Agate is approx. 2 cm (0.8") tall and wide, and the crystal strands on both sides extend down approx. 3.5 cm (1.4").
You'll receive this crystal healing talisman in one of my handmade fabric draw-string pouches - great for the safe-keeping of the necklace. Gift-wrapped at no extra charge.

Read here how to take care of your crystal jewellery.
CRYSTAL PROPERTIES
GOBI DESERT AGATE
Stone of transformation and resilience. Helps you to remain flexible when facing challenges, and open up to help from higher dimensions. Expands understanding of your life path so that wiser choice are possible. A gentle stone to help you with self-compassion and to restore your inner balance.
COPPER RUTILE QUARTZ
Ignites inspiration and activates creativity. Amplifies intentions and abilities, thus perfect for manifesting desired outcomes. Fosters self-reliance, opens up new directions and supports aspirations dear to your heart. Energising, vitalising and highly purifying. Reminds you of the power of the Sun. Attracts the help you need on your life path.
PYRITE
Taps into your innate abilities, bringing confidence and perseverance to aim for your goals. A shielding stone that helps you see the truth in the motives of others. Increases vitality and enhances your assertive qualities. Helpful in turning melancholy into feeling empowered and more light-hearted. Helps in letting go thoughts of misfortune and worry, thus making it an excellent stone for manifesting abundance. Symbolises the warmth and presence of sun, attracting also abundance of love, friendship and success. Also excellent stone against electromagnetic fog.
Recently Viewed