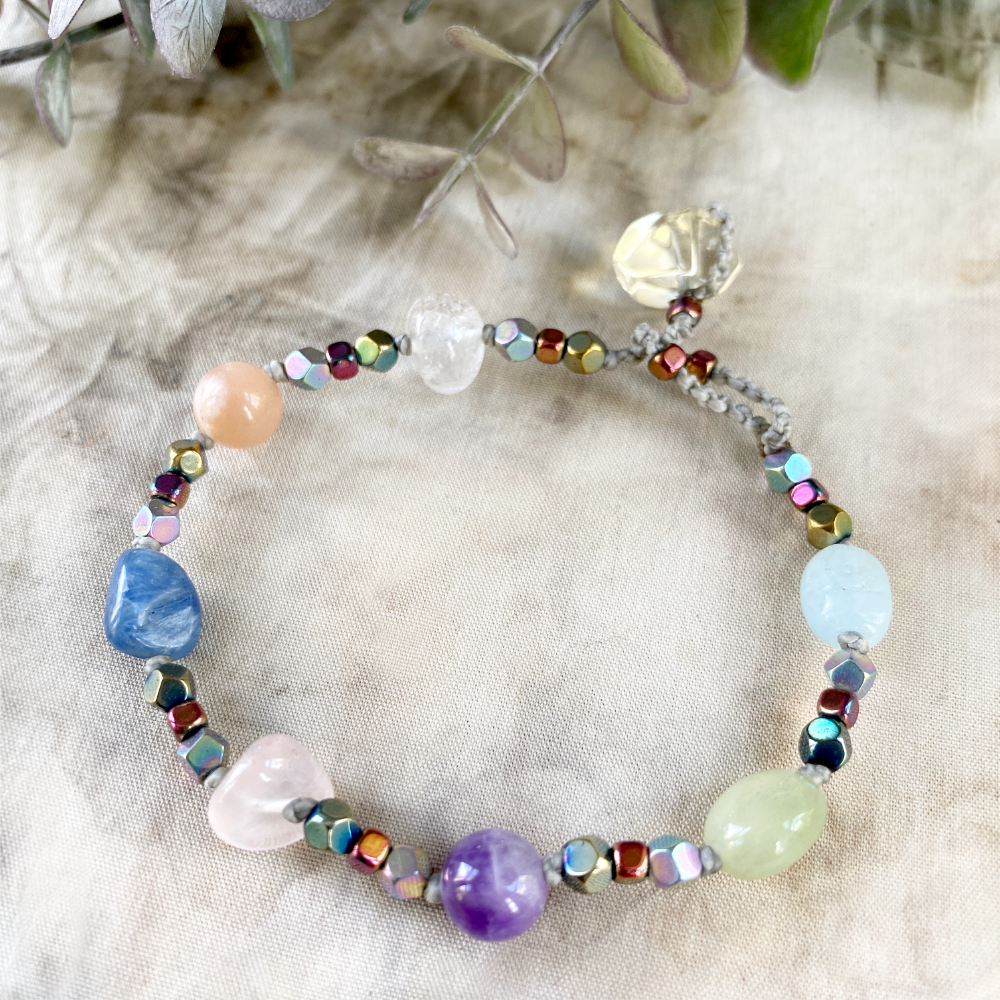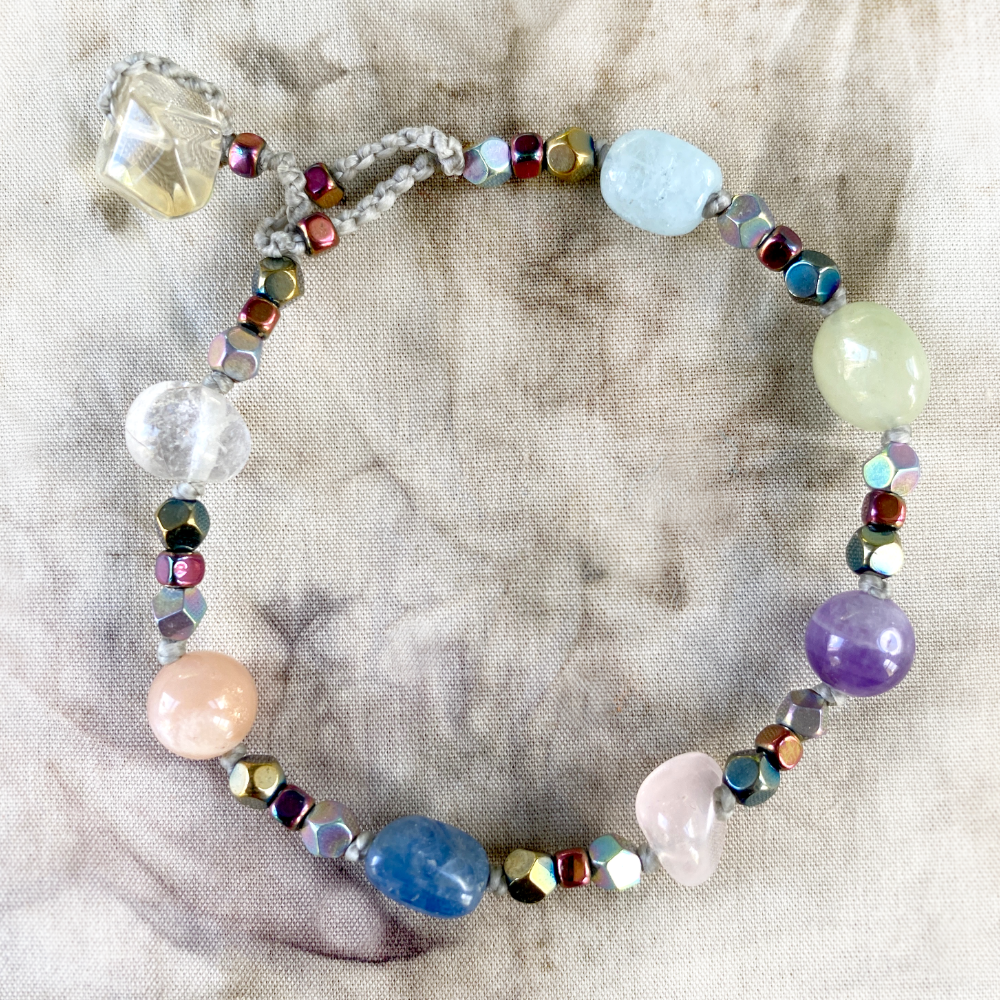 Dainty, colourful crystal healing bracelet ~ for up to 6.5" wrist
DESCRIPTION
Crystal healing bracelet with small colourful crystals including Hematite, Aquamarine, Green Calcite, Chevron Amethyst, Rose Quartz, Blue Kyanite, Moonstone, Clear Quartz and Citrine. The overall tone is sparkly, playful and delicate, with the energy of each crystal available to be focused on when needed. The bracelet is knotted with light grey micro-macrame cord. The toggle stone is Citrine, which slips through the knotted loop to secure the bracelet close. 
The bracelet length is 19 cm (7.5") including the closing loop. Allowing a little bit of the length for movement, this bracelet would be a good fit for a up to 6.5" wrist circumference. The average width of the bracelet varies as the crystals are different sizes, but on average the widest crystal is under 1 cm (0.4").
You'll receive this crystal healing bracelet in one of Spirit Carrier's fabric draw-string pouches, great for the safe-keeping of the bracelet. Gift-wrapped at no extra charge.

Read here how to take care of your crystal jewellery.
CRYSTAL PROPERTIES
HEMATITE
Creates a strong sense of self and enhances the creative flow. Relieves stress. Revitalises, enhancing personal magnetism and optimism. Helps in releasing self-imposed limitations to find your own unique gifts. A stone of balance and equilibrium. Grounds when feeling scattered, increases alertness and vigilance.

AQUAMARINE
Connected with the throat chakra, easing verbal self-expression. Helps you communicate your own truth and find your voice. Helps in looking at emotional situations from other perspectives, assists in opening up intuition and to calmly be in the flow of life. Aquamarine also aids in reaching deep meditative states. Resonates with the energy of the ocean. Stone of courage and protection.
CALCITE
Calming and peaceful, amplifies and increases energy in general. Protects and purifies. Helps in remaining detached from chaos and in dealing with challenges. Increases one's sense of self-worth. Green Calcite is supportive for emotional balance and stress relief. Known as stone of manifestation, especially useful in manifesting prosperity and success. Associated with the heart chakra, releasing beliefs that might be holding you back.
CHEVRON AMETHYST
The veins of Quartz that run within the Amethyst in formation of a chevron amplify the energy of the Amethyst. Chevron Amethyst is said to enhance peace of mind, self-discovery as well as to promote relaxation. A stone of spiritual transformation. Help facilitate changes in one's life and supports one's inner strength.
ROSE QUARTZ
Powerful love stone, love that is all-encompassing and unconditional. Awakens one's heart to its own innate love, compassion and acceptance. Vibrates its loving energy to all chakras, offering gentle healing. Soothing and calming. Dissolves anger and resentment. Good for raising one's self-esteem and feelings of self-worth. Balances emotions and is said to support all types of healing. Guides one's life path towards a sense of personal fulfilment and contentment.

BLUE KYANITE
'Stone of connection' that opens up energetic pathways where none existed. Enhances telepathic and psychic abilities, aligning chakras and subtle bodies. Calming and soothing, aids meditative work. Beneficial in negotiations, creating harmony between people through enhanced communication. Empowers you to stay true to your path. Helps in hearing one's intuitive guidance.
MOONSTONE
Useful for feeling balanced or when changing aspects in one's life. Symbolises 'new beginnings'. Brings calmness through awareness. Provides the energy to sustain you through stages of growth. A highly intuitive stone allowing self expression and creativity to flow. Provides protection while travelling. A bringer of good fortune. Stone of feminine wisdom, inner growth and strength. Calming and soothing stone, enhancing intuition and inspiration. White moonstone is stimulating for psychic perception, vision and dream work.
QUARTZ
The universal master crystal that has a harmonising effect on all levels of being. Activated by intention, so can be used for versatile purposes. Quartz can clear, enhance, amplify, transmute, balance, focus and transmit energy. Raises one's energetic vibration. Brings clarity and filters out distractions. A deep soul cleanser, attuning its keeper to their higher self. Each Quartz crystal is unique with its own character and teachings it offers, all are known as "Stones of Power" and "Master Healers".
CITRINE
Affects a powerful alignment with the higher self. Balances the emotions and helps in uplifting one's mood to be more sunny and cheerful. Brings clarity of thought, and attracts abundance and prosperity through joy. Powerful transformer in healing work. Increases self-confidence and optimism, cleanses the surrounding energies and promotes creative thinking. Releases, dissipates and transforms denser energies on all levels, mental, emotional and physical. Works to release limitations and blockages particularly around the sacral / solar plexus area.
Recently Viewed