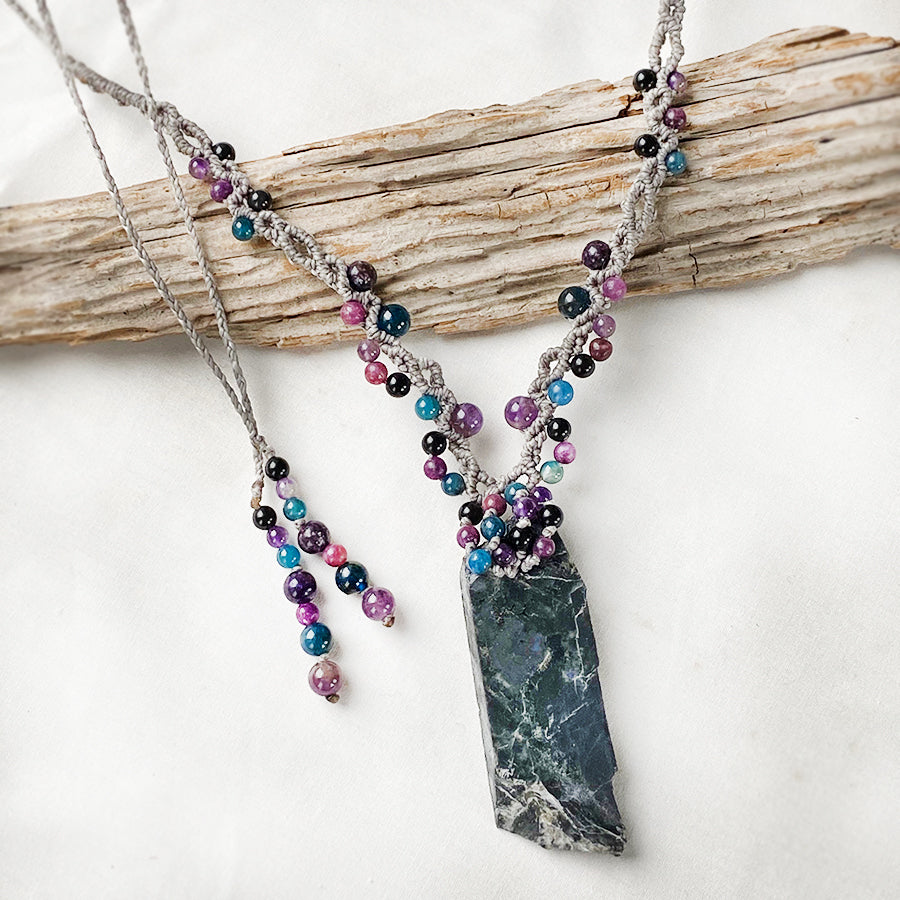 Spectrolite crystal healing amulet
DESCRIPTION
Crystal healing necklace with a rough-cut, unpolished slice of Spectrolite. The necklace is intricately knotted and braided with light grey micro-macrame cord, very strong and durable, yet soft and comfortable to wear. The highlighting crystals are Lepidolite, Apatite, Amethyst and Golden Sheen Obsidian. The ends of the adjustable necklace cords are decorated with matching crystals as well.
Spectrolite is a rare, harder variety of Labradorite, only mined in Finland. When polished, this stone displays strong colourful light flashes, but looks a lot more subdued in this raw form - all of its light is contained within. But if you tilt this stone, you can see some subtle iridescence peering through just below the surface. 
The length of the necklace is adjustable from very short down to solar plexus level. The Spectrolite slice is approx. 6 cm (2.4") tall and approx. 2 cm (0.8") at its widest.
There are no metals in this necklace so would be particularly suitable for those with metal sensitivities, energy workers and those who simply prefer not to wear metal.
You'll receive this crystal healing necklace in one of my fabric draw-string pouches, great for the safe-keeping of the necklace. Gift-wrapped at no extra charge.

Read here how to take care of your crystal jewellery.
CRYSTAL PROPERTIES
SPECTROLITE (rare, gem-grade variety of labradorite mined in Finland)
Stone of self-discovery that inspires new beginnings, drawing to surface your inner wisdom and strength. Inspires perseverance to take action towards your heart-felt goals. Good for self-esteem and feelings of inner worth. Relieves anxiety. Develops intuition. Excellent in times of change. Directs towards beneficial solutions.
LEPIDOLITE
An open, inviting stone, offering its gentle love readily when you just hold it in your hand. Useful in reducing depression and stress, it can assist in moving calmly through life transitions. In crystal healing practice, Lepidolite has been used to ease emotional traumas, panic attacks and addictions. Lepidolite is said to help you to nurture yourself and be optimistic, and to clear out ties to the past, assisting you in moving freely forward in joy and happiness.
APATITE
Enhances one's insight and imagination, and gives increased self-confidence. Connects to high level of spiritual guidance and is helpful in letting go of anything that no longer serves your highest good. Helpful in bringing one's vision into reality and overcoming difficulties. Useful for energy workers, helping to maintain a clear energy field and balanced focus. Apatite crystal is also said to be a good aid in curbing one's appetite!
GOLDEN SHEEN OBSIDIAN
Protective stone that helps one achieve harmony and solve problems relating to past, present and future. Helps in settling inner emotional conflicts and keeps one from entering into outer conflicts so one is free to follow one's spiritual path. Shielding stone that encourages one to stay positive. Transmuting stone to keep negativity at bay. Said to open a window to one's soul and brings out any hidden talents one may have.
AMETHYST
Instils inner peace, promotes self-discovery and aids in relaxation. Associated with the crown chakra, known as a "stone of balance" and positive transformation. Thought to increase spiritual awareness and psychic abilities, initiating higher knowing and greater understanding. Helps in assimilating new ideas and manifesting thoughts into action. Symbolises a connection to the Divine. A well-known support stone for those wanting to break old patterns to create a new, harmonious life.
Recently Viewed