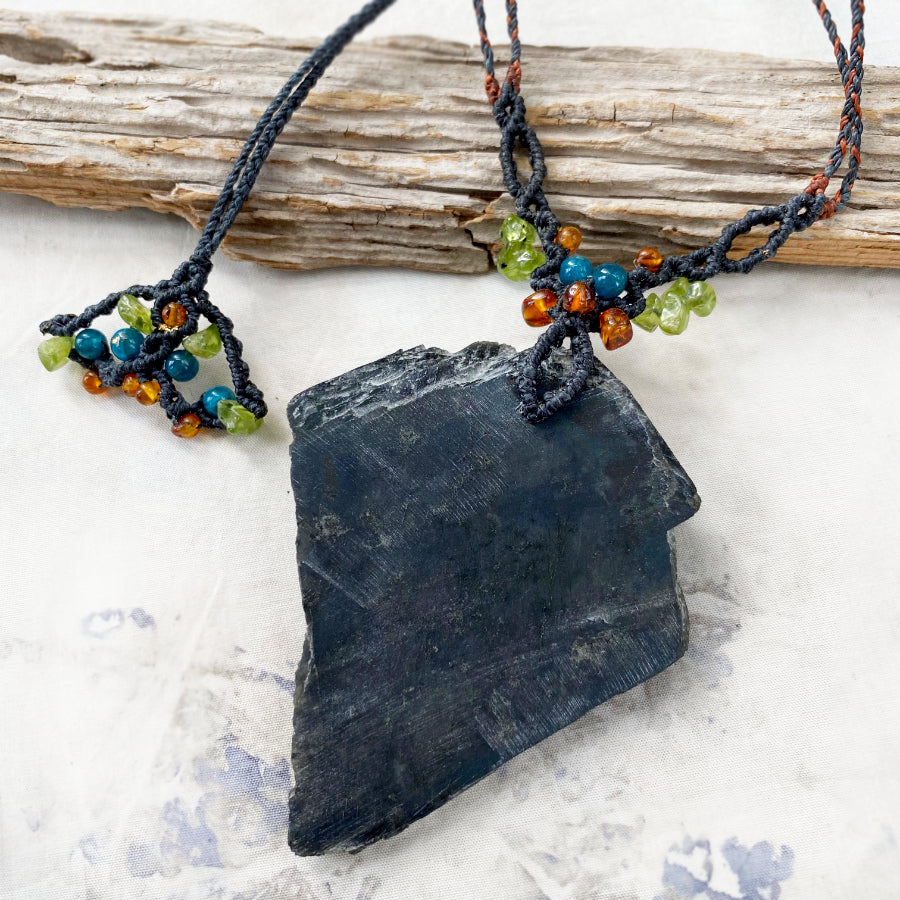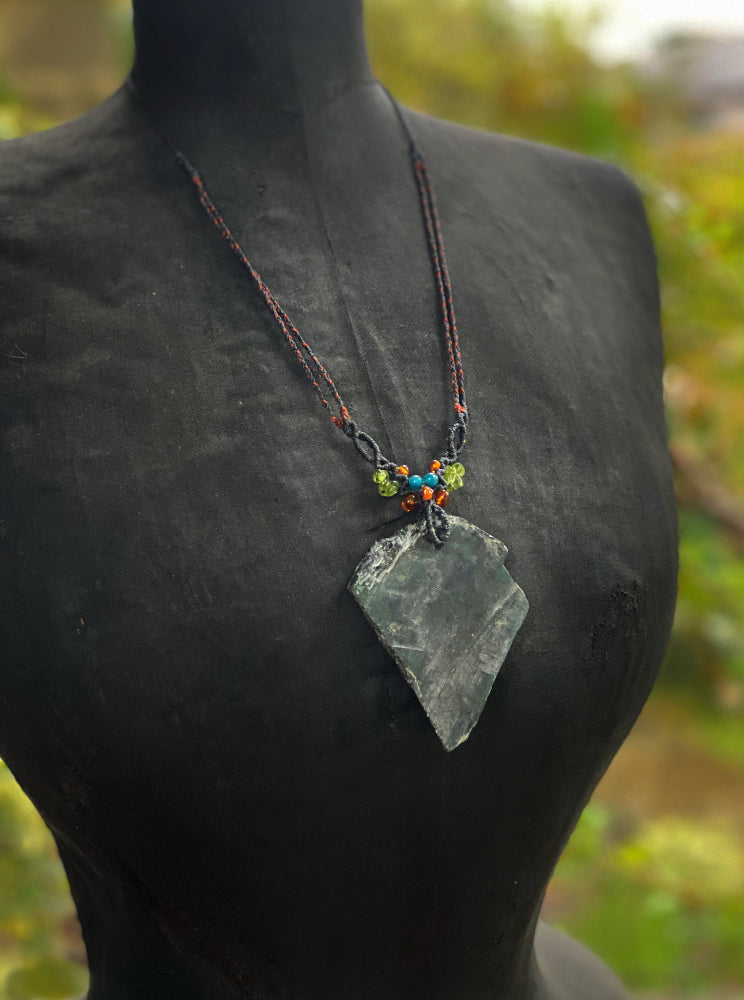 Large Spectrolite crystal healing amulet
DESCRIPTION
Crystal healing necklace with a large, un-polished slice of Spectrolite. The necklace is knotted and braided with a combination of dark petrol blue and rusty brown micro-macrame cord, very strong and durable, yet soft and comfortable to wear. Spectrolite is the rare, harder variety of Labradorite, only mined in Finland. When polished, this stone would display strong blue light flashes but looks a lot more subdued in its raw form - guarding within its light-filled heart: those colours are flowing out into the knotwork of the necklace, in form of Peridot, Amber and Apatite. The ends of the adjustable necklace cords join into a butterfly-shaped adornment, accentuated with matching crystals.
The length of the necklace is adjustable from very short down to solar plexus level. The Spectrolite slice is of a commanding size at 7.5 cm (3") tall and approx. 6 cm (2.4") at its widest.
There are no metals in this necklace so would be particularly suitable for those with metal sensitivities, energy workers and those who simply prefer not to wear metal.
You'll receive this crystal healing necklace in one of my fabric draw-string pouches, great for the safe-keeping of the necklace. Gift-wrapped at no extra charge.

Read here how to take care of your crystal jewellery.
CRYSTAL PROPERTIES
SPECTROLITE (rare, gem-grade variety of Labradorite, mined only in Finland)
Stone of self-discovery that inspires new beginnings, drawing to surface your inner wisdom and strength. Inspires perseverance to take action towards your heart-felt goals. Good for self-esteem and feelings of inner worth. Relieves anxiety. Develops intuition. Excellent in times of change. Directs towards beneficial solutions.
PERIDOT
Upbeat and comforting, Peridot reduces stress and amplifies intuitive awareness. Soothes hurt feelings, supporting renewal and personal growth. Brings in-depth heart based awareness, extending from healing to understanding and offering protection against negative emotions. Known also as the stone of prosperity and happiness.
AMBER
Amber is like sunshine solidified, offering a wonderful sense of health and wellbeing. Transmutes negative energies into positive, excellent for psychic protection. Cheers you up and helps you take action to make your ideas reality - ideal manifestation aid. Cleansing effect on the body, mind and spirit, promoting self-confidence and creative self-expression. Encourages spontaneity, patience and inner wisdom.
APATITE
Enhances one's insight and imagination, and gives increased self-confidence. Connects to high level of spiritual guidance and is helpful in letting go of anything that no longer serves your highest good. Helpful in bringing one's vision into reality and overcoming difficulties. Useful for energy workers, helping to maintain a clear energy field and balanced focus. Apatite crystal is also said to be a good aid in curbing one's appetite!
Recently Viewed