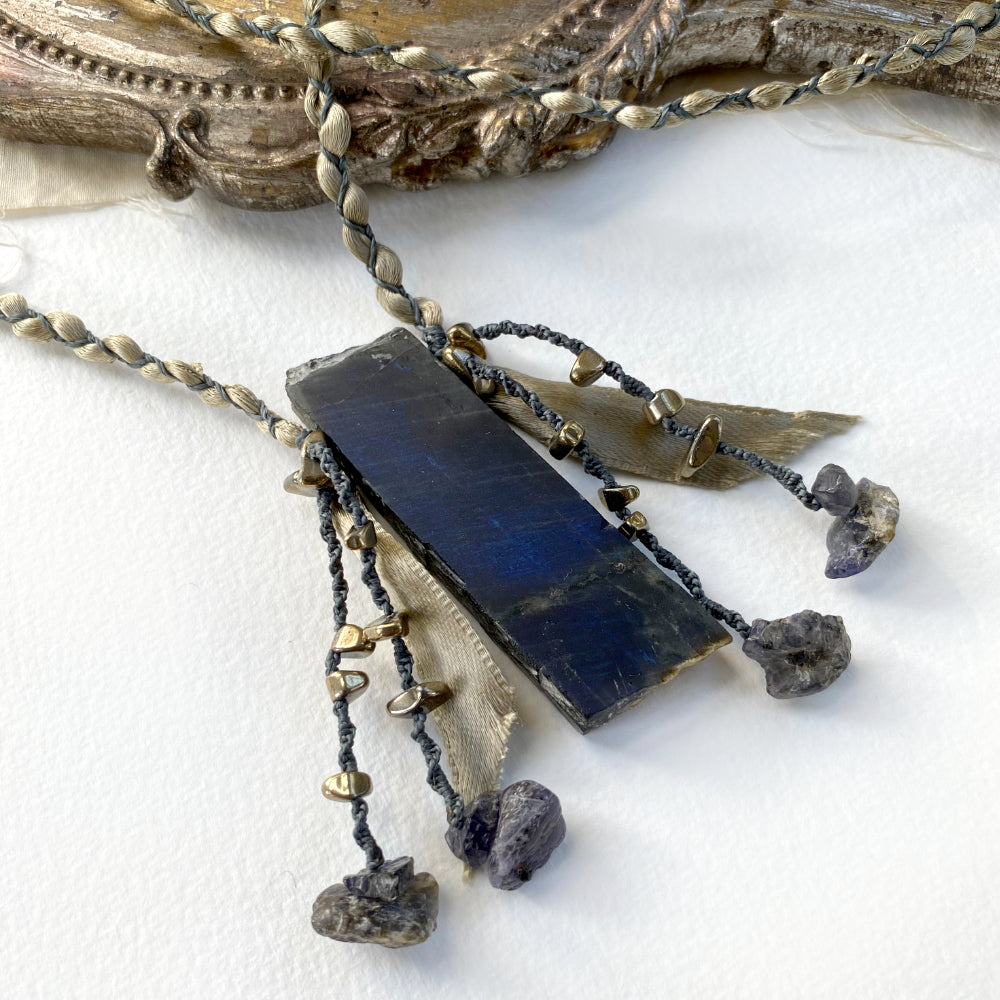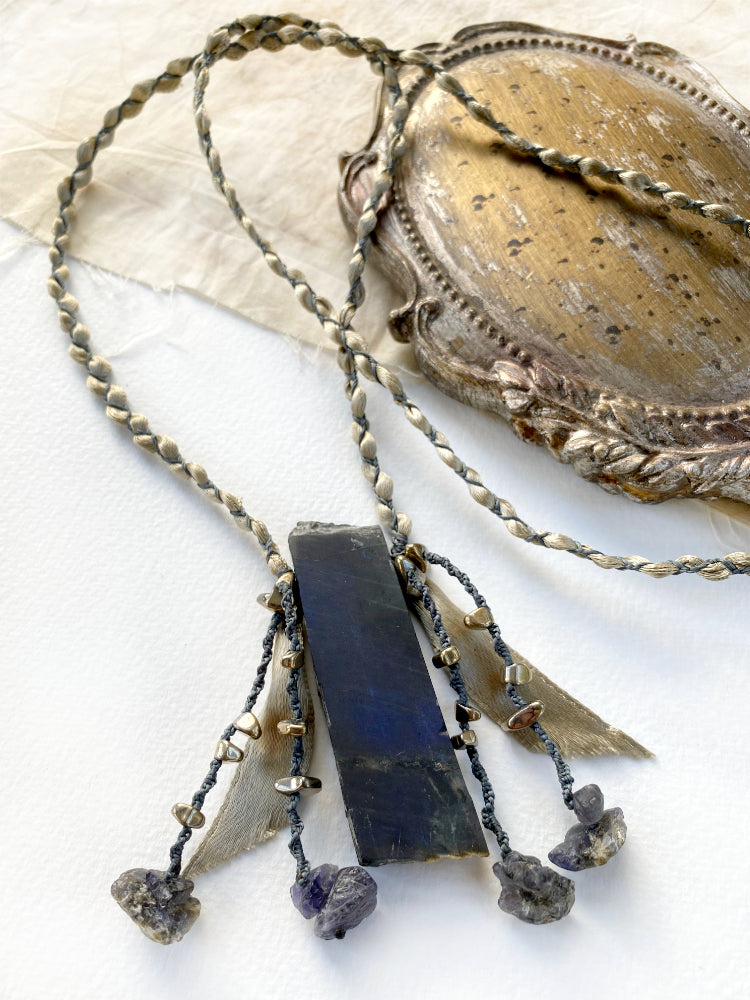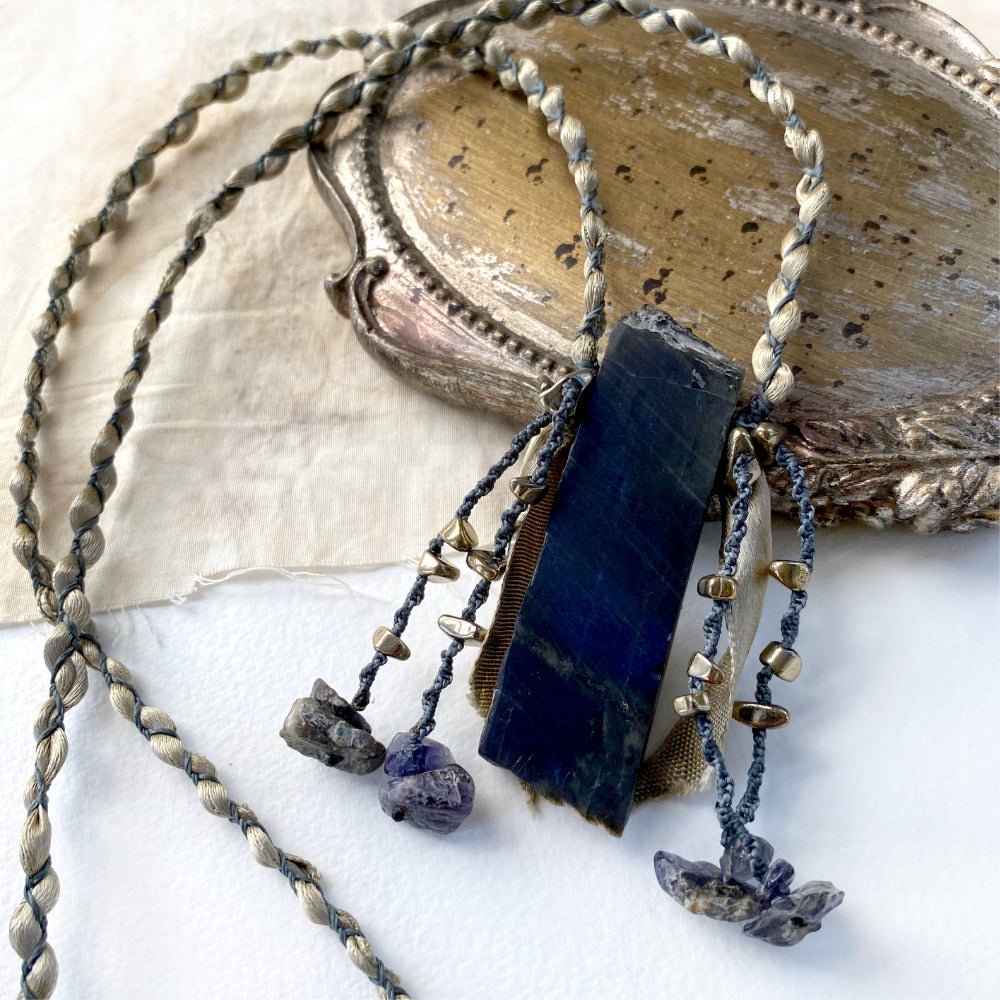 Spectrolite crystal healing talisman
DESCRIPTION
Natural, raw slice of Spectrolite in long rectangular shape, showing a hidden deep blue flash on its surface when the light touches it in the right angle. There is something quite royal about this stone. The necklace braid is a combination of taupe satin ribbon and dark blue micro-macrame cord. The talisman is highlighted with small gold-plated Hematite beads and raw Iolite crystals adorning both sides of the main stone.
The necklace braid is set length, allowing the Spectrolite to hang down approx. 37 cm (14.5") measured from the back of the neck to the top edge of the Spectrolite. The all-around length of the necklace braid is approx. 75 cm (29.5").
The Spectrolite is approx. 6.5 cm (2.5") tall and 2 cm (0.8") at its widest.
Spectrolite is a rare, harder variety of Labradorite, only mined in Finland. When polished, this stone displays strong colourful light flashes, but looks a lot more subdued in this raw form - all of its light is contained within. But if you tilt this stone, you can see some subtle iridescence peering through just below the surface. 
You'll receive this crystal healing necklace in one of Spirit Carrier's handmade fabric draw-string pouches - great for the safe-keeping of the necklace. Gift-wrapped at no extra charge.

Read here how to take care of your crystal jewellery.
CRYSTAL PROPERTIES
SPECTROLITE (rare, gem-grade variety of Labradorite, mined only in Finland)
Stone of self-discovery that inspires new beginnings, drawing to surface your inner wisdom and strength. Inspires perseverance to take action towards your heart-felt goals. Good for self-esteem and feelings of inner worth. Relieves anxiety. Develops intuition. Excellent in times of change. Directs towards beneficial solutions.
IOLITE
Aids in making inner visions more vivid, activating the creative side of the mind. Dissolves fear of the unknown. Helps in blending everyday conscious thinking with intuitive inner knowing, initiating ideas beyond the ordinary. Awakens psychic gifts, activating and clearing the third eye. Helps accessing communication from higher vibratory realms. Helps one to act and respond to situations from one's higher guidance, to feel more motivated, less distracted.
HEMATITE
Creates a strong sense of self and enhances the creative flow. Relieves stress. Revitalises, enhancing personal magnetism and optimism. Helps in releasing self-imposed limitations to find your own unique gifts. A stone of balance and equilibrium. Grounds when feeling scattered, allows one to maintain a natural alertness while remaining calm.
Recently Viewed