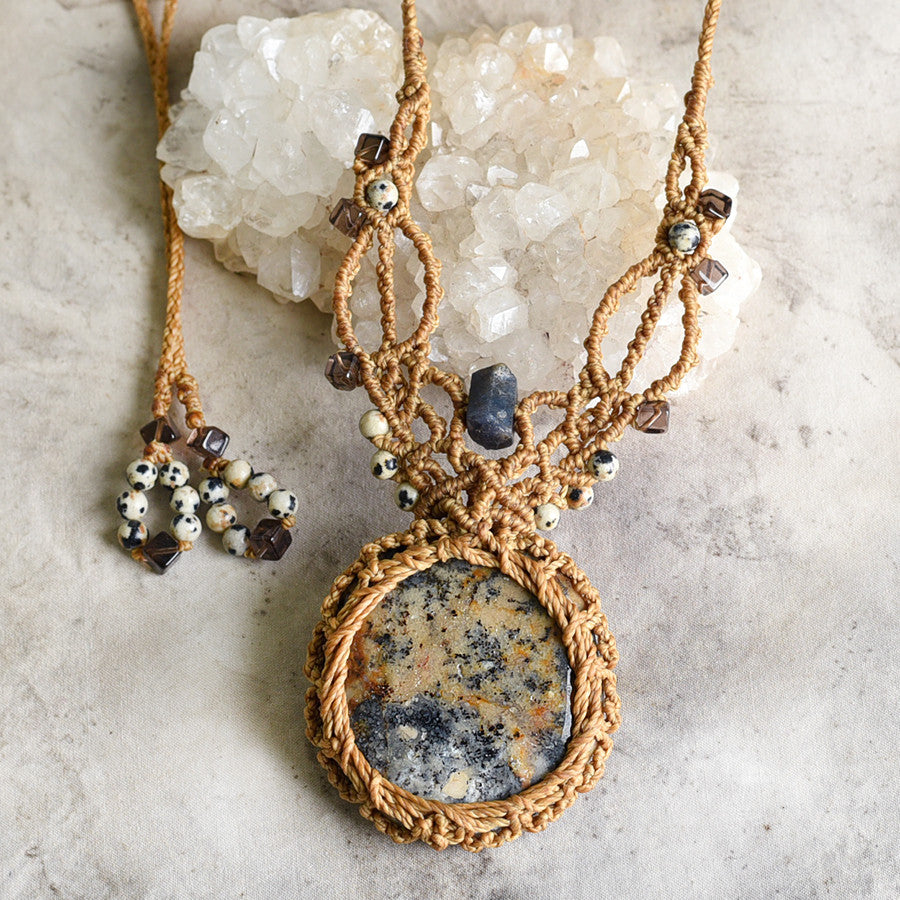 'Spirit Knowing' ~ crystal healing amulet with Merlinite
DESCRIPTION
Crystal amulet with a smooth, roundish Merlinite stone. It is un-drilled, held securely in a nest of knotting which extends to form the intricate necklace with a lacy look. The necklace is knotted and braided with golden brown micro-macrame cord, combined with raw Sapphire and highlighted with Dalmatian Jasper and Smokey Quartz crystals.
The length of the necklace is adjustable from very short down to just above solar plexus level. The Merlinite approx. 4.5 cm (1.8") tall and 3.5 cm (1.4") wide. The visible area of the stone within the circular knotted frame is approx. 3.5 x 3 cm (1.4" x 1.2").
There are no metals in this necklace so would be particularly suitable for those with metal sensitivities, energy workers and those who simply prefer not to wear metal.
You'll receive this one-of-a-kind crystal healing necklace in one of my fabric draw-string pouches, great for the safe-keeping of the necklace. Gift-wrapped at no extra charge.

Prior to leaving Spirit Carrier studio, all crystals are energy cleansed, balanced and activated for the highest good of their new keeper. 
CRYSTAL PROPERTIES
MERLINITE
Stone of spiritual development, assisting in accessing multiple realms including akashic records. Softens one's emotional guards in aid of making deeper connections with out fellow humans. Helps with integrating one's shadow self as well as attracting spiritual guides.
SAPPHIRE
A stone of psychic activation, enhances insight and focus. Helps the throat and third eye chakras to work in unison to strengthen and express one's inner vision. Grounds higher knowledge and helps one to stay centred. Evokes the wisdom needed to see past any situation into the underlying truth. Helpful in channeling healing energy from the highest source, allowing access to deeper levels of consciousness. (Sapphire is one of the four 'precious' gemstones, the other three being Ruby, Emerald & Diamond. Other gemstones are considered 'semi-precious'.)
DALMATIAN JASPER
Helps in removing barriers that prevent you from moving forward in life, and to discover your true purpose of being in the world. Brings joy and playfulness into one's life. The black spots in this stone are Black Tourmaline, which adds to this stone's protective qualities.
SMOKEY QUARTZ
A grounding and calming stone that elevates moods and dissipates negative emotions. "A Stone of Serenity", it is comforting and protective for one's aura. Smokey Quartz is thought to assist in creative endeavours and also in setting personal boundaries. Offers protection against electromagnetic rays. A good healing stone for improving general feeling of well-being. Relieves anxiety and worry, wards off confusion. Shielding crystal to create a calm, safe environment.
Recently Viewed