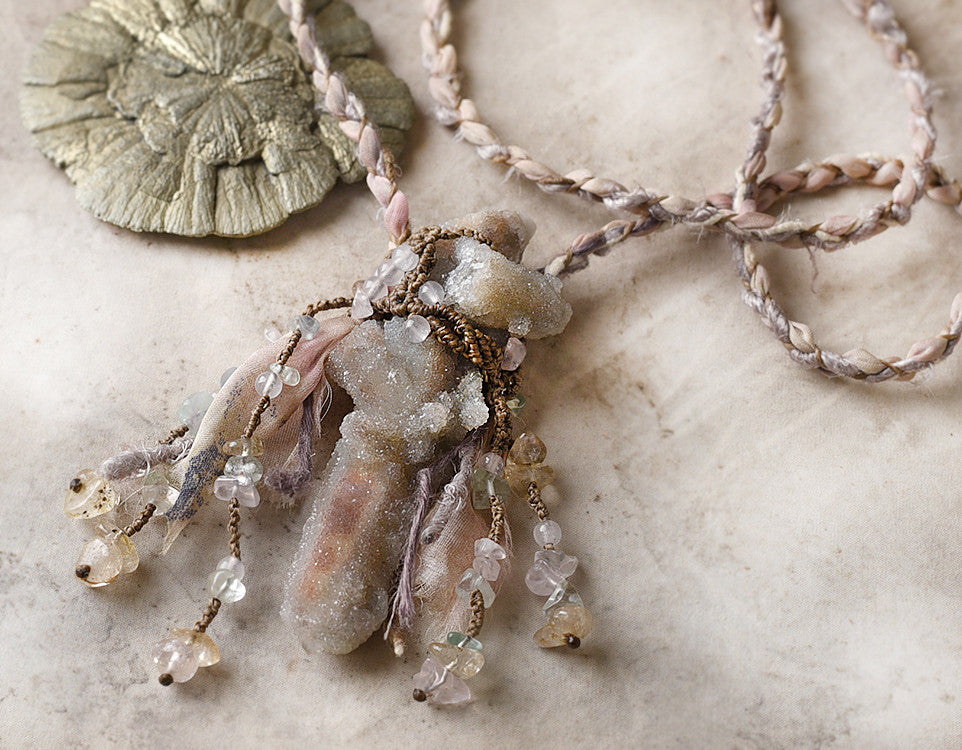 Spirit Quartz Witch Finger crystal healing talisman in silk braid
DESCRIPTION
This old soul Spirit Quartz Witch Finger agreed to settle as wearable, inviting a mix of Rose Quartz, Fluorite and Gold Rutile Quartz to join as its supporting companions. This Spirit Quartz is a rare 'witch finger' formation, meaning that it displays knobbly protrusions on its surface, all covered in tiny crystal points that reflect light beautifully. One of the knobbly protrusions on the front seems to have broken off at some point on this stone's prior journey, revealing the core of the stone. This in no way affects the energy of this old soul, but rather imbues it with the depth of a 'wounded healer'. The feeling from this crystal spirit is that of a wise trusted companion that will connect with its chosen keeper igniting a sense of purposeful reunion.

The stone is un-drilled and secured to the necklace braid with a decorative knotting in muted brown micro-macrame cord. Although the stone overall is white and grey, there seems to be a pink hued core shining through on the stem of the main point. The shamanic style necklace is braided with a combination of peace silk, silk chiffon, soft organic banana silk (which I've eco-dyed warm grey with avocado) and muted brown micro-macrame cord.
The necklace braid is set length, allowing the long Spirit Quartz to hang down 36 cm (14") measured from the back of the neck to the top edge of the Spirit Quartz - i.e. the all-around length of the necklace braid is 72 cm (28").
The Spirit Quartz is quite long, at approx. 9 cm (3.5") tall and 1.5-2.5 cm (0.6"-1") wide depending on the point of measure.
You'll receive this crystal healing necklace in one of my handmade fabric draw-string pouches - great for the safe-keeping of the necklace. Gift-wrapped at no extra charge.

Read here how to take care of your crystal jewellery.
CRYSTAL PROPERTIES
SPIRIT QUARTZ
Only found in South Africa. Radiates a very high, strong vibration with its many tiny crystals that grow on a central stone - all working together in harmony. Helps in releasing peacefully the old from your life that no longer benefits you, whilst creating emotional balance with a view to the future. A wonderful stone to aid spiritual growth and to support your life's work.
ROSE QUARTZ
Powerful love stone, love that is all-encompassing and unconditional. Awakens one's heart to its own innate love, compassion and acceptance. Vibrates its loving energy to all chakras, offering gentle healing. Soothing and calming. Dissolves anger and resentment. Good for raising one's self-esteem and feelings of self-worth. Balances emotions and is said to support all types of healing. Guide's one's life path towards a sense of personal fulfilment and contentment.
FLUORITE
Excellent for cleansing one's aura, also detaching unwanted energy cords. Grounds excessive energy, beneficial for all levels of healing. Helpful in achieving spiritual wholeness. Protective, stabilising and harmonising stone. Facilitates personal growth. Awareness expanding. Anchors intuitive insights into the physical plane. Offers strong psychic protection, helping to discern energies one comes in contact with. Helps in being objective and focusing on what is essential. Also known as absorbing environmental EMF.
GOLD RUTILE QUARTZ
A master assistant in self-discovery, a companion in finding one's inner truth, purpose and destiny. Joyful and energising. Thought to offer protection against psychic attacks and helps in opening up to one's Divine strength. Assists in activating one's creativity and manifesting dreams into reality.
Recently Viewed