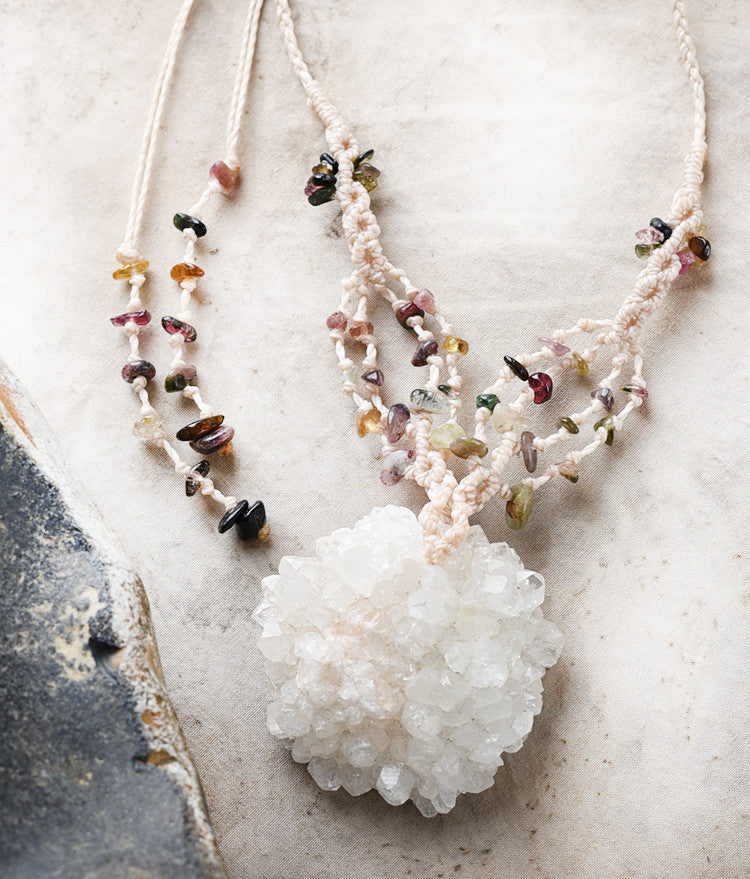 Solar Quartz crystal amulet with Tourmalines (Rubellite, Verdelite, Schorl)
DESCRIPTION
Beautiful, naturally rough and unpolished stalactitic Quartz, also known by name Solar Quartz. This one is mainly white, with subtle hints of pale red on one edge. The necklace is intricately knotted with cream white micro-macrame cord, highlighted with various colourful Tourmaline crystals.
The length of the necklace is adjustable from very short down to solar plexus level. The Solar Quartz diameter is approx. 4 cm (1.6").
There are no metals in this necklace so would be particularly suitable for those with metal sensitivities / metal allergy, energy workers and those who simply prefer not to wear metal jewellery.
You'll receive this crystal healing necklace in one of my fabric draw-string pouches, great for the safe-keeping of the necklace. Gift-wrapped at no extra charge.
CRYSTAL PROPERTIES
SOLAR QUARTZ (aka Stalactite Quartz)
Associated with crown chakra, stalactitic Quartz is uplifting, bringing emotional strength and harmonious alignment with one's inner core. Creates a feeling of patience with life's flow, a sense that All Is Well in this Now moment. Great energy enhancer. Helpful in accessing and healing issues in those past lives that are relevant to your life at the moment. Powerful healing stone igniting one's sense of higher knowing.
TOURMALINE
Stone of abundance, protection and healing. Aids understanding oneself and others. Reduces fears and promotes self-confidence. Removes energetic blockages, balancing the male/female energy within the body.
Pink Tourmaline (Rubellite) - Considered a rare, valuable crystal, stimulates the heart chakra and life-force energy. A stone of quiet authority, instilling peaceful vibes in the midst of disputes. Harmonises one's feminine energies and has a nurturing energy. Helps in overcoming fears of lack and supports those who might not feel like belonging in this world to find joy of life.
Green Tourmaline (Verdelite) - Connects to the energy of compassion, opening up pathways to self-healing and letting go of old heart wounds. Helpful in implementing new projects with the aim of bringing your true desires to fruition. Balancing and rejuvenating, attracting luck and prosperity.
Black Tourmaline (Schorl) - One of the most well-known protective stones, shielding its user from negativity. A shamanic stone used for grounding during vision quests. Empowering for those who work in challenging environments. Purifies and transforms denser energies into lighter vibrations and is also detoxifying for the body. If you're sensitive to electromagnetic smog, you may get relief by wearing black Tourmaline.
Recently Viewed