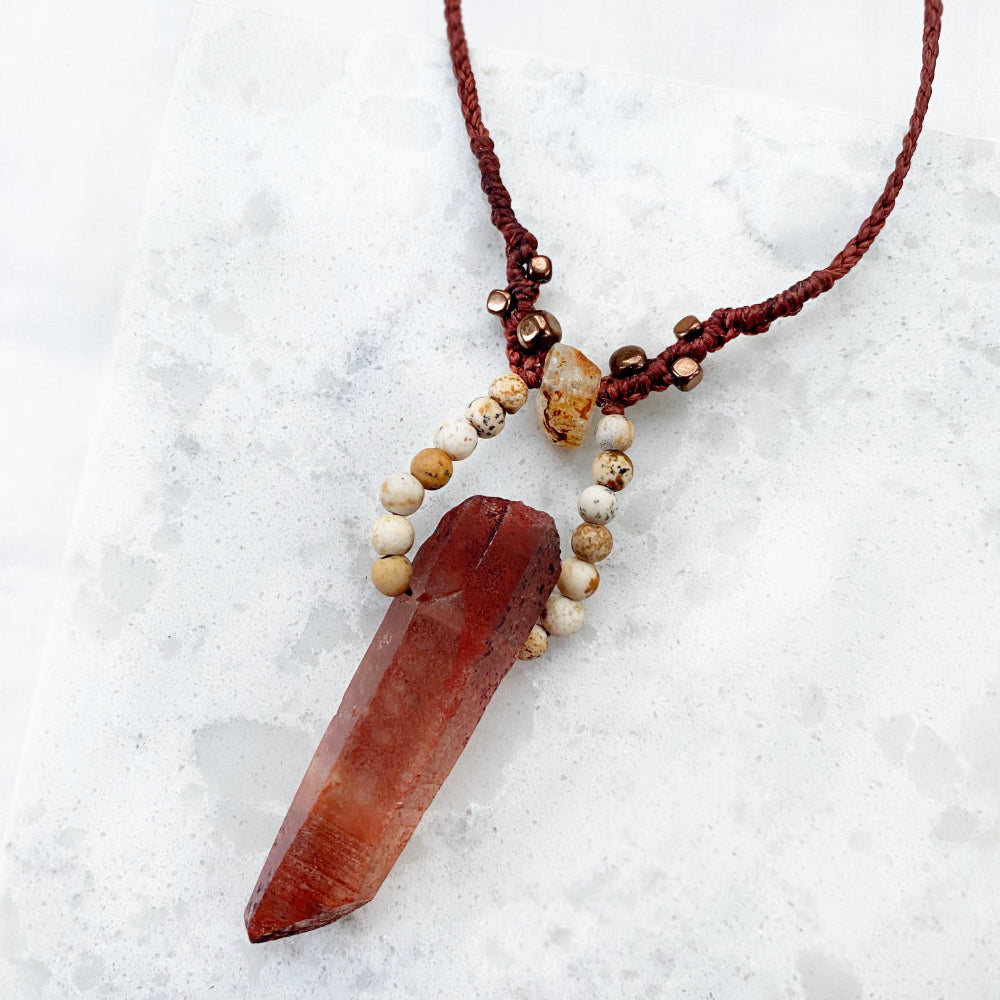 'Star Flight' crystal healing amulet with Hematoid Quartz point
DESCRIPTION
Crystal healing amulet with a raw Hematite included Quartz. This deep rusty red point shows some Lemurian style striations towards the tip on one of its sides. The necklace is minimally braided with reddish brown micro-macrame cord. The pendant combination includes one raw yellow Topaz crystal, Picture Jasper and copper-plated Hematite. The ends of the adjustable necklace cords are adorned with matching small crystal beads.
The length of the necklace is adjustable from very short down to solar plexus level. The Hematoid Quartz point is just over 5 cm (2") tall and the total length of the pendant combination, from the top edge of the Topaz to the tip of the Hematoid Quartz is 7 cm (2.8").
You'll receive this crystal healing necklace in one of my fabric drawstring pouches, great for the safe-keeping of the necklace. Gift-wrapped at no extra charge.

Read here how to take care of your crystal jewellery.
CRYSTAL PROPERTIES
HEMATOID QUARTZ (Hematite included Quartz)
Supports self-esteem, self-confidence, courage and will power. Grounding and balancing energy, easing fears and worries. Highly protective, helps in maintaining your auric shield. Grounds higher spiritual energy into the body, enabling you better manifest your dreams into reality.
TOPAZ
Stone of success and good fortune. Aligns and recharges body's meridians.  Clear Topaz aids in spiritual development and in clarifying one's life purpose. With the strong magnification energy of Topaz, you may reach your heart's goals and desired manifestations faster. Increases energy and vitality. Increases cosmic awareness by activating the crown and the soul star chakras. In ancient legends, Topaz was said to make its wearer invisible if needed at times of emergency.
PICTURE JASPER
Nurturing, comforting stone, associated with expanded creativity, invention and initiative. Helps in grounding one's ideas into reality. Believed to contain hidden messages from the past, connecting and grounding into the earth energies. Harmonious stone offering psychic protection during shamanic journeying as well as activating the third eye chakra. Inspires creative visualisation and is excellent for overcoming any creative blocks and clear away past hurts. Good for confidence, particularly helpful in business pursuits. Revered in many native cultures as a sacred stone of courage and wisdom.
Recently Viewed