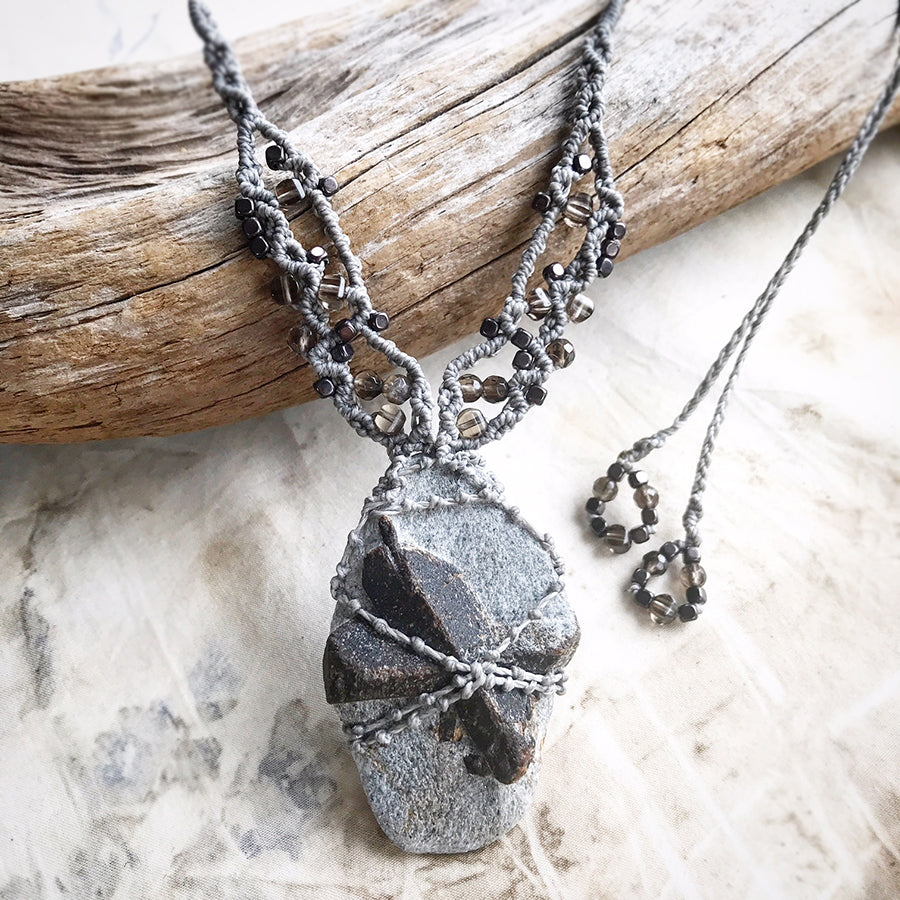 Staurolite crystal healing amulet
DESCRIPTION
Staurolite crystal healing necklace with highlighting crystals of Smokey Quartz and Hematite. The natural, rough Staurolite is un-drilled and wrapped with grey micro-macrame cord to form an intricately knotted necklace. Matching crystals also adorn the ends of the adjustable necklace cords.
The length of the necklace is adjustable from very short down to solar plexus level. The Staurolite is approx. 5.5 cm (2.2") tall and approx. 3.5 cm (1.4") at its widest.
You'll receive this crystal healing necklace in one of my fabric draw-string pouches, great for the safe-keeping of the necklace. Gift-wrapped at no extra charge.
Prior to leaving Spirit Carrier studio, all crystals are energy cleansed, balanced and activated for the highest good of their new keeper. 

Read here how to take care of your crystal jewellery.
CRYSTAL PROPERTIES
STAUROLITE (aka Fairy Cross Stone)
Known since ancient times as a good luck amulet, said to protect against disease and accidents. Soothing and calming, great for relieving stress and anxiety. A good grounding stone for spiritual people. Facilitates deeper connection with the natural world.  Helps one to accept and receive unconditional love. Thought to help with letting go of unhealthy addictions such as smoking. Assists in using your time well, finding lost objects and having lucid dreams. Encourages you to receive blessings and share unconditional love with others.
SMOKEY QUARTZ
A grounding and calming stone that elevates moods and dissipates negative emotions. "A Stone of Serenity", it is comforting and protective for one's aura. Smokey Quartz is thought to assist in creative endeavours and also in setting personal boundaries. Offers protection against electromagnetic rays. A good healing stone for improving general feeling of well-being. Relieves anxiety and worry, wards off confusion. Shielding crystal to create a calm, safe environment.
HEMATITE
Creates a strong sense of self and enhances the creative flow. Relieves stress. Revitalises, enhancing personal magnetism and optimism. Helps in releasing self-imposed limitations to find your own unique gifts. A stone of balance and equilibrium. Grounds when feeling scattered, increases alertness and vigilance.
Recently Viewed