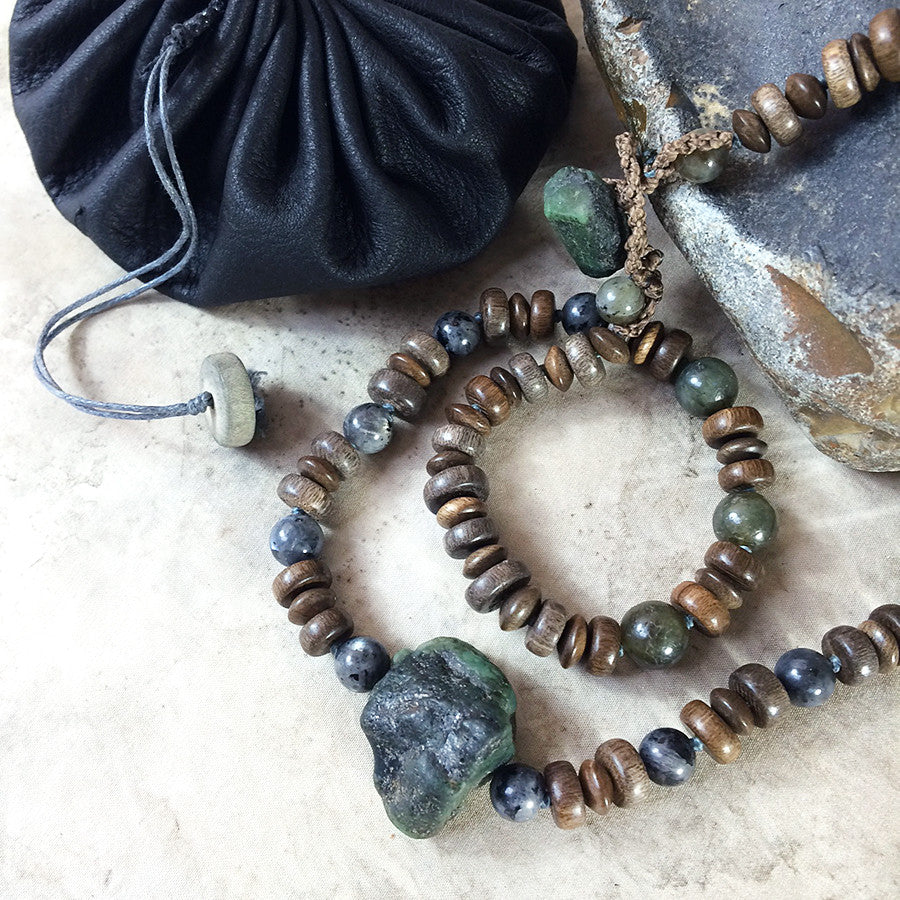 Stone talisman for men ~ with raw Emerald, Labradorite & Norwegian Moonstone
DESCRIPTION
Men's necklace (22" all-around length) with raw, dark green Emerald, Labradorite, Norwegian Moonstone & wooden beads - a crystal energy activated talisman in disguise. This chunky wooden necklace is meticulously beaded by hand using brown micro-macrame cord. The necklace closes with an Emerald stone toggle through a knotted loop.
The length of the necklace is approx. 57 cm (22") and the main, rough Emerald's size is approx. 2 x 2.5 cm (0.8" x 1"). The Labradorites and Norwegian Moonstones alternate with the wooden beads along the sides and the back of the necklace which completes the energy flow.
Care: To protect the wooden components from deteriorating, showering / swimming while wearing this necklace is not recommended.
You'll receive this necklace in one of my handmade, luxurious black reindeer hide draw-string pouches - useful for the safe-keeping of the necklace. This great gift set also arrives gift-wrapped at no extra charge.
CRYSTAL PROPERTIES
EMERALD
Stone of love. Opening and nurturing to the heart chakra. Benefits heart-based intuition. Promotes joyous emotions, enhances emotional and spiritual balance. Restores confidence where needed. Brings visionary insight, especially relating to one's vocation. In crystal lore, Emerald is the sacred stone of the goddess Venus. It was the symbol of eternal life in ancient Egypt. (Emerald is one of the four 'precious' gemstones, the other three being Ruby, Sapphire & Diamond. Other gemstones are considered 'semi-precious'.)
LABRADORITE
One of the most powerful, versatile crystal tools for healing. Creates an auric shield and strengthens your innate energy and life force, preventing energy leakages. Enhances intuitive abilities and assists in spiritual transformation. Helps the wearer align with their highest destiny and discover their inner worth. Strengthens willpower and brings in new ideas. Often referred to as the 'Stone of Destiny', believed to help you to find your true path in life, and as 'Temple of the Stars', anchoring higher dimensional light into your being.
NORWEGIAN MOONSTONE (aka Black Labradorite, Larvikite)
Repels negative energy and can make you more adaptable to life's situations. It also stimulates inner visions so it's very suited to meditation. Black Labradorite is also said to connect with nature spirits. On physical level, it is said to be good for renewing and maintaining vitality and youthfulness.
Recently Viewed