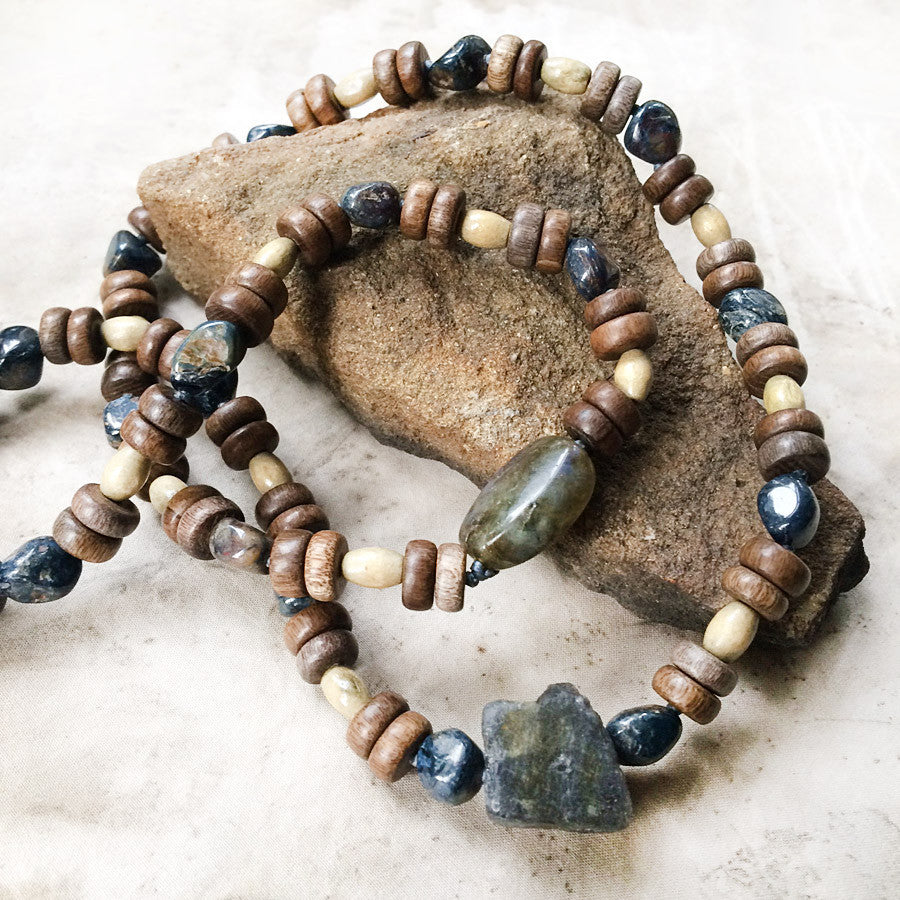 Stone talisman for men ~ with Labradorite, Pietersite & wooden beads
DESCRIPTION
Men's necklace (26" all-around length) with Labradorite, Pietersite & wooden beads - a crystal energy activated talisman in disguise. This chunky wooden necklace is meticulously beaded by hand using smokey blue micro-macrame cord, alternating the wooden beads with Pietersite crystals. There is no need for a clasp closure as the necklace will comfortably slip over the head, making it very easy to put on and take off.
The length of the necklace is approx. 67 cm (26") and the main, rough Labradorite is approx. 1.5x1.5 cm (0.6"x0.6") . There is also a smaller, polished Labradorite stone on the opposite side of the necklace (back of the neck when worn) which completes the energy flow.
Care: To protect the wooden components from deteriorating, showering / swimming while wearing this necklace is not recommended.
You'll receive this necklace in one of my handmade, luxurious brown reindeer hide draw-string pouches - useful for the safe-keeping of the necklace. This great gift set also arrives gift-wrapped at no extra charge.
CRYSTAL PROPERTIES
LABRADORITE
One of the most powerful, versatile crystal tools for healing. Assists in spiritual transformation, helps the wearer align with their highest destiny and discover their inner worth. Increases and balances intuition, strengthens willpower. Often referred to as the 'Stone of Destiny' as it is believed to help you to find your true path in life.
PIETERSITE (aka Tempest Stone)
Fosters calm and joyous peacefulness. Enhances intuition and insight. Aids in the acceptance and tolerance of others and life. Dispels illusions and aids one seeing the wisdom within. High vibration stone used by many energy healers.
Recently Viewed