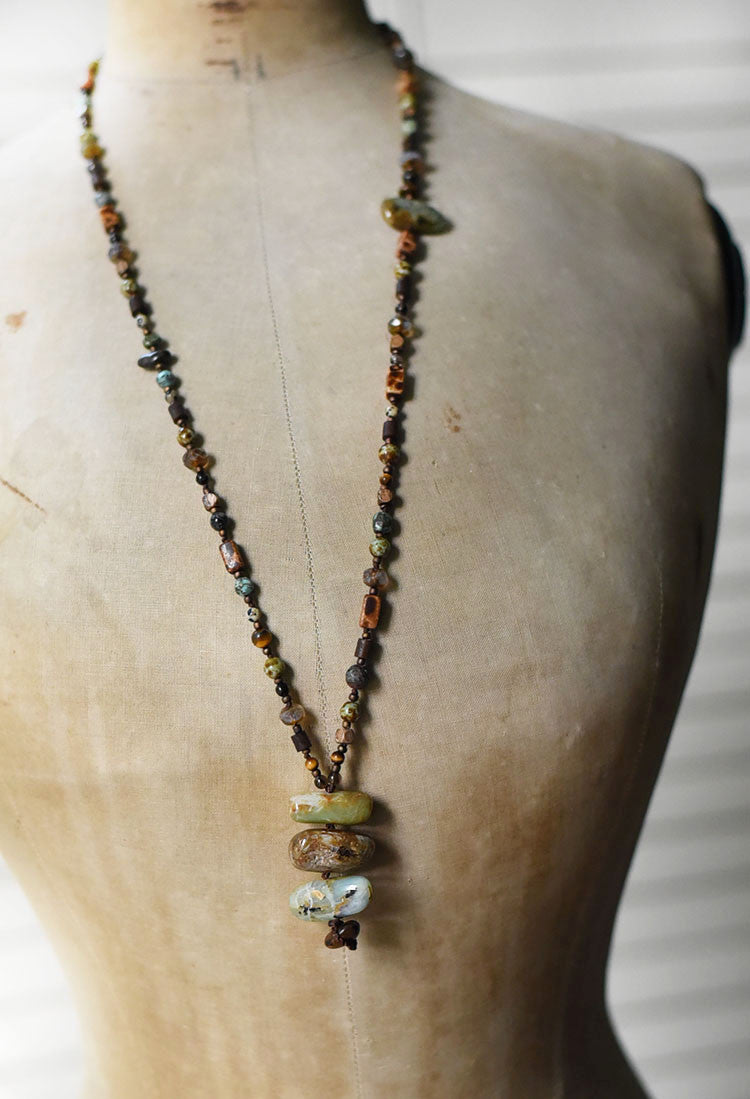 Stone talisman with Blue Andean Opal
DESCRIPTION
Crystal healing necklace with Blue Andean Opal, a glorious stone with some translucency at parts, tones ranging from bright aquamarine style blue to creamy browns and greens, occasionally with some dendritic inclusions. Just beautiful. The earthy tone necklace of mainly brown and green tones is beaded on dark brown micro-macrame cord and knotted at every few beads for strength and flexibility. Included are fire-polished glass beads, ceramic beads, wooden beads and gemstones of Bronzite, Tiger Eye, African Turquoise Jasper, Dalmatian Jasper and Smokey Quartz. (Also these crystals are energy activated and offer their gentle vibe into the energetic mix, although the main vibe is provided by the Opals.) The beaded necklace is also adorned asymmetrically on one side with one Blue Andean Opal.
The necklace is of set length. The all-around length is 104 cm (41") tall. The cairn of three Opals is approx. 4 cm (1.6") tall and 2.5 cm (1") wide.
There are no metals in this necklace so would be particularly suitable for those with metal sensitivities, energy workers and those who simply prefer not to wear metal.
You'll receive this crystal healing necklace in one of my fabric draw-string pouches, great for the safe-keeping of the necklace. Gift-wrapped at no extra charge.
CRYSTAL PROPERTIES
BLUE ANDEAN OPAL
Relatively rare stone. Associated with the throat chakra, linking it with the heart chakra. Known as the stone of courage, self-esteem and communication. Energising stone, said to help with fatigue. Great aid to creative endeavours. Soothing for those overwhelmed by life. Useful for those who transmute outside energy through their own body.
Recently Viewed