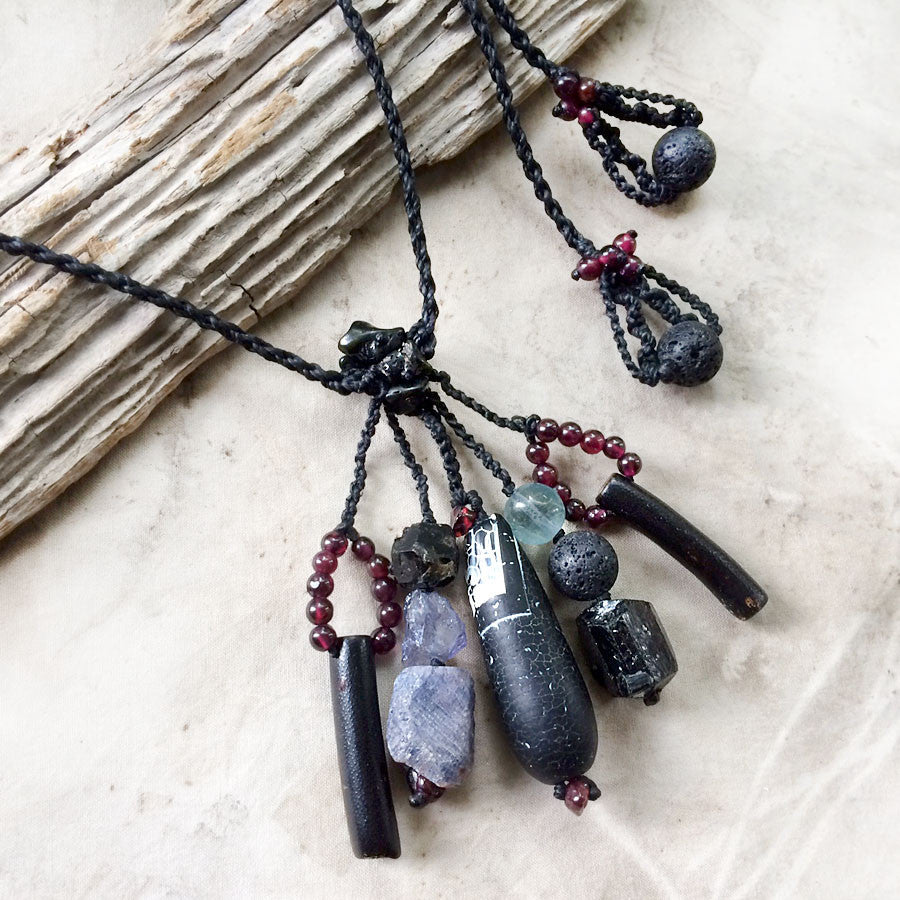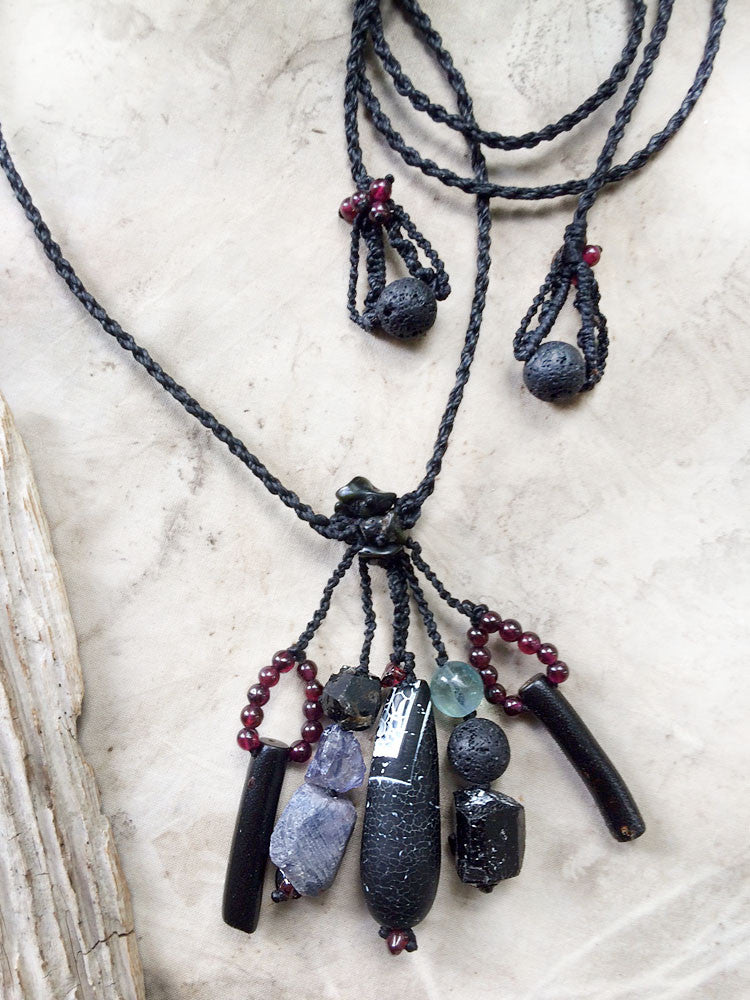 Stone talisman with Black Coral, Sapphire, Iolite, Black Tourmaline, Lava Stone, Garnet, Fluorite & weathered Agate
DESCRIPTION
Crystal healing talisman with Black Coral, Sapphire, Iolite, Black Tourmaline, Lava Stone, Garnet, Fluorite & weathered Agate. The necklace is a round chain, braided with black micro-macrame cord. The ends of the adjustable necklace cords are decorated with Lava Stone and Garnet.

Sapphire is among the four stones recognised as 'precious' (the other three being Emerald, Ruby and Diamond) - other gems are considered 'semi-precious'.
The length of the necklace is adjustable by pulling the cords through a knotted channel. The adjusting range is from very short down to solar plexus level. The crystals drop approx. 6.5 cm (2.6"). The weathered Agate in the middle is approx. 3.5 cm (1.4") tall.
There are no metals in this necklace so would be particularly suitable for those with metal sensitivities, energy workers and those who simply prefer not to wear metal.
You'll receive this crystal healing necklace in one of my fabric draw-string pouches, great for the safe-keeping of the necklace. Gift-wrapped at no extra charge. 
CRYSTAL PROPERTIES
AGATE
The oldest good luck amulet. In ancient times Persian magicians were, according to legend, diverting storms with the powers of Agate. Considered a protective stone (especially for travel), said to shield its keeper against dangers. Increases inner stability, enhances personal courage and fosters self-confidence. Grounding and soothing. Balancing stone for one's yin-yang energies.
BLACK CORAL
Generates serenity and peace while absorbing negative energy. Offers superior psychic protection. Inspires creativity. Associated with the third chakra. Digs deep to find those hidden emotions that hold you back, be it fear, anger or any other negative emotion that needs to be brought to surface to be healed. Said to help in detoxing the body.
GARNET
Stimulates one's life force. Opens the root chakra while drawing earth energy into the body, helping you to feel secure and centred. Awakens the "inner fire" of creativity. Highly protective stone and a great companion to keep you energised. Excellent good fortune and 'success' stone in both social and career ventures, adding positive vibes both in your personal or business life. Stone of purification and cleansing. Symbolises passionate, devoted love.
IOLITE
Aids in making inner visions more vivid, dissolving fear of the unknown. Helps in blending everyday conscious thinking with intuitive inner knowing. Awakens psychic gifts, activating and clearing the third eye. Helps accessing communication from higher vibratory realms. Helps one to act and respond to situations from one's higher guidance.
SAPPHIRE
A stone of psychic activation, enhances insight and focus. Helps the throat and third eye chakras to work in unison to strengthen and express one's inner vision. Grounds higher knowledge and helps one to stay centred. Evokes the wisdom needed to see past any situation into the underlying truth. Helpful in channeling healing energy from the highest source, allowing access to deeper levels of consciousness. 
FLUORITE
Excellent for cleansing one's aura, also detaching unwanted energy cords. Grounds excessive energy, beneficial for all levels of healing. Helpful in achieving spiritual wholeness. Protective, stabilising and harmonising stone. Facilitates personal growth. Awareness expanding. Anchors intuitive insights into the physical plane. Blue Fluorite supports the sixth chakra. Also known as absorbing environmental EMF.
BLACK TOURMALINE
One of the most well-known protective stones, shielding its user from negativity. A shamanic stone used for grounding during vision quests. Empowering for those who work in challenging environments. Purifies and transforms denser energies into lighter vibrations and is also detoxifying for the body. If you're sensitive to electromagnetic smog, you may get relief by wearing black Tourmaline.
LAVA STONE
Stone of vitality, assertiveness and passion. Provides stability in times of change. Grounding and protective. Supports courage and decisiveness. Helps in finding one's 'life path'. Encourages personal development and growth.
Recently Viewed