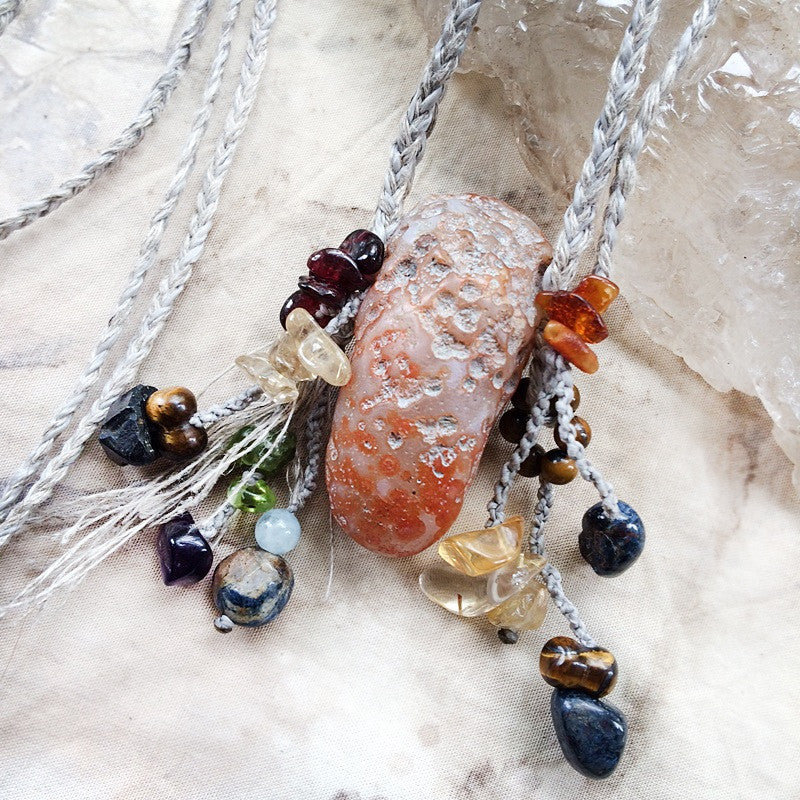 STONE TALISMAN WITH CARNELIAN & VARIOUS GEMS IN CHAKRA COLOURS
DESCRIPTION
Creativity talisman with an organic, un-bleached double linen braid combined with light grey micro-macrame cord. The main stone is Carnelian which is accompanied with several other crystals (covering all the other chakra colours) on both sides of the focal Carnelian: Almandine Garnet, Citrine, Tiger Eye, Peridot, Aquamarine, Pietersite and Amethyst.
The necklace is set length, with an all around measurement of 64 cm (25"). The focal Carnelian is approx. 4.5 cm tall.
You'll receive this crystal healing necklace in one of my handmade fabric draw-string pouches - great for the safe-keeping of the necklace. Gift-wrapped at no extra charge.
CRYSTAL PROPERTIES
CARNELIAN
Known as a stone of motivation and courage. Stimulates creativity and increases one's sense of self-worth. Balancing for body's energy levels, restoring vitality and motivation. Said to attract prosperity, new resources and good luck. A success stone that helps you follow through with plans. Stone of action that aids in overcoming procrastination. Helps in gaining more understanding of one's inner self. Stimulating to the Sacral Chakra, which, when in balance, allows one to enjoy life, feel its joys and pleasures, be flexible and 'go with the flow'.
ALMANDINE GARNET
Stimulates one's life force. Opens the root chakra while drawing earth energy into the body, helping you to feel secure and centred. Awakens the "inner fire" of creativity. Highly protective stone and a great companion to keep you energised. Excellent good fortune and 'success' stone in both social and career ventures, adding positive vibes both in your personal or business life. Stone of purification and cleansing. Symbolises passionate, devoted love.
CITRINE
Gives a powerful alignment with the higher self. Balances the emotions and makes the mood sunny and cheerful. Brings clarity of thought, and attracts abundance through joy. Powerful transformer in healing work. Increases self-confidence and optimism, cleanses the surrounding energies and promotes creative thinking. Releases, dissipates and transforms denser energies on all levels, mental, emotional and physical. Works to release limitations and blockages particularly around the sacral / solar plexus area.
TIGER EYE
A power stone for attracting prosperity. But it has also a highly spiritual energy and is helpful in understanding any life cycle that one is living through. It helps in seeing through illusions, in discerning the truth in any situation. A highly protective as well as grounding stone.
PERIDOT
Upbeat and comforting, Peridot reduces stress and amplifies intuitive awareness. Sooths hurt feelings, supporting renewal and personal growth. Brings in-depth heart based awareness, extending from healing to understanding and offering protection against negative emotions. Known also as the stone of prosperity and happiness.
AQUAMARINE
Connected with the throat chakra, easing verbal self-expression. Helps you communicate your own truth and find your voice. Helps in looking at emotional situations from other perspectives, assists in opening up intuition and to calmly be in the flow of life. Aquamarine also aids in reaching deep meditative states. Resonates with the energy of the ocean. Stone of courage and protection.
PIETERSITE (aka Tempest Stone)
Fosters calm and joyous peacefulness. Enhances intuition and insight. Aids in the acceptance and tolerance of others and life. Dispels illusions and aids one seeing the beauty within. High vibration stone used by many energy healers.
AMETHYST
Instills inner peace, promotes self-discovery and aids in relaxation. Associated with the crown chakra, known as a "stone of balance" and positive transformation. Thought to increase spiritual awareness and psychic abilities, initiating higher knowing and greater understanding. Helps in assimilating new ideas and manifesting thoughts into action. Symbolises a connection to the Divine.
Recently Viewed