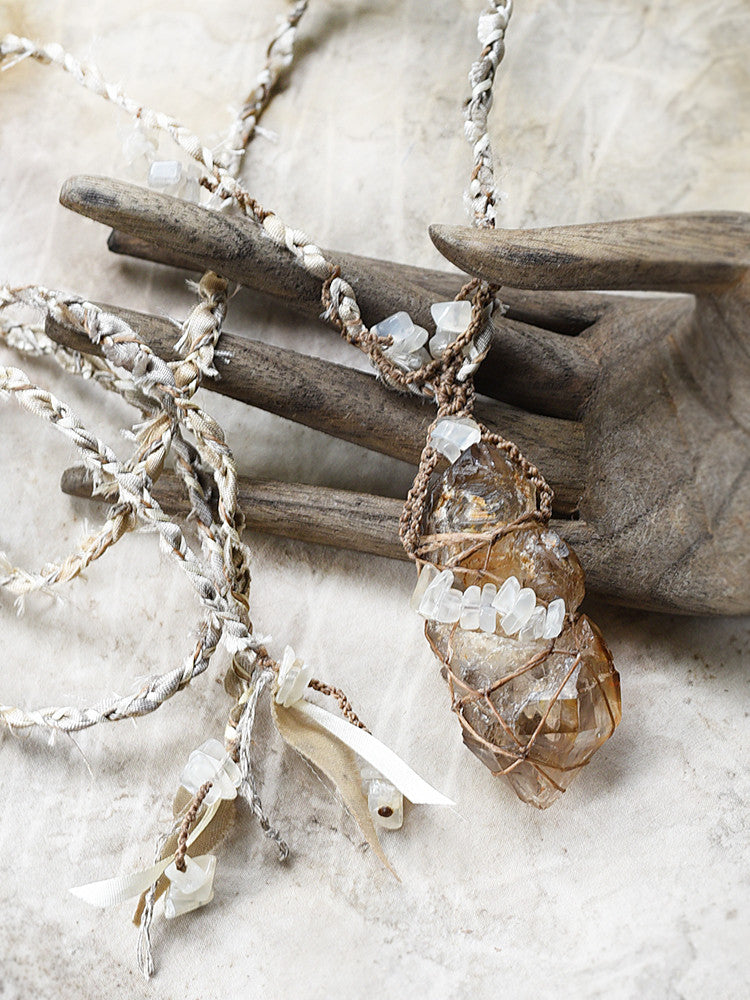 Stone talisman with elestial Fenster Quartz & Moonstone
DESCRIPTION
Stone talisman with an amazing, double-terminated elestial Fenster Quartz, attaching to a necklace braid of botanically eco-dyed silk satin, with hint of pale yellow, brown and grey. The Fenster Quartz is un-drilled, with its unusual inner structure intact. The crystal displays tones of gold and brown. This wise old spirit soul is wrapped with golden brown micro-macrame cord and highlighted with small Moonstone crystals. The long braid ends are decorated with Moonstone as well and left open so you can tie the amulet to hang at any desired level.
This Fenster Quartz is quite a large stone at just over 6.5 cm (2.55") tall, approx. 2.5 cm (1") wide and 2 cm (0.8") thick.
You'll receive this crystal healing necklace in one of my handmade fabric draw-string pouches - great for the safe-keeping of the necklace. Gift-wrapped at no extra charge.
CRYSTAL PROPERTIES
FENSTER QUARTZ
Excellent crystal to aid spiritual growth. Stimulates psychic visions and clairvoyance. Good for healing emotional issues, particularly past life issues of karmic nature. Helps in connecting with one's 'soul energy' in order to gain understanding of one's soul path in this lifetime. Useful crystal tool for those working in the field of energy healing. 
Elestial crystals: these carry deep spiritual healing energy. They have a majestic vibe to them. They link multiple dimensions, timelines and levels of consciousness, integrating increasingly higher vibrations of light into its keeper's energetics. When an Elestial comes to your life, you're ready to fully delve into the depths and the heights of your own inner wisdom, which accelerates your spiritual progress. Attuned to the angelic domain, elestials make great crystal companions that will no doubt journey with you for long-term.
Double-terminated crystals: due to a point in both ends, energy flows freely to both directions through this crystal, offering a sense of 'flow' in life. Particularly useful when working to help other people, or when doing healing work on oneself. Excellent for balancing and aligning the chakras. Can be used as a bridge between any two things, such as spirit and matter for example.
MOONSTONE
Useful for feeling balanced or when changing aspects in one's life. Symbolises 'new beginnings'. Brings calmness through awareness. Provides the energy to sustain you through stages of growth. A highly intuitive stone allowing self expression and creativity to flow. Provides protection while travelling. A bringer of good fortune. Stone of feminine wisdom, inner growth and strength. Calming and soothing stone, enhancing intuition and inspiration. White moonstone is stimulating for psychic perception, vision and dream work.
Recently Viewed