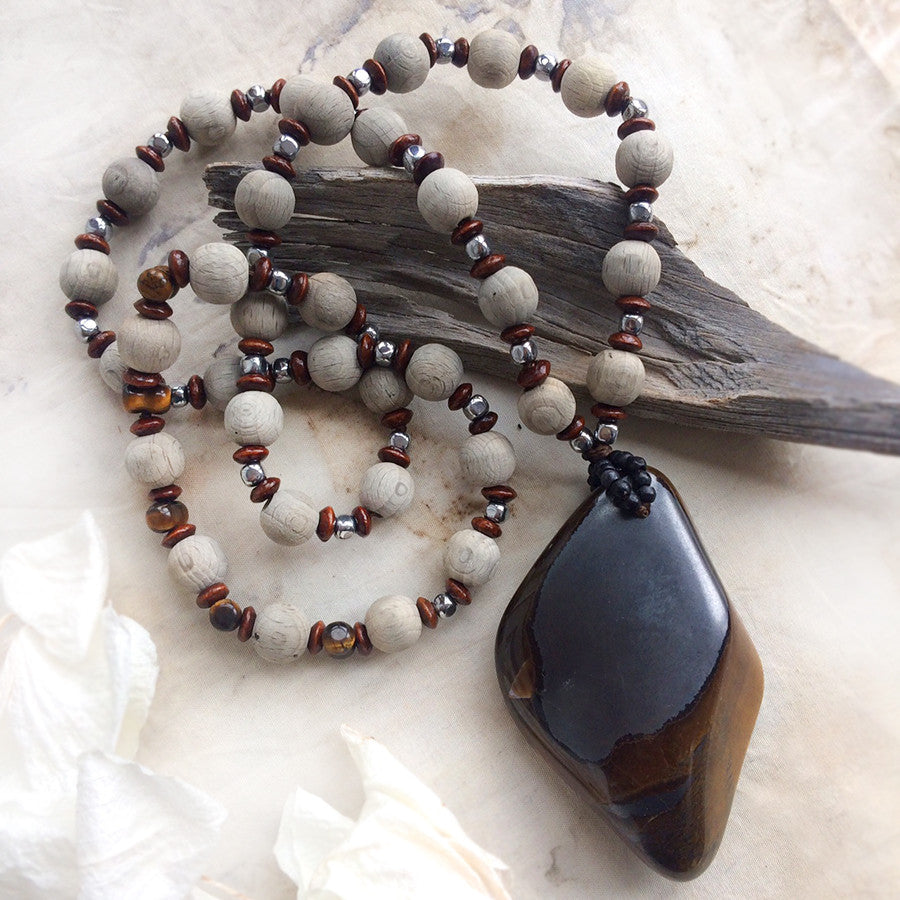 Stone talisman with large Tiger Eye
DESCRIPTION
Crystal healing talisman with a large Tiger Eye in an organically undulating shape. This chunky stone attaches with small black wooden beads to a necklace that is beaded with beech wood. I've 'aged' the beech to earthy grey tones in a botanical eco-dye bath of avocado and tulips. The wooden beads are spaced with small brown wood disc beads and rhodium-placed Hematite on the sides and with Tiger Eye spacers at the top (settling behind the neck when worn).
This necklace is set length, with an all-around measurement 68 cm (26.5"). Please not that the Tiger Eye is quite large at 7 cm (2.75") tall, 4.5 cm (1.8") wide at its middle and nearly 2 cm (0.8") at its thickest point.
You'll receive this crystal healing necklace in one of my fabric draw-string pouches, great for the safe-keeping of the necklace. Gift-wrapped at no extra charge.

Read here how to take care of your crystal jewellery.
CRYSTAL PROPERTIES
TIGER EYE
Helpful stone for learning to feel connected to one's personal strength. Excellent stone for attracting prosperity. But it has also a highly spiritual energy and is useful in understanding any life cycle that one is living through. Helps in seeing through illusions and discerning the truth in any situation. A highly protective stone. Good for strengthening the solar plexus (3rd) chakra and developing one's will power.
HEMATITE
Creates a strong sense of self and enhances the creative flow. Relieves stress. Revitalises, enhancing personal magnetism and optimism. Helps in releasing self-imposed limitations to find your own unique gifts. A stone of balance and equilibrium. Grounds when feeling scattered, increases alertness and vigilance.
Recently Viewed