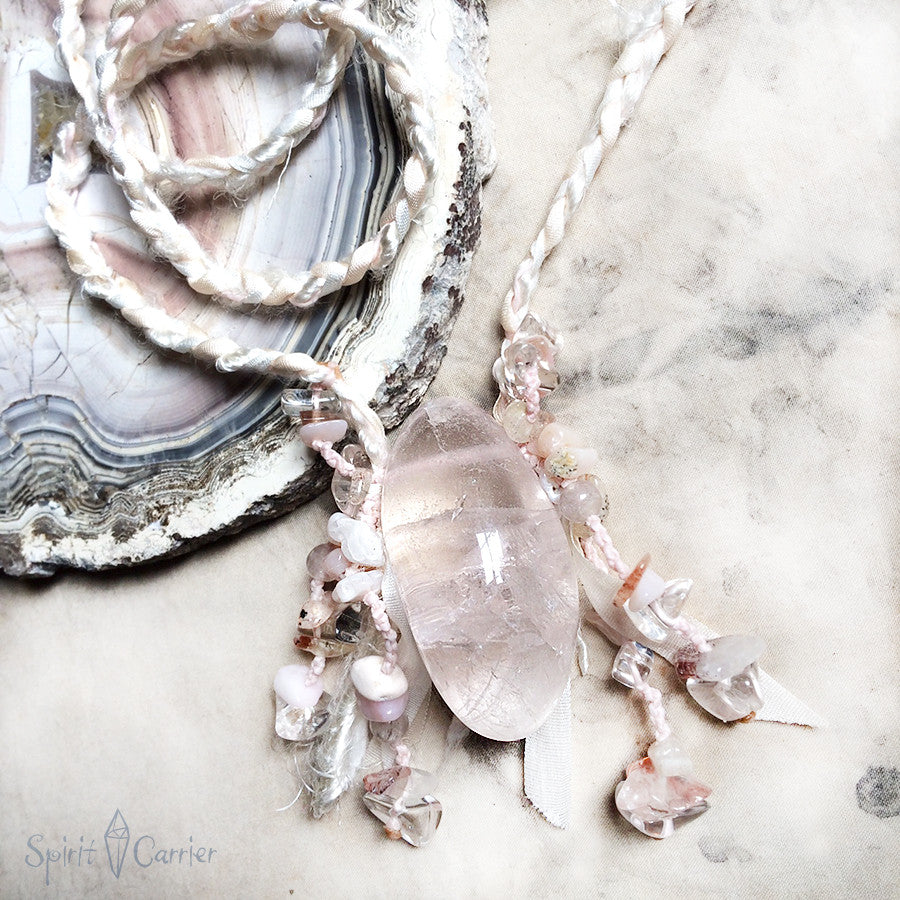 Stone talisman with pale pink Fluorite in soft silk braid
DESCRIPTION
Crystal healing talisman with smooth oval-shaped pebble of Fluorite, in pale, very subtle pink/lavender tone and with a beautiful crystalline inner landscape within. There's also a visible rainbow flash inside the crystal towards its base, further deepening the healing energy of this beautiful rare stone. The Fluorite attaches to a necklace braid of softly spun white banana silk combined with white silk ribbon and pale pink micro-macrame cord. Banana silk is so divinely soft, wearing this necklace feels like a hug.
The necklace braid is set length, allowing the Fluorite pebble to hang down approx. 35 cm (13.5") measured from the back of the neck to the top edge of the Fluorite. The all-around length of the necklace braid is 70 cm (27.5").
The Fluorite is approx. 4.5 cm (1.8") tall and just under 2.5 cm (1") at its widest.
There are no metals in this necklace so would be particularly suitable for those with metal sensitivities / metal allergy, energy workers and those who simply prefer not to wear metal.
You'll receive this crystal healing necklace in one of my handmade fabric draw-string pouches - great for the safe-keeping of the necklace. Gift-wrapped at no extra charge.
Prior to leaving Spirit Carrier studio, all crystals are energy cleansed, balanced and activated for the highest good of their new keeper. 
Read here about how to take care of your natural crystal jewellery.
CRYSTAL PROPERTIES
FLUORITE
Excellent for cleansing one's aura, also detaching unwanted energy cords. Grounds excessive energy, beneficial for all levels of healing. Helpful in achieving spiritual wholeness. Protective, stabilising and harmonising stone. Facilitates personal growth. Awareness expanding. Anchors intuitive insights into the physical plane. Offers strong psychic protection, helping to discern energies one comes in contact with. Helps in being objective and focusing on what is essential. Pink Fluorite is like healing balsam for the heart, bringing comfort and peace when feeling emotionally raw.
PERUVIAN PINK OPAL
Stone of peace and tranquility for one's aura. Helps in healing painful memories. Stone of hope and renewal. A good stone to help inner healing on the emotional, physical and intellectual levels. Cleanses and purifies mind and heart.
LEPIDOCROSITE IN QUARTZ
Stimulates intuitive spiritual awareness, at the same time gently grounding to Earth energy. Raises consciousness, and can be used for focusing intent during energy healing sessions. Calming and soothing, aids in releasing fears and aligning one with Divine will. A stone of 'allowing' and trusting the flow of life.
CLEAR QUARTZ
The universal master crystal that has a harmonising effect on all levels of being. Programmable by intention, so can be used for versatile purposes. Quartz can clear, enhance, amplify, transmute, balance, focus and transmit energy. Raises one's energetic vibration. Brings clarity and filters out distractions. A deep soul cleanser, attuning its keeper to their higher self. Each Quartz crystal is unique with its own character and teachings it offers, all are known as "Stones of Power" and "Master Healers".
Recently Viewed