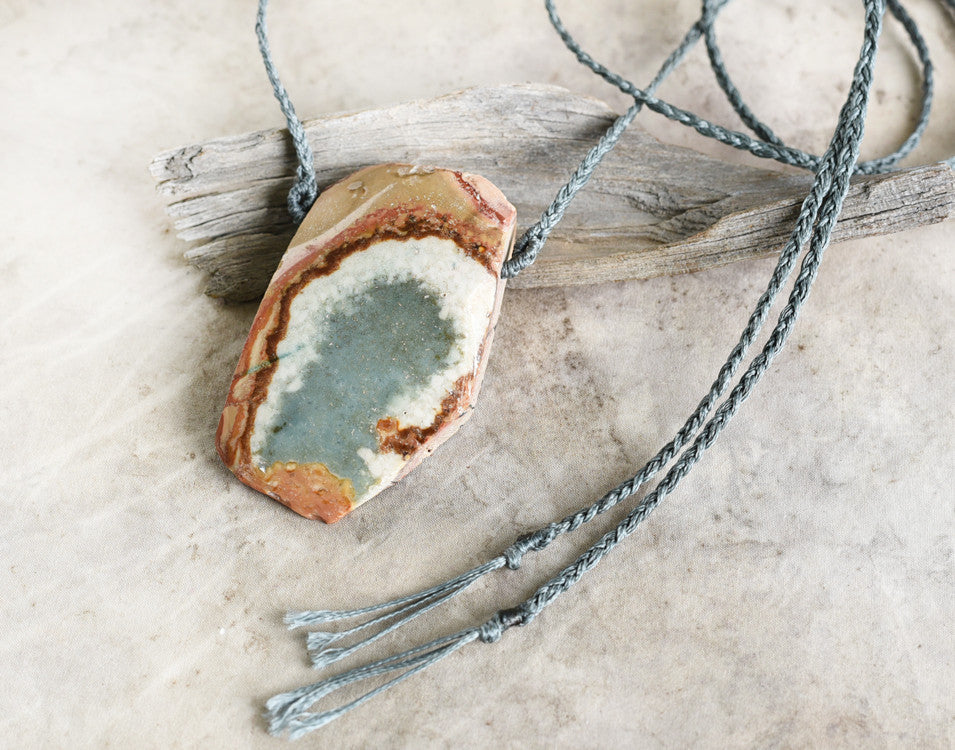 'New Shores' ~ stone talisman with Polychrome Jasper
DESCRIPTION
Stone talisman with quite a large, uneven piece of Polychrome Jasper. Minimal yet eye-catching, great healing energy either for men or for women. The stone attaches to a necklace braid of smokey blue micro-macrame cord. The long necklace braids end in simple cord tassels and are left open so you can tie the stone to hang at your chosen height.
The Polychrome Jasper is approx. 6.5 cm (2.6") in its longest dimension and is just under 4 cm (1.6") wide.
There are no metals in this necklace so would be particularly suitable for those with metal sensitivities, energy workers and those who simply prefer not to wear metal.
You'll receive this crystal healing necklace in one of my fabric draw-string pouches, great for the safe-keeping of the necklace. Gift-wrapped at no extra charge.
CRYSTAL PROPERTIES
POLYCHROME JASPER
Believed to be among the rarest of Jaspers (only found in Madagascar), this stone has a vitalising, vibrant energy. Spurs you to action, increasing life-force and firing up your passions. Re-energising stone that aids in finding new connections that will help transform some part of your life for the better.
Recently Viewed