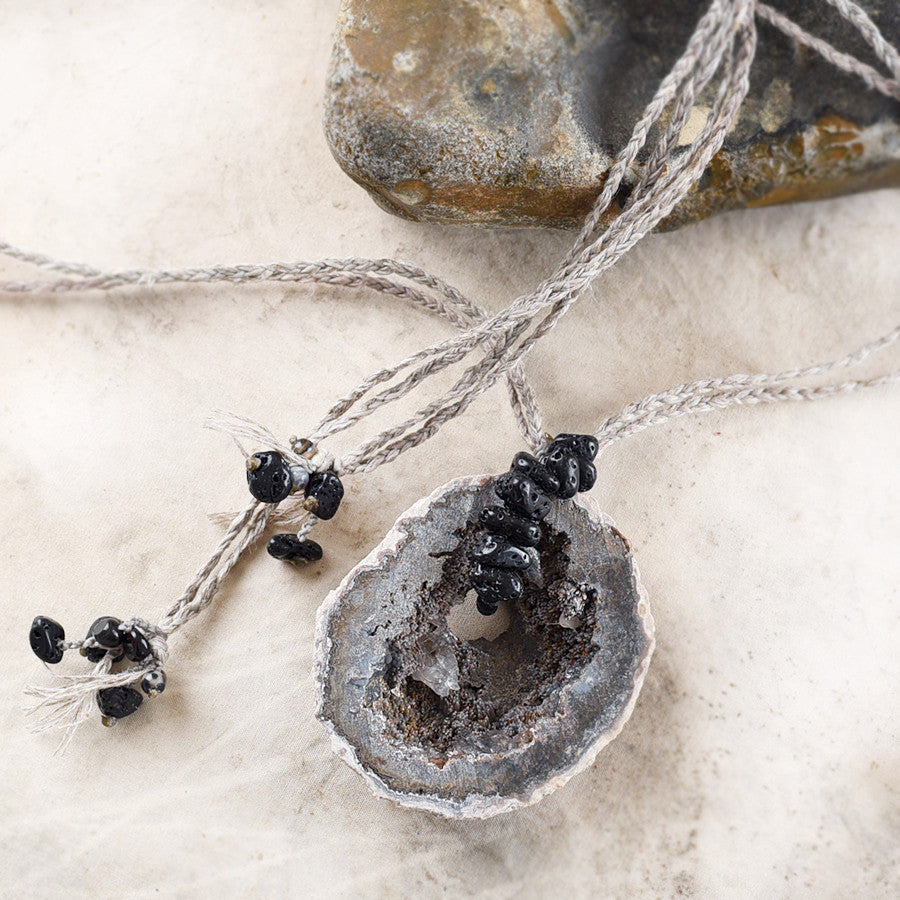 Stone talisman with rough Agate geode slice & Lava Stone
DESCRIPTION
Stone talisman with naturally aged rough Agate. This circular geode slice has a natural hole in the middle through which it attached with Lava Stone to a double braid necklace of unbleached, organic linen thread, combined with grey micro-macrame cord. The long necklace braid ends are are left open so you can tie the stone to hang at your chosen height. This is a wabi sabi style, earthy talisman in monochrome tone and would also work perfectly combined with other necklaces for an individual, bohemian look.
This size of the Agate is approx. 6 cm x 5 cm (2.4" x 2"). The linen braids extend 50 cm (19.5") each.
There are no metals in this necklace so would be particularly suitable for those with metal sensitivities, energy workers and those who simply prefer not to wear metal.
You'll receive this crystal healing necklace in one of my fabric draw-string pouches, great for the safe-keeping of the necklace. Gift-wrapped at no extra charge.
Read here about how to take care of your natural crystal jewellery.
CRYSTAL PROPERTIES
AGATE
The oldest good luck amulet. In ancient times Persian magicians were, according to legend, diverting storms with the powers of Agate. Considered a protective stone (especially for travel), said to shield its keeper against dangers. Increases inner stability, enhances personal courage and fosters self-confidence. Grounding and soothing. Balancing stone for one's energy system to experience oneness instead of duality.
LAVA STONE
Stone of vitality, assertiveness and passion. Provides stability in times of change. Grounding and protective. Supports courage and decisiveness. Helps in finding one's 'life path'. Encourages personal development and growth.
Recently Viewed