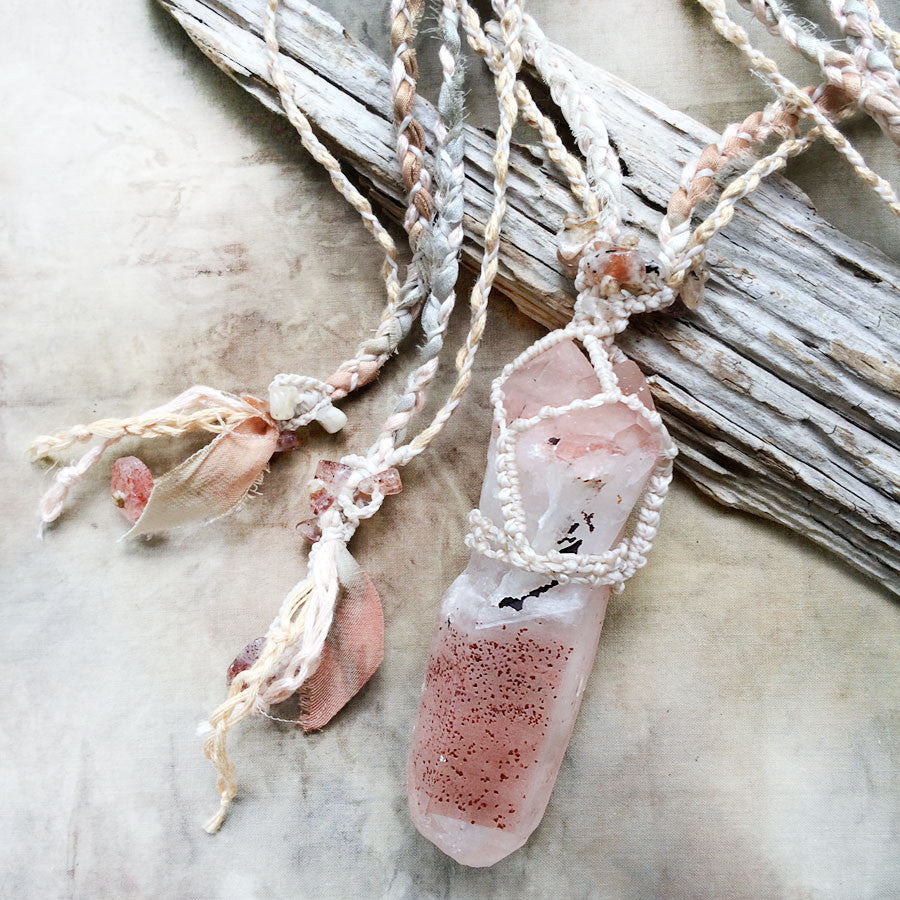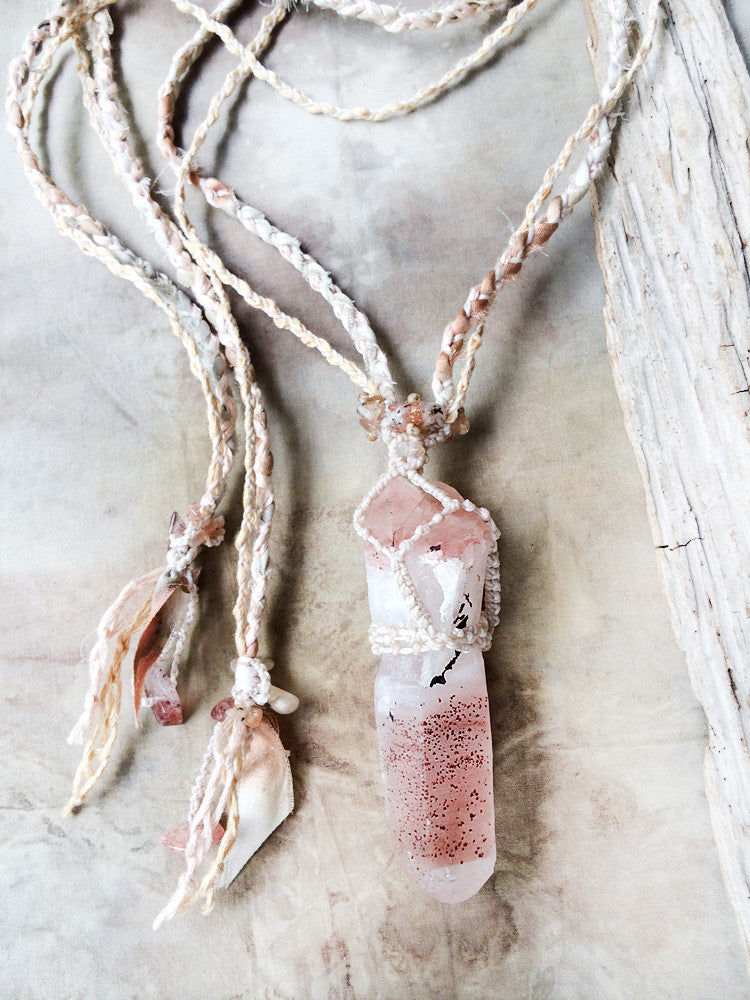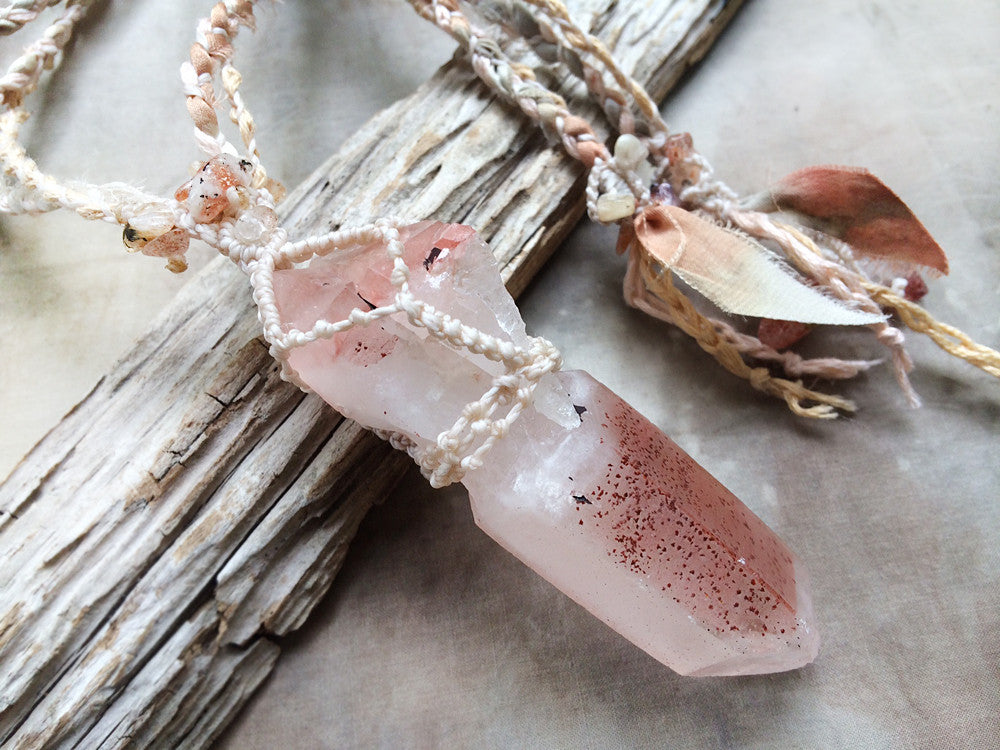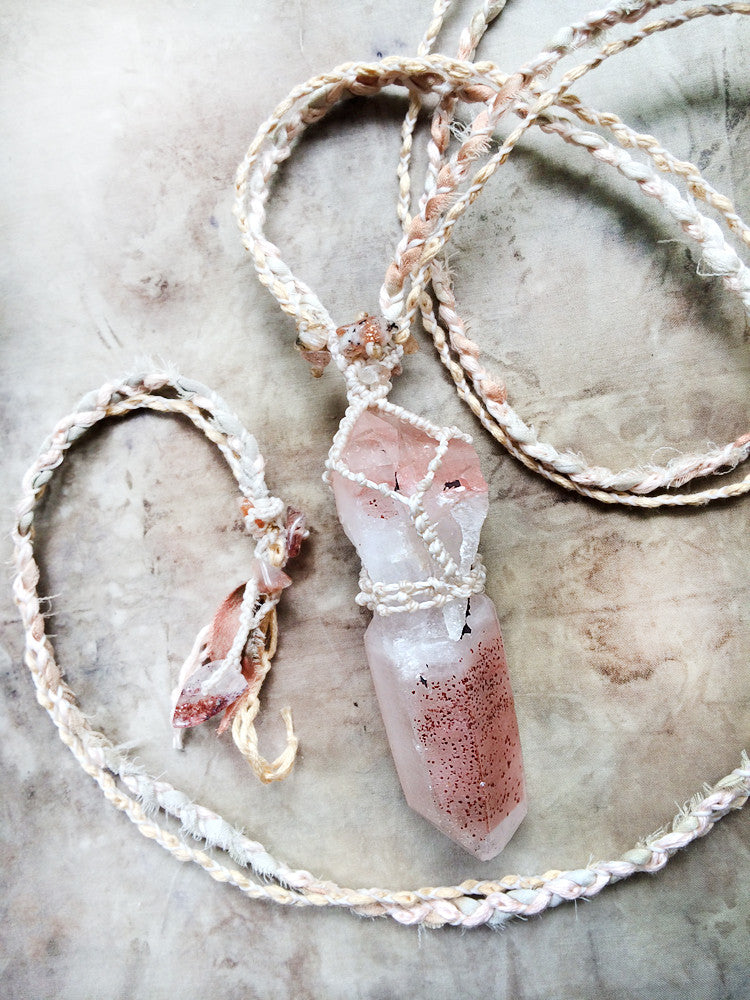 Stone talisman with 'Twin Soul' Harlequin Quartz in silk/cotton double braid
DESCRIPTION
Stone talisman with a 'twin soul' Harlequin Quartz, un-drilled and un-polished. This is an unusual, double-terminated crystal with one point in one end and a twin point in the other end. Harlequin Quartz has inclusions of Lepidocrosite and Hematite, giving it a reddish hue. The highlighting crystals in this talisman are Lepidocrosite in Quartz, also adorning the ends of the double braid.
The necklace braid has two strands, braided with eco-printed silk satin, embroidery cotton and cream tone micro-macrame cord. The long braid ends are left open so you can tie the amulet to hang at any desired level.
The Harlequin Quartz is approx. 7.5 cm (3") tall so it's quite an eye-catching piece!

You'll receive this crystal healing necklace in one of my handmade fabric draw-string pouches - great for the safe-keeping of the necklace. Gift-wrapped at no extra charge.

CRYSTAL PROPERTIES
HARLEQUIN QUARTZ
Stimulates the loving energy of the heart, releasing old wounds and fears. Emotional balancer. Assists in connecting with one's spirit guides. Facilitates deep understanding and removes barriers between loving partners. Can be used to transform one's life towards a more desirable situation. Stone of vitality and exuberance.
LEPIDOCROSITE IN QUARTZ
Stimulates intuitive spiritual awareness, at the same time gently grounding to Earth energy. Raises consciousness, and can be used for focusing intent during energy healing sessions. Calming and soothing, aids in releasing fears and aligning one with Divine will. A stone of 'allowing' and trusting the flow of life.
Recently Viewed