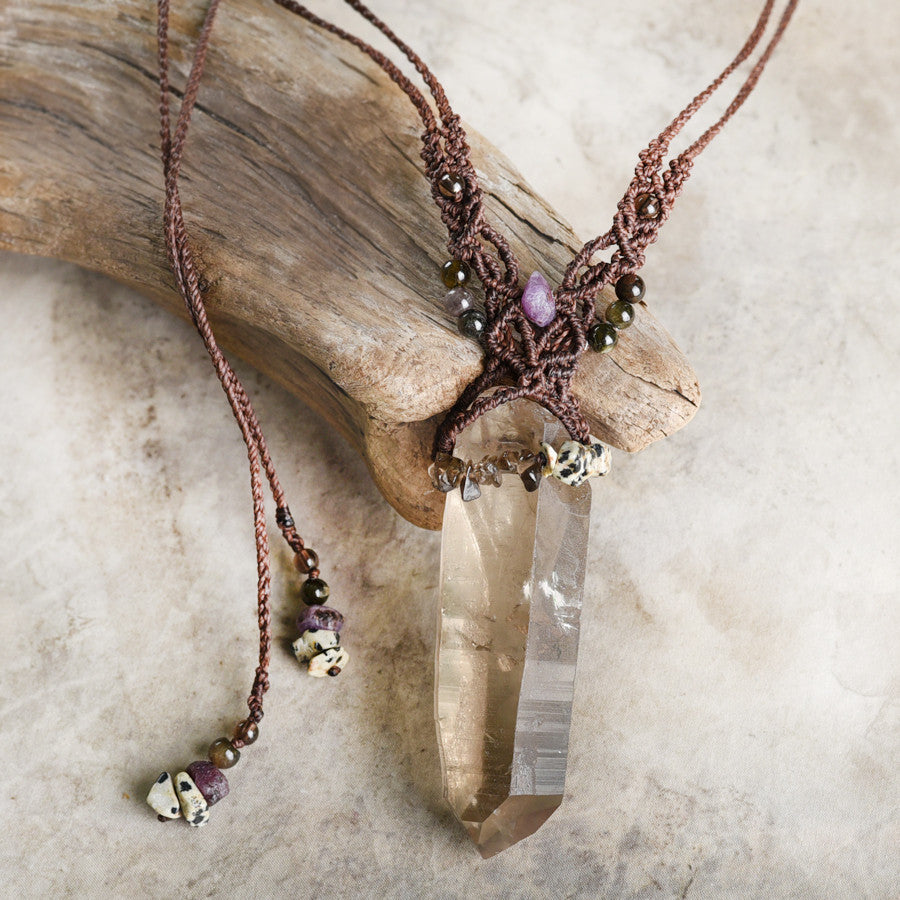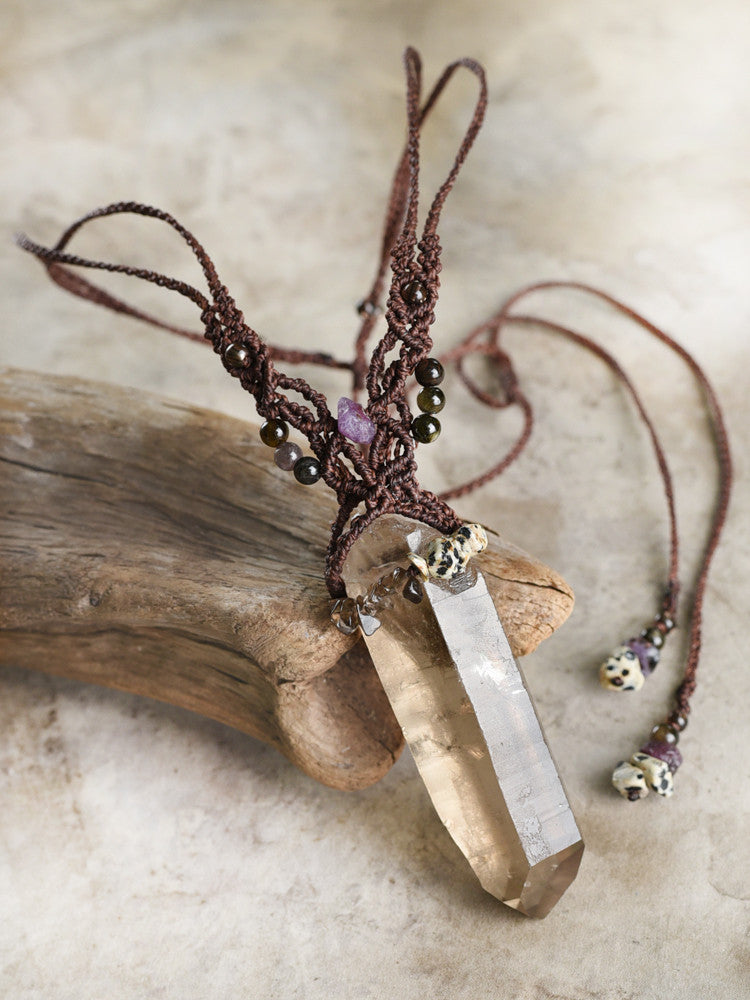 'Strength in Stillness' ~ large Smokey Quartz point amulet with Ruby, Dalmatian Jasper & Tourmaline
DESCRIPTION
Crystal healing amulet with large Smokey Quartz point. A wonderful crystal showing some elestial markings, an inner rainbow (adding to the crystal's healing capacity) as well as some Lemurian striations. The necklace is intricately knotted and braided with dark brown micro-macrame cord, with thin double braids leading to small decorative details with Smokey Quartz highlights, adorning both sides of the necklace higher up. 
The length of the necklace is adjustable from very short down to solar plexus level. The Smokey Quartz point is just over 7.5 cm (2.95") tall and approx. 2.5 cm (1") at its widest.
There are no metals in this necklace so would be particularly suitable for those with metal sensitivities, energy workers and those who simply prefer not to wear metal.
You'll receive this crystal healing necklace in one of my fabric draw-string pouches, great for the safe-keeping of the necklace. Gift-wrapped at no extra charge.
CRYSTAL PROPERTIES
SMOKEY QUARTZ
A grounding and calming stone that elevates moods and dissipates negative emotions. "A Stone of Serenity", it is comforting and protective for one's aura. Smokey Quartz is thought to assist in creative endeavours and also in setting personal boundaries. Offers EMF protection. A good healing stone for improving general feeling of well-being.
RUBY
Increases vitality and one's life-force energy. Promotes clear mind, motivation and concentration. Associated with love, passionate commitment and heart-based closeness, offering help in shedding past hurts. Encourages you to 'follow your bliss' and have courageous attitude. Supports closeness and commitment. Being a shielding crystal, guards against energetic attacks. (Ruby is one of the four 'precious' gemstones, the other three being Emerald, Sapphire & Diamond. Other gemstones are considered 'semi-precious'.)
DALMATIAN JASPER
Helps in removing barriers that prevent you from moving forward in life, and to discover your true purpose of being in the world. Brings joy and playfulness into one's life. The black spots in this stone are Black Tourmaline, which adds to this stone's protective qualities.
TOURMALINE
Stone of abundance, protection and healing. Aids understanding oneself and others. Reduces fears and promotes self-confidence. Removes energetic blockages, balancing the male/female energy within the body. Pink Tourmaline stimulates the heart chakra and life-force energy. A stone of quiet authority, instilling peaceful vibes in the midst of disputes. Harmonises one's feminine energies and has a nurturing energy. Helps in overcoming fears of lack and supports those who might not feel like belonging in this world to find joy of life.
Recently Viewed