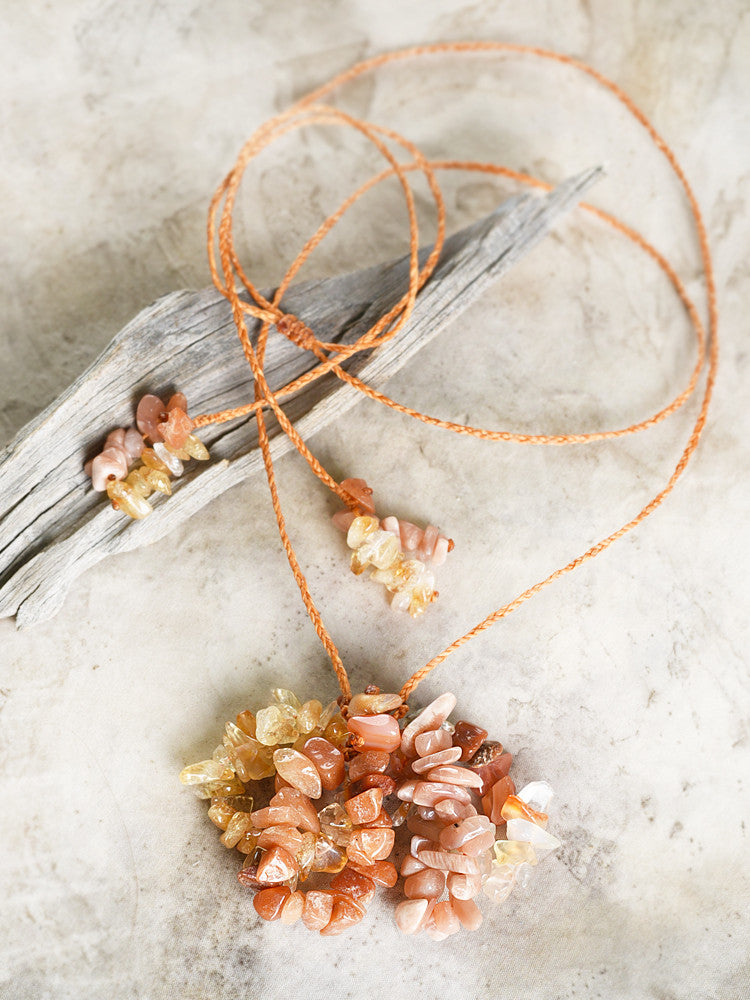 'Sun Blossom' ~ crystal healing amulet with Sunstone, Citrine, Carnelian & Red Aventurine
DESCRIPTION
Crystal healing amulet combining the energies of four types of crystals: Sunstone, Citrine, Carnelian and red Aventurine. The small crystals are grouped into a tassel of four loops, which has a very flowing, feminine feel to it. The necklace is minimally braided with orange micro-macrame cord, very strong and durable, yet soft and comfortable to wear.
The length of the necklace is adjustable from very short down to solar plexus level. The crystal tassel is just over 4 cm (1.6") tall and 4 cm (1.6") wide.
There are no metals in this necklace so would be particularly suitable for those with metal sensitivities, energy workers and those who simply prefer not to wear metal.
You'll receive this crystal healing necklace in one of my fabric draw-string pouches, great for the safe-keeping of the necklace. Gift-wrapped at no extra charge.
CRYSTAL PROPERTIES
SUNSTONE
Joyful and nurturing, restores one's enjoyment of life, providing a sense of abundance. Encourages independence and originality. Makes you feel alive and enthusiastic. A good stone for workplace, bringing opportunities. Sunstone can be a source of strength after experiencing losses.
CITRINE
Affects a powerful alignment with the higher self. Balances the emotions and helps in uplifting one's mood to be more sunny and cheerful. Brings clarity of thought, and attracts abundance through joy. Powerful transformer in healing work. Increases self-confidence and optimism, cleanses the surrounding energies and promotes creative thinking. Releases, dissipates and transforms denser energies on all levels, mental, emotional and physical. Works to release limitations and blockages particularly around the sacral / solar plexus area.
CARNELIAN
Known as a stone of motivation and courage. Stimulates creativity and increases one's sense of self-worth. Balancing for body's energy levels, restoring vitality and motivation. Said to attract prosperity, new resources and good luck. A success stone that helps you follow through with plans. Stone of action that aids in overcoming procrastination. Helps in gaining more understanding of one's inner self. Stimulating to the Sacral Chakra, which, when in balance, allows one to enjoy life, feel its joys and pleasures, be flexible and 'go with the flow'.
RED AVENTURINE
Stone of manifestation through action. Increases one's life force, focusing energy to get things done. Renews confidence in bringing one's projects, goals and desires into reality. Helps in choosing one's highest path in life. Encourages self-forgiveness. Restorative for libido. Inspiring for those who rely on creativity for their livelihood.
Recently Viewed