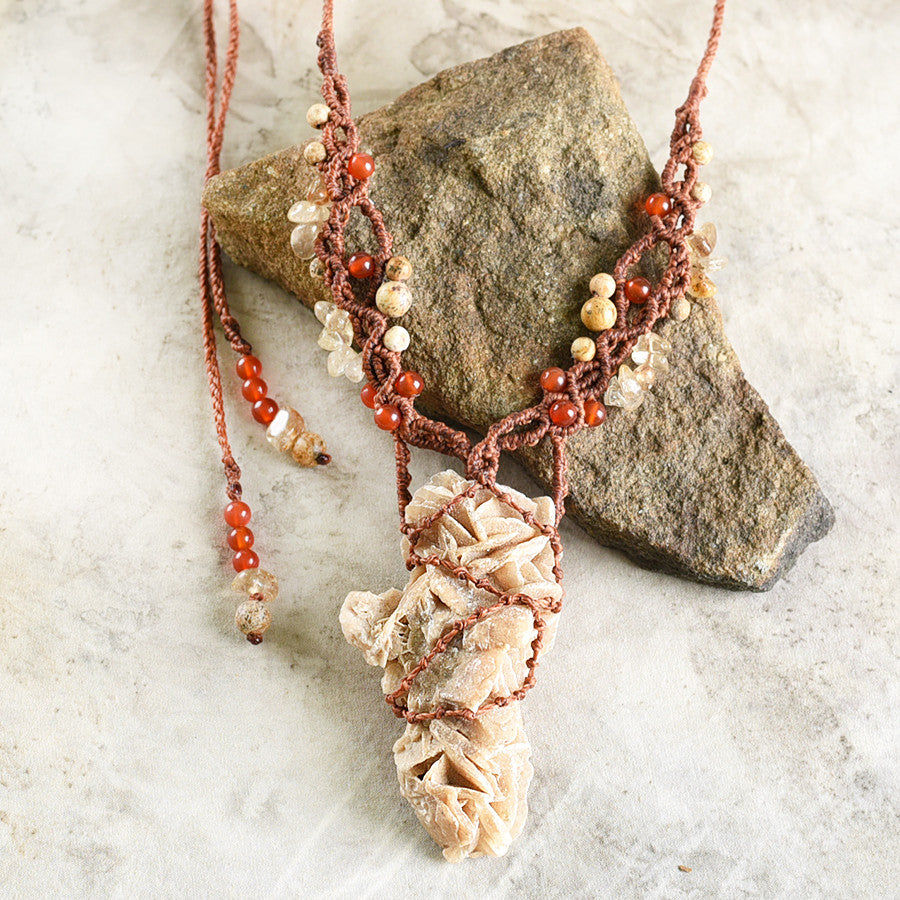 'Sun's Embrace' ~ crystal healing amulet with Desert Rose
DESCRIPTION
Crystal healing amulet with a cluster of un-drilled Desert Rose, highlighted with Carnelian, Picture Jasper and Gold Rutile Quartz crystals. The necklace is intricately knotted in reddish brown micro-macrame cord, very strong and durable, yet soft and comfortable to wear.
The length of the necklace is adjustable from very short down to solar plexus level. The Desert Rose is approx. 6.5 cm (2.55") tall and 3.5 cm (1.4") at its widest.

There are no metals in this necklace so would be particularly suitable for those with metal sensitivities, energy workers and those who simply prefer not to wear metal.

Care advice: Desert Rose is a type of selenite which will eventually crumble/dissolve if soaked in water. Please keep the stone dry. 
You'll receive this crystal healing necklace in one of my fabric draw-string pouches, great for the safe-keeping of the necklace. Gift-wrapped at no extra charge.
CRYSTAL PROPERTIES
DESERT ROSE
Stills the mind and quietens the worries. Assists in connecting with the divine light. Helps in exploring past and future lives in meditation, releasing connections to people and places that aren't aligned with one's highest soul purpose. A stone of heart-centerer awareness.
CARNELIAN
Known as a stone of motivation and courage. Stimulates creativity and increases one's sense of self-worth. Balancing for body's energy levels, restoring vitality and motivation. Said to attract prosperity, new resources and good luck. A success stone that helps you follow through with plans. Stone of action that aids in overcoming procrastination. Helps in gaining more understanding of one's inner self. Stimulating to the Sacral Chakra, which, when in balance, allows one to enjoy life, feel its joys and pleasures, be flexible and 'go with the flow'.
PICTURE JASPER
Associated with expanded creativity, visions, invention and initiative. Helps in grounding ideas into reality. Believed to contain hidden messages from the past. Nurturing and harmonious, it also offers psychic protection during shamanic journeying as well as activates the third eye chakra. Inspires creative visualisation and is excellent for overcoming any creative blocks. Good confidence stone, particularly helpful in business pursuits.
GOLD RUTILE QUARTZ
A master assistant in self-discovery, a companion in finding one's inner truth, purpose and destiny. Joyful and energising. Thought to offer protection against psychic attacks and helps in opening up to one's Divine strength. Assists in activating one's creativity and manifesting dreams into reality.
Recently Viewed