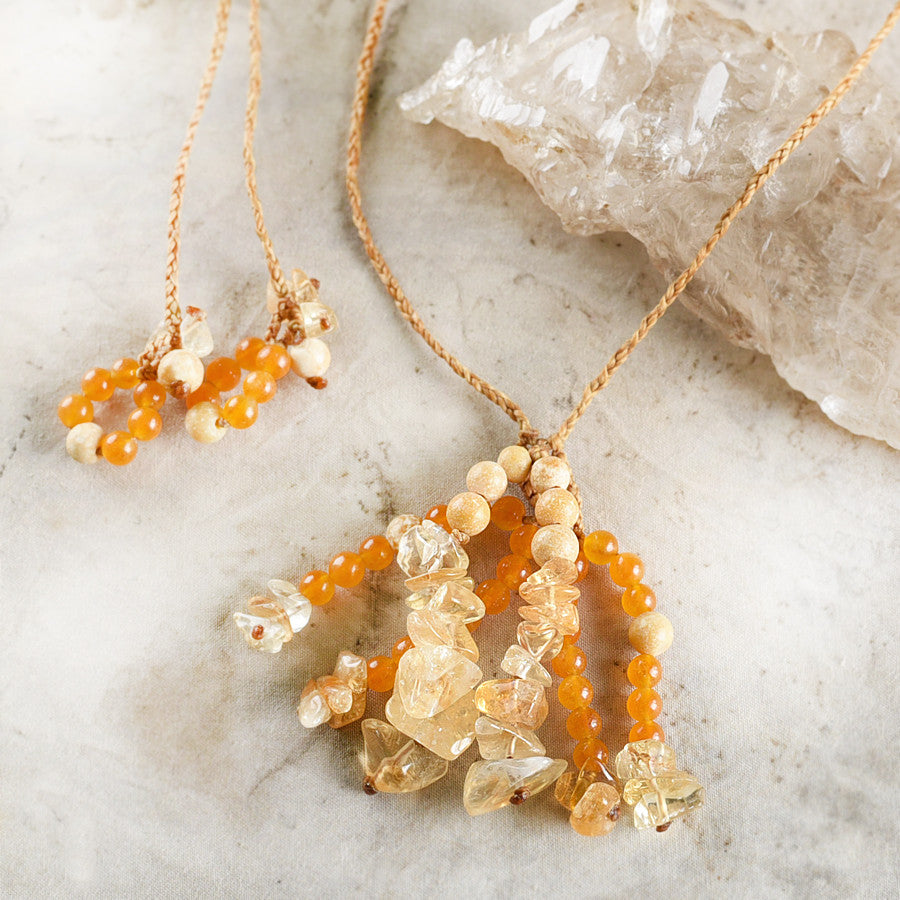 'Sunshine' ~ crystal healing amulet with Citrine, Calcite & Aragonite
DESCRIPTION
Crystal healing amulet combining the energies of Citrine, Calcite and Aragonite. Beautifully bright and uplifting colour energy too. The small crystals are grouped into a tassel, which has a very flowing, feminine feel to it. The necklace is minimally braided with intricately thin, golden brown micro-macrame cord, very strong and durable, yet soft and comfortable to wear. The ends of the adjustable necklace braids are decorated with matching crystals.
The length of the necklace is adjustable from very short down to solar plexus level. The crystal tassel is approx. 5 cm (2") tall.
There are no metals in this necklace so would be particularly suitable for those with metal sensitivities, energy workers and those who simply prefer not to wear metal.
You'll receive this crystal healing necklace in one of my fabric draw-string pouches, great for the safe-keeping of the necklace. Gift-wrapped at no extra charge.
CRYSTAL PROPERTIES
CITRINE
Affects a powerful alignment with the higher self. Balances the emotions and helps in uplifting one's mood to be more sunny and cheerful. Brings clarity of thought, and attracts abundance through joy. Powerful transformer in healing work. Increases self-confidence and optimism, cleanses the surrounding energies and promotes creative thinking. Releases, dissipates and transforms denser energies on all levels, mental, emotional and physical. Works to release limitations and blockages particularly around the sacral / solar plexus area.
CALCITE
Calming and peaceful, amplifies and increases energy in general. Protects and purifies. Helps in remaining detached from chaos and in dealing with challenges. Increases one's sense of self-worth. Golden Calcite draws in high frequencies, eases transitions, is empowering and helps in releasing limiting beliefs.
ARAGONITE
A centering crystal that balances the energies of the emotional body, and works mainly with the root and earth chakra - but also aligning all of the chakras. It brings serenity amidst volatile situations and patience in challenging circumstances. Aragonite helps its keeper to find and act from their true centre.
Recently Viewed