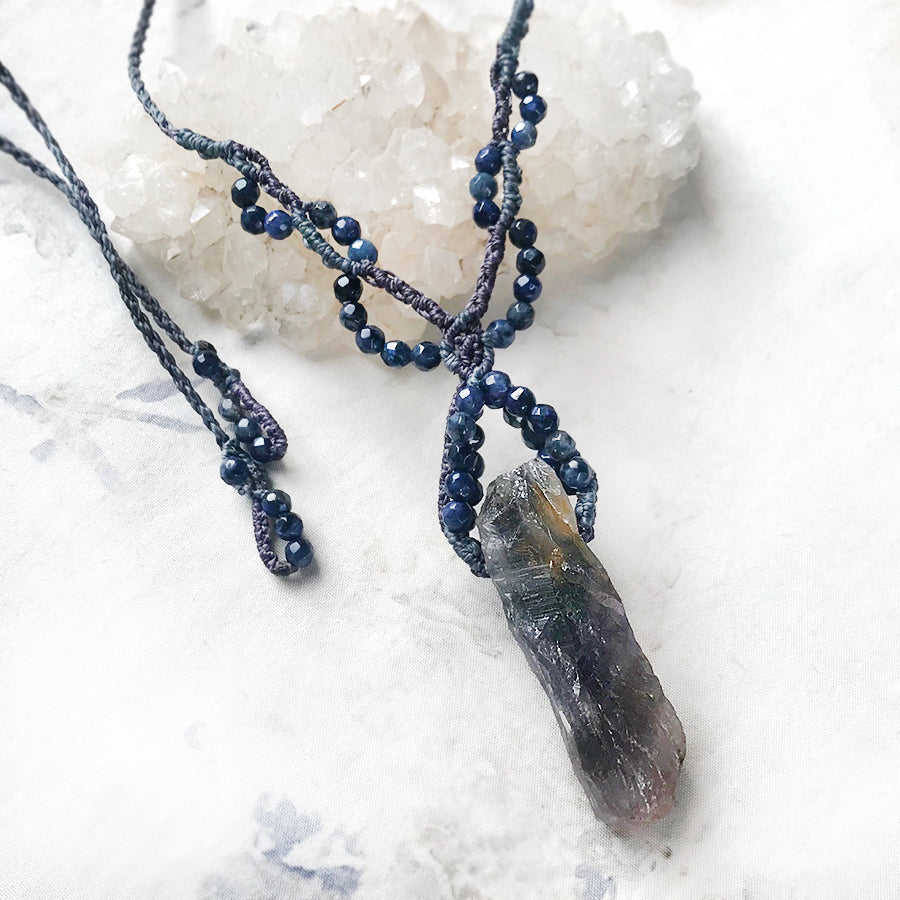 Super Seven crystal healing amulet
DESCRIPTION
Crystal healing necklace with raw Super Seven ('Sacred 7') crystal with dreamy cloud-like colours within. The necklace is knotted with a combination of dark purple and muted petrol blue micro-macrame cord. The intricate knotting is highlighted with small faceted Sodalite crystals. This is quite a light in weight stone and easy to wear, matching several styles of outfits.
The necklace length is adjustable from as short as you wish down to just above the solar plexus level. The Super Seven measures just over 4.5 cm (1.8") tall and just under 1.5 cm (0.6") at its widest.
There are no metals in this necklace so would be particularly suitable for those with metal sensitivities / metal allergy, energy workers and those who simply prefer not to wear metal.
You'll receive this crystal healing necklace in one of my handmade fabric draw-string pouches - great for the safe-keeping of the necklace. Gift-wrapped at no extra charge.
Read here how to take care of your crystal jewellery.
CRYSTAL PROPERTIES
SUPER SEVEN (also known as Sacred 7, Melody's Stone)
Combining the energies of Amethyst, Quartz, Rutile, Goethite, Lepidocrocite, Cacoxenite and Smokey Quartz, this powerful stone facilitates the energy shift to higher consciousness. Purifying, balancing and protective. Aligns all chakras to the highest spiritual vibrations. Connects with highest sources of divine guidance and inspiration. Excellent for developing psychic abilities.
SODALITE
Aids the development of psychic abilities and intuition, accelerating the process. Stimulates latent creative abilities. Supportive for public speaking. May open up insights relating to communication and one's inner truths, as well as assisting in living up to one's ideals. Supports building self-esteem. Thought to help as a shield against EMF.
Recently Viewed