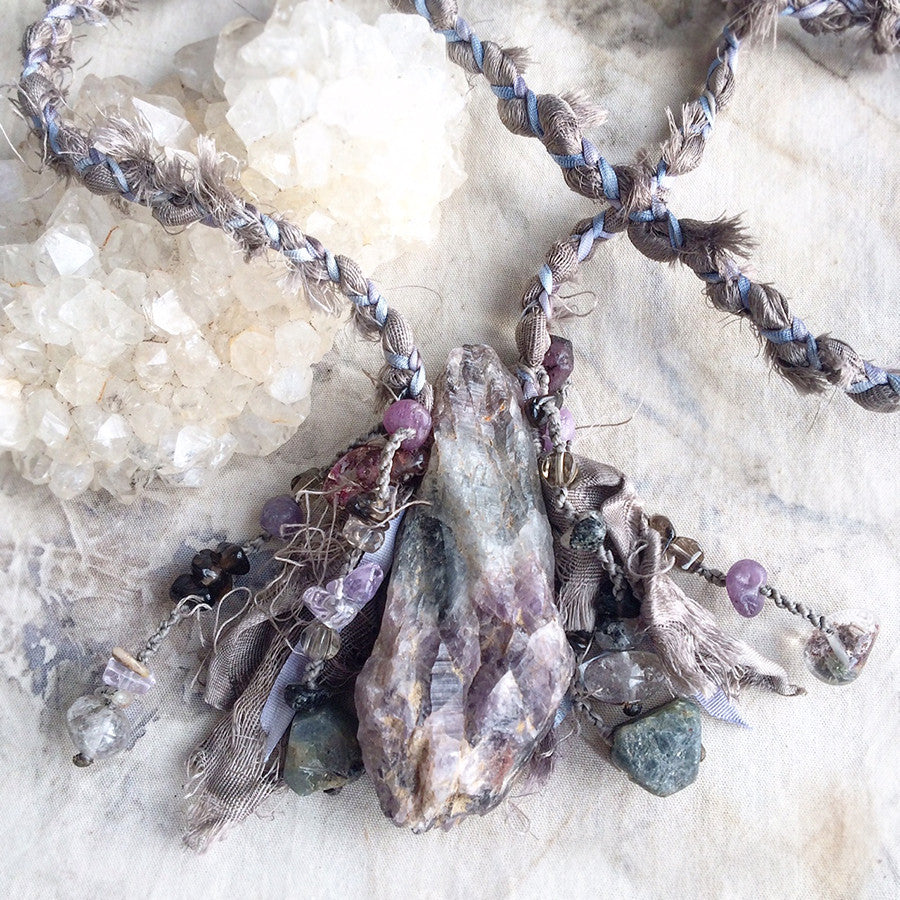 Super Seven crystal healing talisman
DESCRIPTION
This stunning, raw crystal point of Super Seven (also known as Sacred 7 or Melody's Stone) has a rather majestic presence, having as its companions raw Sapphire, Ruby, Shaman Dream Stone Quartz, Smokey Quartz and a few pale lavender Amethyst crystals.

The stone attaches to a soft, chunky braid of recycled, unbleached sari silk (which I have eco-dyed with avocado and my garden plants to a warm grey hue) combined with pale blue and lilac embroidery silk ribbons and grey micro-macrame cord.
The necklace braid is set length, allowing the Super Seven to hang down 36 cm (14") measured from the back of the neck to the top edge of the Super Seven - i.e. the all-around length of the necklace braid is 72 cm (28").
The Super Seven is quite chunky at approx. 6.5 cm (2.5") tall and 3 cm (1.2") at its widest.
You'll receive this crystal healing necklace in one of my handmade fabric draw-string pouches - great for the safe-keeping of the necklace. Gift-wrapped at no extra charge.

Read here how to take care of your crystal jewellery.
CRYSTAL PROPERTIES
SUPER SEVEN (also known as Sacred 7, Melody's Stone)
Combining the energies of Amethyst, Quartz, Rutile, Goethite, Lepidocrocite, Cacoxenite and Smokey Quartz, this powerful stone facilitates the energy shift to higher consciousness. Purifying, balancing and protective. Aligns all chakras to the highest spiritual vibrations. Connects with highest sources of divine guidance and inspiration. Excellent for developing psychic abilities.
RUBY
Increases vitality and one's life-force energy, Very energising, excellent for women. Promotes clear mind, motivation and concentration. Associated with love, passionate commitment and heart-based closeness, offering help in shedding past hurts. Encourages you to 'follow your bliss' and have courageous attitude. Supports closeness and commitment. Shielding crystal to keep your energy field in your own command. (Ruby is one of the four 'precious' gemstones, the other three being Emerald, Sapphire & Diamond. Other gemstones are considered 'semi-precious'.)
SAPPHIRE
A stone of psychic activation, enhances insight and focus. Helps the throat and third eye chakras to work in unison to strengthen and express one's inner vision. Grounds higher knowledge and helps one to stay centred. Evokes the wisdom needed to see past any situation into the underlying truth. Helpful in channeling healing energy from the highest source, allowing access to deeper levels of consciousness. (Sapphire is one of the four 'precious' gemstones, the other three being Ruby, Emerald & Diamond. Other gemstones are considered 'semi-precious'.)
SHAMAN DREAM STONE (aka Lodolite, Garden Quartz)
Associated with the crown chakra, enhances one's sensitivity to invisible energies, helps in manifesting one's desires, brings harmony to one's aura, emanates strong yet gentle healing energies. Harmonises the higher vibrational energies of the aura and the light body. Gazing into this stone is said to bring about a cosmic shift of consciousness.
SMOKEY QUARTZ
A grounding and calming stone that elevates moods and dissipates negative emotions. "A Stone of Serenity", it is comforting and protective for one's aura. Smokey Quartz is thought to assist in creative endeavours and also in setting personal boundaries. Offers protection against electromagnetic rays. A good healing stone for improving general feeling of well-being. Relieves anxiety and worry, wards off confusion. Shielding crystal to create a calm, safe environment.
LAVENDER AMETHYST
High frequency stone, with deep energetic purifying aspects. Particularly useful when wanting to find a new approach or to transform an aspect of life. Inspires great accomplishments, offering rejuvenation and renewal.
Recently Viewed