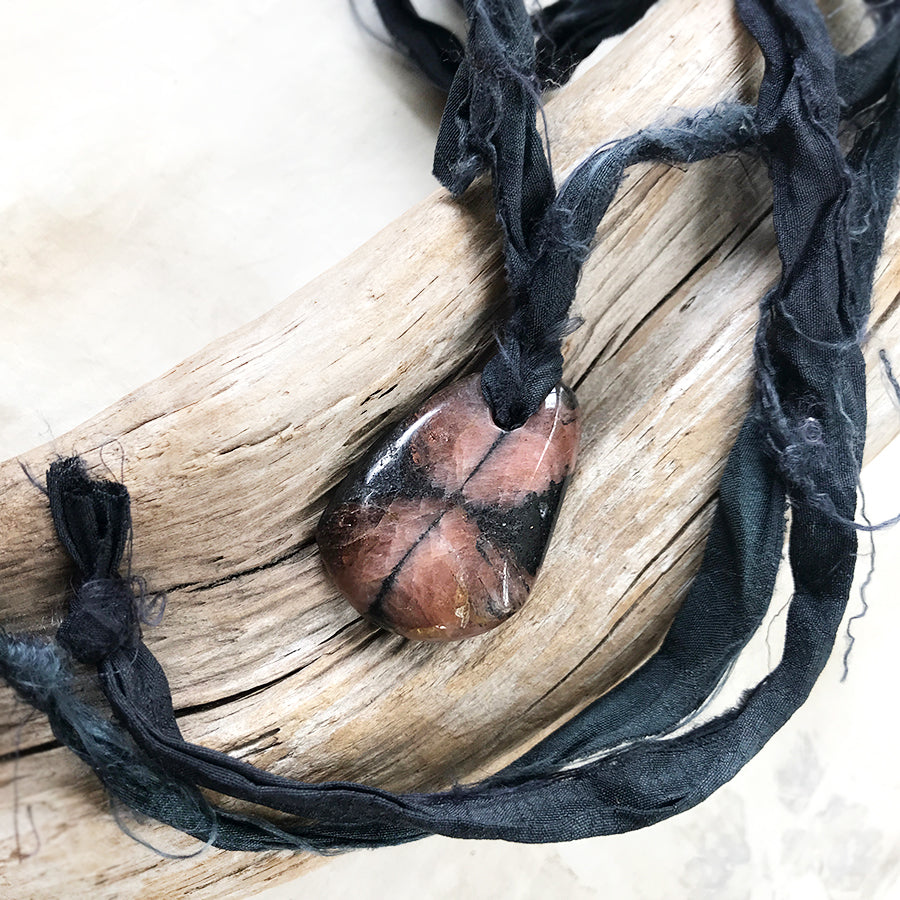 Talismanic Chiastolite crystal healing necklace with silk ribbon
DESCRIPTION
Crystal healing talisman with smooth Chiastolite, showing its natural cross pattern. The crystal attaches to a soft necklace ribbon of recycled, faded black sari silk. This talisman is perfect for those who like a more minimal style, yet prefer the sensuous texture of silk that make this crystal energy such a pleasure to wear.
The Chiastolite is just over 3.5 cm (1.4") tall and just over 2.5 cm (1") at its widest. The long braid ends are left open so you can tie the talisman to hang at any desired level, with the longest around measurement when tied behind the neck, approx. 80 cm (31.5"). 
There are no metals in this necklace so would be particularly suitable for those with metal sensitivities / metal allergy, energy workers and those who simply prefer not to wear metal.
You'll receive this crystal healing necklace in one of my handmade fabric draw-string pouches - great for the safe-keeping of the necklace. Gift-wrapped at no extra charge.

Read here how to take care of your crystal jewellery.
CRYSTAL PROPERTIES
CHIASTOLITE
Stone of balance and harmony. Its visible cross-pattern is thought to symbolise one's commitment to approach life with Awareness. Assists in adapting to change at transitional times. It is also thought to enhance practical creativity. Very protective, allows its wearer to hold their personal space more easily. For someone who has "many irons in the fire" all the time, this is a great crystal to have close for coping with it all!
Recently Viewed