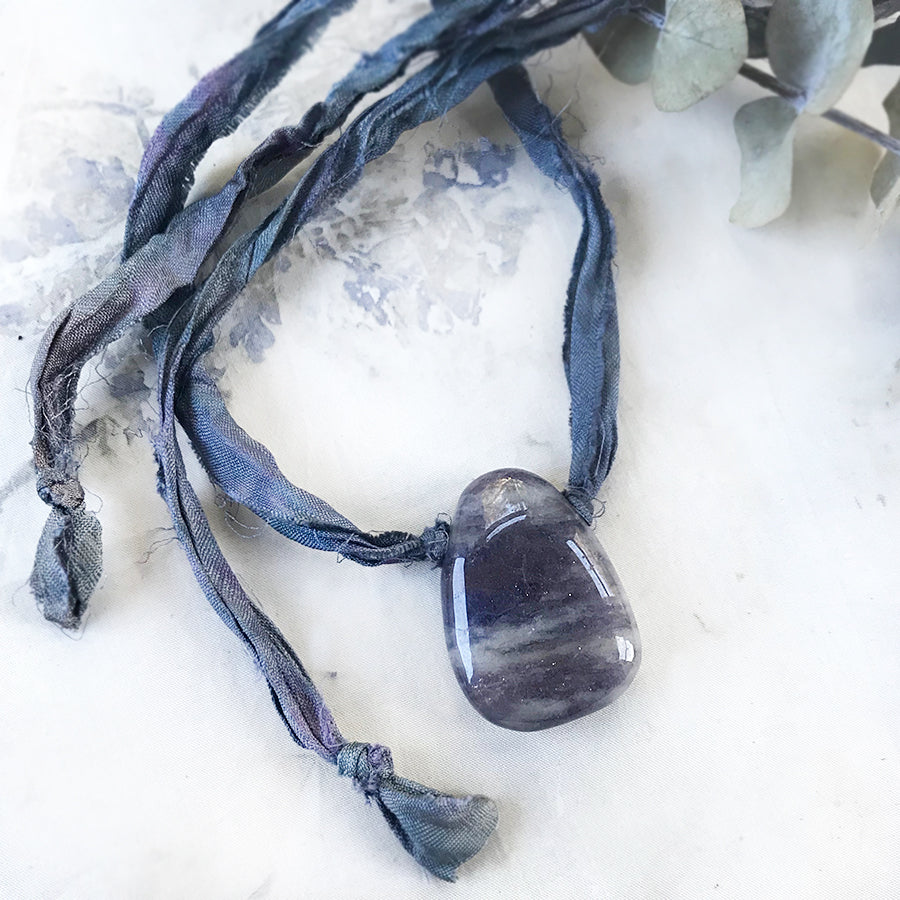 Talismanic Iolite crystal healing necklace with silk ribbon
DESCRIPTION
Crystal healing talisman with smooth Iolite. The crystal attaches to a soft necklace ribbon of recycled, mainly muted blue sari silk (with a few hints of faint purple tone). This talisman is perfect for those who like a more minimal style, yet prefer the sensuous texture of silk that make this crystal energy such a pleasure to wear.
The Iolite is just under 4 cm (1.6") tall and 2.5 cm (1") wide at its middle. The long braid ends are left open so you can tie the talisman to hang at any desired level, with the longest around measurement when tied behind the neck, approx. 80 cm (31.5"). 
There are no metals in this necklace so would be particularly suitable for those with metal sensitivities / metal allergy, energy workers and those who simply prefer not to wear metal.
You'll receive this crystal healing necklace in one of my handmade fabric draw-string pouches - great for the safe-keeping of the necklace. Gift-wrapped at no extra charge.

Read here how to take care of your crystal jewellery.
CRYSTAL PROPERTIES
IOLITE
Aids in making inner visions more vivid, dissolving fear of the unknown. Helps in blending everyday conscious thinking with intuitive inner knowing. Awakens psychic gifts, activating and clearing the third eye. Helps accessing communication from higher vibratory realms. Helps one to act and respond to situations from one's higher guidance.
Recently Viewed