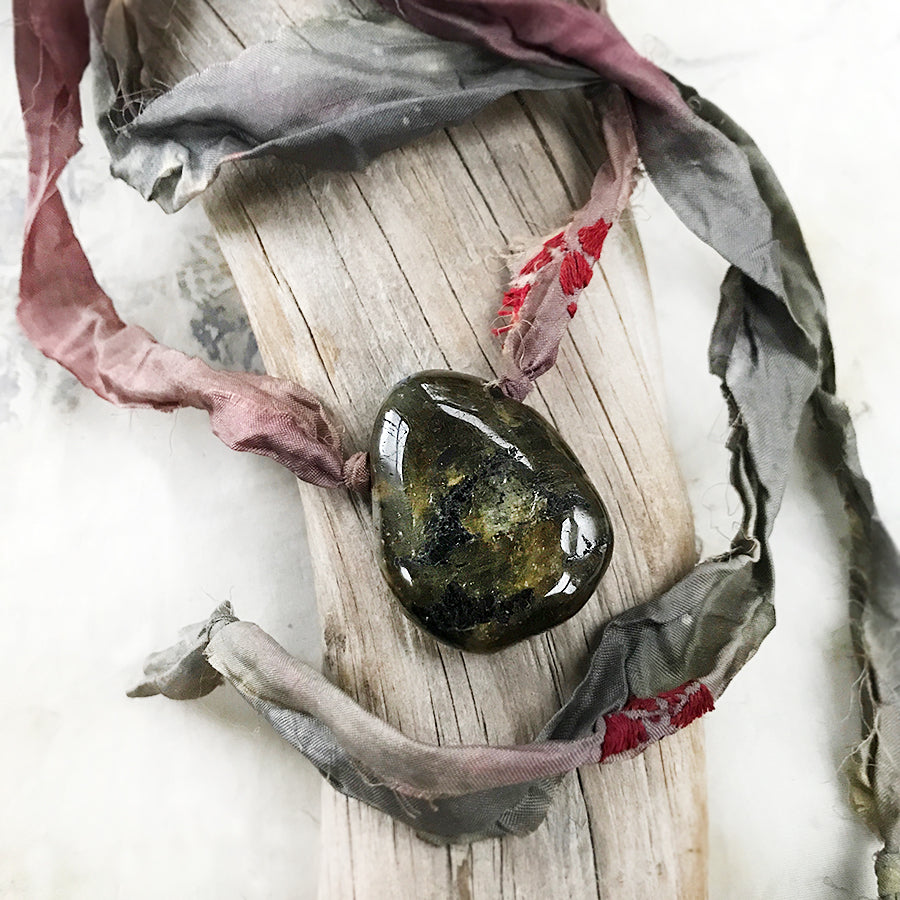 Talismanic Labradorite crystal healing necklace with silk ribbon
DESCRIPTION
Crystal healing talisman with smooth Labradorite, showing some of its characteristic 'colour flashes' when touched by light in correct angle. The crystal attaches to a soft necklace ribbon of recycled sari silk dyed in earthy colourful tones. This talisman is perfect for those who like a more minimal style, yet prefer the sensuous texture of silk that make this crystal energy such a pleasure to wear.
The Labradorite is just over 3.5 cm (1.4") tall and just under 3 cm (1.2") at its widest. The long braid ends are left open so you can tie the talisman to hang at any desired level, with the longest around measurement when tied behind the neck, approx. 80 cm (31.5"). 
There are no metals in this necklace so would be particularly suitable for those with metal sensitivities / metal allergy, energy workers and those who simply prefer not to wear metal.
You'll receive this crystal healing necklace in one of my handmade fabric draw-string pouches - great for the safe-keeping of the necklace. Gift-wrapped at no extra charge.

Read here how to take care of your crystal jewellery.
CRYSTAL PROPERTIES
LABRADORITE
One of the most powerful, versatile crystal tools for healing. Creates an auric shield and strengthens your innate energy and life force, preventing energy leakages. Enhances intuitive abilities and assists in spiritual transformation. Helps the wearer align with their highest destiny and discover their inner worth. Strengthens willpower and brings in new ideas. Often referred to as the 'Stone of Destiny', believed to help you to find your true path in life, and as 'Temple of the Stars', anchoring higher dimensional light into your being.
Recently Viewed