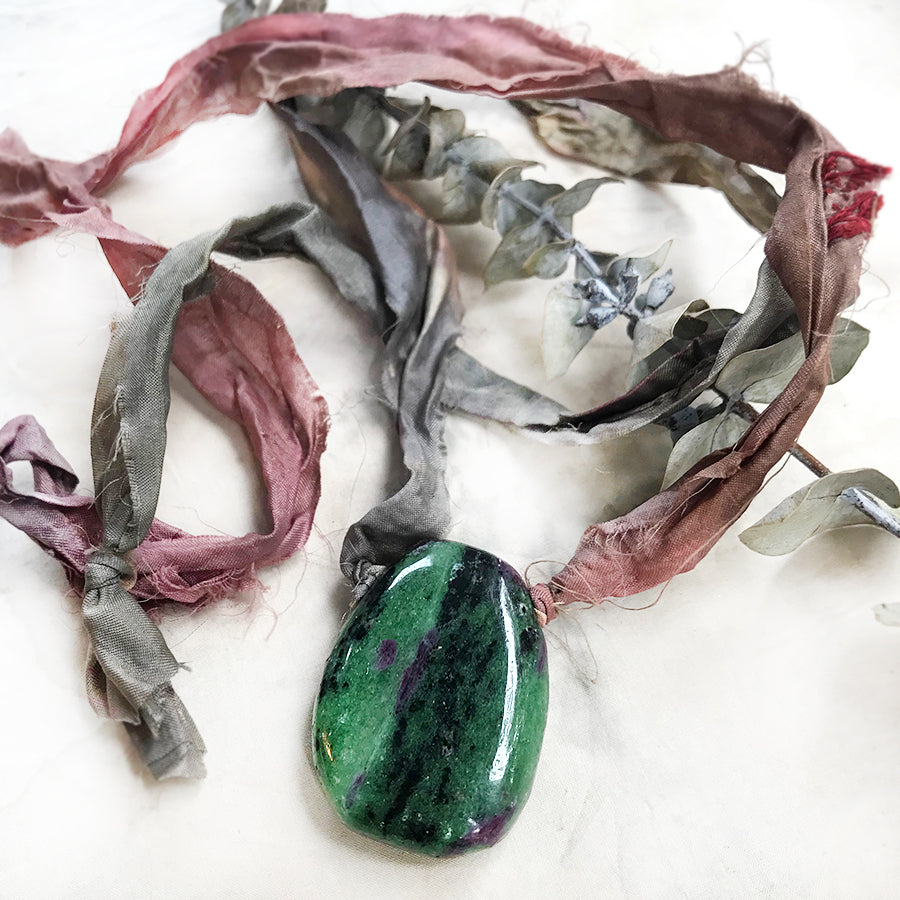 Talismanic Anyolite crystal healing necklace with silk ribbon
DESCRIPTION
Crystal healing talisman with smooth Anyolite (aka Ruby in Zoisite) in rich green tone with specks of dark pink and dark lines. The crystal attaches to a soft necklace ribbon of recycled sari silk dyed in earthy colourful tones. This talisman is perfect for those who like a more minimal style, yet prefer the sensuous texture of silk that make this crystal energy such a pleasure to wear.
The Anyolite is approx. 4 cm (1.6") tall and approx. 3 cm (1.2") at its widest. The long braid ends are left open so you can tie the talisman to hang at any desired level, with the longest around measurement when tied behind the neck, approx. 80 cm (31.5").
There are no metals in this necklace so would be particularly suitable for those with metal sensitivities / metal allergy, energy workers and those who simply prefer not to wear metal.
You'll receive this crystal healing necklace in one of my handmade fabric draw-string pouches - great for the safe-keeping of the necklace. Gift-wrapped at no extra charge.

Read here how to take care of your crystal jewellery.
CRYSTAL PROPERTIES
RUBY IN ZOISITE (aka ANYOLITE)
Powerful heart based crystal that stimulates positive feelings and gratitude for all you have in your life. Facilitates soul memory to bring more spiritual learning into your life. Increases feelings of empathy towards yourself and others. Connects the heart chakra to work in unison with the third eye chakra, but also activating the base and the crown chakras, creating a strong current of life-force energy.
Recently Viewed