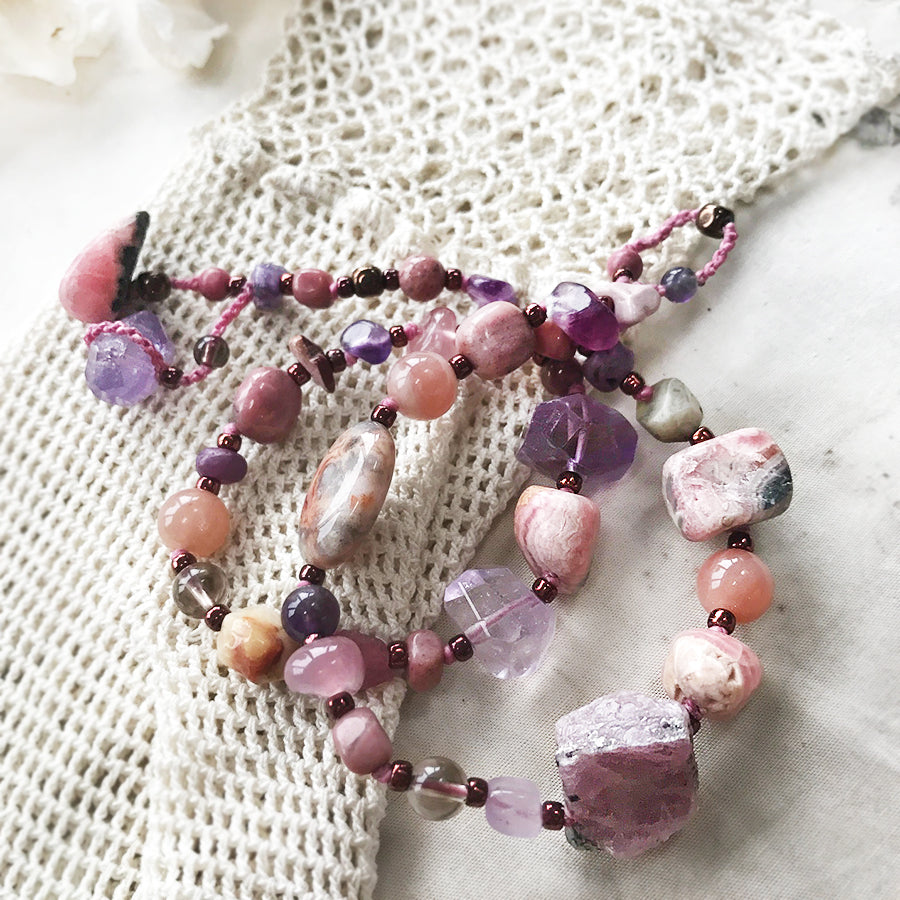 Crystal healing wrap bracelet in tones of pink & purple ~ for up to 6.5" wrist
DESCRIPTION
Easy to wear daily favourite that matches many outfits too ~ a 15" (39 cm) long line of energy activated crystals that wraps snuggly around a 6.5" wrist twice. The closing toggle clasp consists of two strands, tumbled Rhodochrosite and faceted Amethyst - both can be slipped through the knotted loop to close the bracelet securely.
The combination of gems in this bracelet create a smooth energy flow - the bracelet strand consists of Rhodochrosite, Amethyst, Ruby, Rose Quartz (the rare, naturally deep pink Madagascan variety), Crazy Lace Agate, Rhodonite, Sunstone and Smokey Quartz. The bracelet is strung on muted pink micro-macrame cord, alternating the crystals with highly polished deep burgundy glass seed beads, and knotted at regular intervals for strength.
This one-of-a-kind bracelet comes in a fabric drawstring pouch, and gift-wrapped at no extra charge.

Read here how to take care of your crystal jewellery.
CRYSTAL PROPERTIES
The three main crystals with the most prominent energy in the bracelet:
RHODOCHROSITE
A stone of deep emotional healing. Comforting and positive, strengthening feelings of self-love, self-worth and self-forgiveness. Supportive heart-healer stone for those who are grieving or might feel stuck in the process. Repairs damages to one's subtle energy bodies. Helps in recovering lost talents you might have given up on due to past hurts, in order to discover your true purpose in this life.
AMETHYST
Instils inner peace, promotes self-discovery and aids in relaxation. Associated with the crown chakra, known as a "stone of balance" and positive transformation. Thought to increase spiritual awareness and psychic abilities, initiating higher knowing and greater understanding. Helps in assimilating new ideas and manifesting thoughts into action. Symbolises a connection to the Divine. A well-known support stone for those wanting to break old patterns to create a new, harmonious life.
RUBY
Increases vitality and one's life-force energy, Very energising, excellent for women. Promotes clear mind, motivation and concentration. Associated with love, passionate commitment and heart-based closeness, offering help in shedding past hurts. Encourages you to 'follow your bliss' and have courageous attitude. Supports closeness and commitment. Shielding crystal to keep your energy field in your own command. (Ruby is one of the four 'precious' gemstones, the other three being Emerald, Sapphire & Diamond. Other gemstones are considered 'semi-precious'.)
Recently Viewed