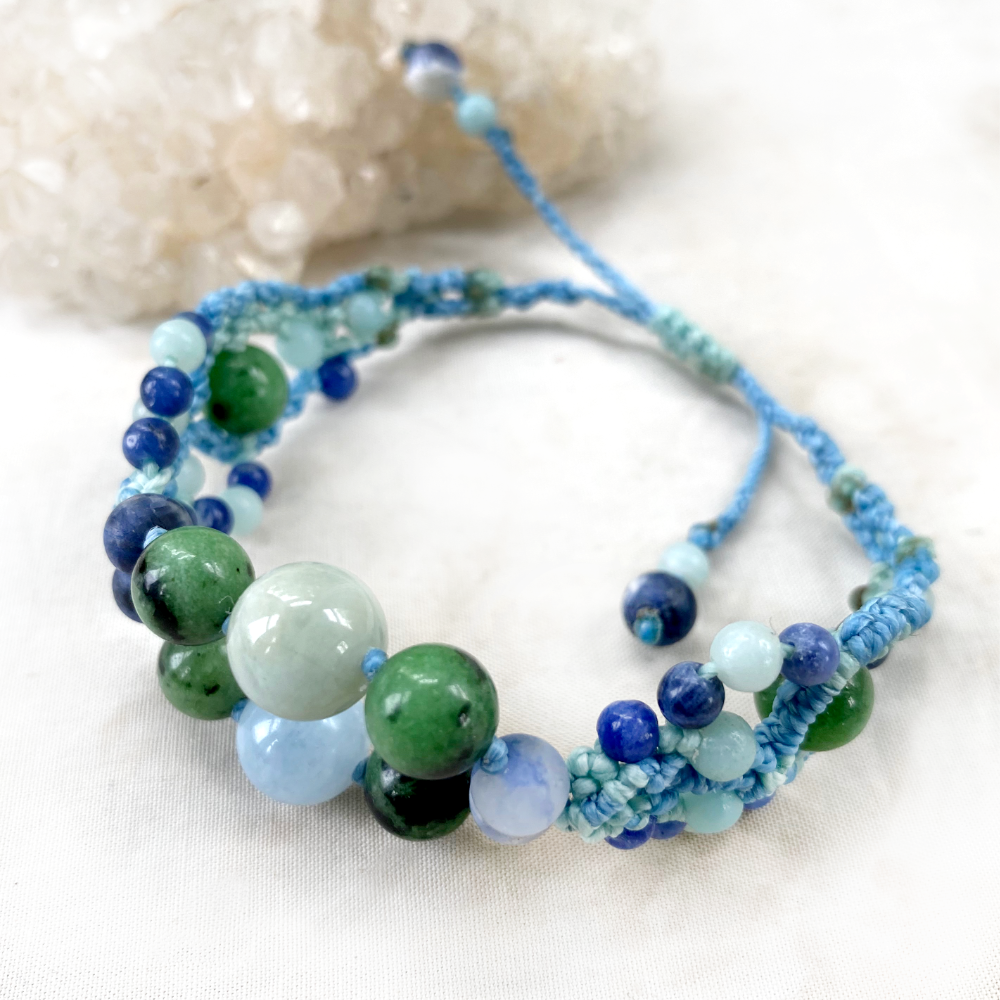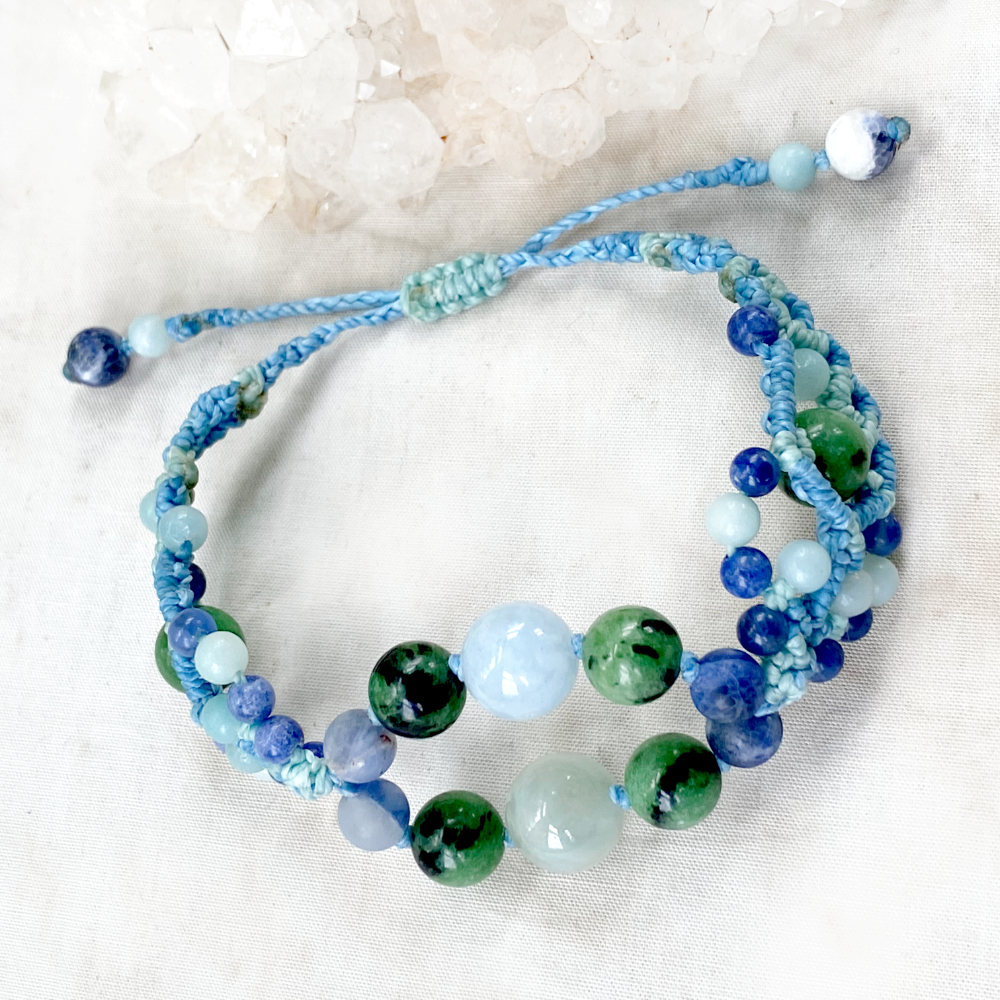 Crystal healing bracelet in blue tones ~ adjustable for wrist sizes 6"-8"
DESCRIPTION
Crystal healing bracelet with two rows of crystals as the focal centre: Aquamarine, Anyolite and Sodalite. There are further small crystals of Amazonite, Sodalite and Anyolite highlighting the knotwork. The bracelet is knotted with two tones of blue micro-macrame cord. This bracelet is best worn snug against the skin, so the length is adjustable through a knotted channel - you can tighten it to your desired size by pulling the braided cord ends. The shortest adjusted length for this bracelet makes this suitable for a 6" wrist, and the longest length is around 8".
The combined width of the focal crystals is approx. 3.5 cm (1.4"). 
You'll receive this crystal healing bracelet in one of Spirit Carrier's fabric draw-string pouches, great for the safe-keeping of the bracelet. Gift-wrapped at no extra charge.

Read here how to take care of your crystal jewellery.
CRYSTAL PROPERTIES
AQUAMARINE
Connected with the throat chakra, easing verbal self-expression. Helps you communicate your own truth and find your voice. Helps in looking at emotional situations from other perspectives, assists in opening up intuition and to calmly be in the flow of life. Aquamarine also aids in reaching deep meditative states. Resonates with the energy of the ocean. Stone of courage and protection.
RUBY IN ZOISITE (aka ANYOLITE)
Powerful heart based crystal that stimulates positive feelings and gratitude for all you have in your life. Facilitates soul memory to bring more spiritual learning into your life. Increases feelings of empathy towards yourself and others. Connects the heart chakra to work in unison with the third eye chakra, but also activating the base and the crown chakras, creating a strong current of life-force energy.

SODALITE
Aids the development of psychic abilities, accelerating the process of unlocking deep intuitive talents. Stimulates latent creative abilities. Dissolves internal conflicts, balancing strengths and perceived weaknesses. Supportive for public speaking. Opens up insights relating to articulating one's inner truths, finding the right words at the right time, as well as assisting in living up to one's ideals. Supports healthy self-esteem, stabilises emotions. Thought to help as a shield against EMF.
AMAZONITE
A stone of self-respect, confidence and grace. Soothes the spirit and calms the soul. Alleviates feelings of loneliness. Assists in connecting with one's intuition, enhancing creativity and self-expression. Empowers to move beyond fear, easing particularly fears relating to other people - fear of judgement, fear of confrontation. Helps with living in alignment with your truth, supporting matters of communication. Good luck stone for competitions, business and financial affairs.
Recently Viewed